Premature Infant NEC Lawsuit Alleges Formula Caused Newborn's Death
June 23, 2022
By: Irvin Jackson
The side effects of Similac and Enfamil caused a premature infant to develop a deadly case of necrotizing enterocolitis (NEC), according to allegations raised in a lawsuit recently filed against the manufacturers of the cow's milk formula products.
The complaint (PDF) was brought by Octavia Patton-Ashley in the U.S. District Court for the District of Colorado on June 17, indicating that Abbott Laboratories and Mead Johnson baby formula products were the direct cause of the death of her infant son, identified only as S.A. in the lawsuit.
Patton-Ashley's son was born prematurely in February 2021, and was fed the cow's milk-based formula after his discharge from the hospital, on doctors' recommendations. He subsequently developed a devastating gastrointestinal disease, known as NEC, which resulted in the infant's death on June 20, 2021.
A growing body of research has been published in recent years, finding that there is an increased risk of a premature infants developing NEC after being fed Similac or Enfamil, compared to babies who receive breast milk alone. However, Abbott and Mead Johnson withheld information from parents and the medical community for years, according to allegations raised by Patton-Ashley and a growing number of families pursuing similar NEC lawsuits throughout the federal court system.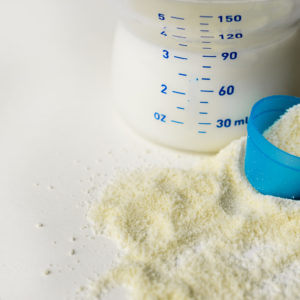 NEC primarily impacts premature babies, occurring when the wall of the intestines is invaded by bacteria, leading to destruction of the bowel and often resulting in the need for emergency surgery while the infant is still in the hospital.
Plaintiffs say the infant formula manufacturers have engaged in a decades-long campaign to misled parents of premature babies and the medical community, promoting the widespread use of their formula instead of breast milk, through deceptive marketing practices, free samples, and advertising campaigns that shamed parents into not questioning the safety of their products.
"[U]pon information and belief, companies who manufacture these cow's milk-based formula or fortifier products, including Defendants Abbott, Mead Johnson, and Mead Johnson Nutrition, often intentionally mislabel and misrepresent the contents of the products both to the public at-large and to the health care community, including physicians like Baby Boy S.A.'s doctors, passing off these deadly products as something safe, effective, and substantially similar to or even superior to human breast milk," the lawsuit states. "Tragically, Baby S.A., who was premature at birth, was fed these cow's milk-based products, developed NEC, and died shortly thereafter."
The NEC wrongful death lawsuit joins a growing litigation that is being pursued against Abbott Laboratories and Mead Johnson.
Given similar allegations and claims presented in dozens of premature infant NEC lawsuits brought nationwide, a federal multidistrict litigation (MDL) was established in April 2022, transferring all claims brought against the makers of Similac and Enfamil to U.S. District Judge Rebecca R. Pallmeyer in the Northern District of Illinois, where they will be centralized and consolidated for coordinated discovery and pretrial proceedings.
"*" indicates required fields