Pre-Natal PFAS Exposure Linked To Cognitive Developmental Delays: Study
March 04, 2021
By: Irvin Jackson
Researchers from the University of Texas warn that pre-natal exposure to toxic chemicals found in firefighter foams and other products, known as per- and polyfluoroalkyl substances (PFAS), may cause developmental and cognitive delays among children.
In findings published last week in the science journal Environmental Research, researchers sought to explore evidence on associations between prenatal PFAS exposure and the cognitive development of exposed children. One particular chemical, perfluorooctanoate (PFOA), which is a member of the PFAS family of chemicals, appears to negatively affect cognitive development in children.
During the study, the researchers looked at information on 140 mother-child pairs, which were part of the Markers of Autism Risk in Babies – Learning Early Signs (MARBLES) study. The researchers studied the children's cognitive development at six, 12, 24, and 36 months of age. They used the Mullen Scales of Early Learning (MSEL) to look at their fine motor, visual reception, receptive language, and expressive language abilities.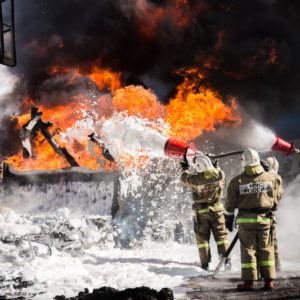 Researchers looked at the effects of six different PFAS, and found that the higher the mother's prenatal PFOA serum levels were, the lower the child's composite score at both 24 months and 36 months. The other five PFAS chemicals were not associated with any difference in cognitive scores, according to the researchers.
High PFOA serum levels were associated with a lower score in all of the MSEL categories.
"Prenatal PFOA appears to adversely affect child's cognitive development in toddlerhood in this study population," the researchers concluded. "Because a large fraction of MARBLES children is at risk for atypical development, population-based studies are needed to confirm our findings."
PFAS and Firefighter Foam Environmental Concerns
PFAS were first introduced into the manufacturing industry in the 1940's, because of their ability to resist heat, grease, stains, and water. However, since then the chemicals have been linked to a myriad of adverse health effects including liver damage, thyroid disease, decreased fertility, high cholesterol, obesity, hormone suppression, and cancer.
The chemical substances are used to manufacture a number of products, including some firefighting foams, food packaging materials, pizza boxes, popcorn bags, fabrics, nonstick cooking pans, and other products.  However, it is perhaps most known for its use in aqueous film-forming foams (AFFFs) used by military and civilian firefighters.
The firefighting foam has been regularly used at military bases nationwide over the past decade during routine training and fire extinguishing exercises, and there has been renewed focus on the health risks after the chemicals have been found to contaminate many local water supplies around the training sites.
It is projected to take thousands of years for PFAS to degrade, and past studies have shown their ability to enter and stay in the environment and human body through the air, dust, food, soil, and water. Previous U.S. Centers for Disease Control and Prevention studies have shown PFAS chemicals primarily settle into the blood, kidney and liver, and could likely be detected in the blood of 98% of the U.S. population.
Chemical manufacturers now face a growing number of firefighting foam lawsuits brought by individuals nationwide, including former fire fighters diagnosed with cancer and individuals who lived near military bases or training facilities where chemicals from the toxic foam contaminated drinking water supplies.
"*" indicates required fields