Pressure Cooker Accident Resulted in Severe Burns After Top Exploded Off Crock-Pot: Lawsuit
December 29, 2021
By: Irvin Jackson
A product liability lawsuit filed by an Illinois woman indicates that defective safety features on a Crock Pot caused a pressure cooker accident, where the top exploded off while the hot contents were still cooking, resulting in severe burns.
Lathea Smyles filed the complaint (PDF) against Sunbeam Products, Inc. and Newell Brands, Inc. in the U.S. District Court for the Northern District of Illinois on December 21, indicating that the failure of the Crock Pot pressure cooker would not have occurred in the absence of a defect or unreasonably dangerous design.
According to the lawsuit, the pressure cooking accident occurred in February 2021, while Smyles was using the Crock-Pot to cook a pot of beans, which she had done in the past without incident. However, this time the pressure cooker indicated it had finished cooking and that the contents were no longer under pressure.
"Plaintiff Smyles walked over to the aforementioned crock pot pressure cooker and suddenly and without warning the top exploded off of it causing the contents, including scalding hot liquid, and steam to fly out onto Plaintiff Smyles," the lawsuit states. "As a direct and proximate result of the aforementioned explosion of the crock pot pressure cooker and expelling its contents, Plaintiff Smyles has sustained severe and permanent injuries; has endured and will in the future endure pain and suffering; has incurred and will permanently in the future incur obligations for substantial sums of money for medical expenses; has incurred expenses for lost wages; has been disabled and disfigured; and has suffered emotional distress."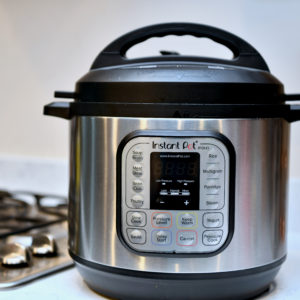 The lawsuit claims the pressure cooker top exploded off of the Crock-Pot because it was designed, manufactured and distributed with defective safety features and failed to carry adequate safety warnings, making the pressure cooker defective and unreasonably dangerous.
Pressure Cooker Lawsuits Over Safety Feature Failures
The case joins dozens of similar pressure cooker lawsuits filed in recent months, each raising allegations about unreasonably dangerous designs and defective safety features on several modern devices, including Crock-Pot, Instant Pot, Ninja Foodi and other brands.
Most of the accidents involve severe pressure cooker burn injuries that occurred after the lid was removed while the contents are still under high pressure, typically resulting in burns covering a large percentage of the user's body. However, other injuries linked to pressure cookers have included eye injuries, broken bones and other complications that resulted from electrocutions, spills or explosions.
As more of these electric pressure cookers have been introduced in recent years, the U.S. Consumer Product Safety Commission has issued several pressure cooker recalls over problems where lids were able to be opened while contents are under pressure, allowing hot contents to be expelled and causing a scald or burn injury to individuals in the immediate area.
Most recently, a massive Crock-Pot recall was issued in November 2020, impacting nearly 1 million 6-Quart Express Crock Multi-Cookers with lid locking defects, after at least 99 burn injuries were reported.
"*" indicates required fields