Rear Passenger SUV Seating Designs Are Less Safe in Newer Models: IIHS Report
April 03, 2023
By: Stephanie Yanovich
While SUVs have a reputation for providing safety benefits over compact vehicles, due to their larger frame and durable design, new crash test results suggest these protective benefits do not necessarily apply to rear-seat passengers in many newer SUV models.
The Insurance Institute for Highway Safety (IIHS) released the results of new SUV rear passenger safety testing last month, which found that the odds of sustaining a fatal injury increase by nearly half for belted rear seat passengers in midsize SUVs, when compared to front seat occupants.
Rear Seat SUV Passengers Face Heightened Risk of Fatal Injuries
IIHS officials modified testing protocols in response to research released last year, showing that rear-seat passengers are 46% more likely than front-seat occupants to sustain a fatal crash injury in SUVs from model year 2007 onward.
As part of its updated testing procedures, the IIHS evaluated 13 midsize SUVs from model years 2021-2023. Sensors were placed on a dummy seated behind the driver to measure key metrics from each crash test. IIHS researchers used this data to assess impact damage to the dummy's head, neck, chest, thigh, and midsection. They also examined how effectively each vehicle's restraint system prevented "submarining," which is when an individual in a car crash slides under the lap belt.
Following the tests, only four of the 13 SUVs evaluated earned a "good" rating, according to IIHS standards. Three earned a "marginal" rating, while six received "poor" ratings.
Some Popular SUV Models Failed Safety Testing
The 13 SUV models evaluated in the updated IIHS testing and their overall ratings are:
Model & Rating 
Good – 2022-2023 Ford Explorer
Good – 2021-2023 Ford Mustang Mach-E
Good – 2022-2023 Subaru Ascent
Good – 2022-2023 Tesla Model Y
Marginal – 2022-2023 Chevrolet Traverse
Marginal – 2022-2023 Toyota Highlander
Marginal – 2022-2023 Volkswagen Atlas
Poor – 2022 Honda Pilot
Poor – 2022-2023 Hyundai Palisade
Poor – 2022-2023 Jeep Grand Cherokee
Poor – 2021-23 Jeep Wrangler 4-door
Poor – 2021-23 Mazda CX-9
Poor – 2021-23 Nissan Murano
"Zeroing in on weaknesses in rear seat safety is an opportunity to make big gains in a short time, since solutions that are already proven to work in the front can successfully be adapted for the rear", said IIHS Senior Engineer Marcy Edwards in a statement after the new test results.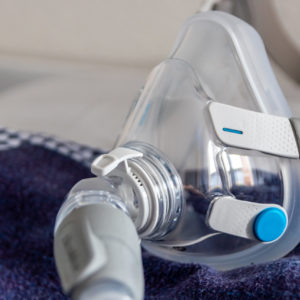 Did You Know?
Millions of Philips CPAP Machines Recalled
Philips DreamStation, CPAP and BiPAP machines sold in recent years may pose a risk of cancer, lung damage and other injuries.
Learn More
SUV's And Larger Vehicles Are More Likely To Strike Pedestrians
Pedestrian-related accidents have been on the rise in recent years, with the number of SUV-involved pedestrian car accident fatalities skyrocketing 79% in 2020. Those numbers support past research that has found the higher front ends of SUVs commonly cause increased trauma to a pedestrian when struck, decreasing the odds of survival following an impact even at low speeds.
Last summer, the IIHS released a report on accidents involving pedestrians and cyclists, finding that that SUVs, vans, and pick-up trucks are far more likely than smaller cars to hit pedestrians crossing the road, and pose a serious risk of causing fatal injuries while making turns at intersections.
That report found that when making right turns at intersections, pickup trucks were 89% more likely to cause pedestrian street crossing fatalities than smaller cars; while SUVs were 63% more likely. On roadways, outside of intersections, pickup trucks were noted to be 80% more likely to cause a pedestrian accident than passenger vehicles, while SUVs and minivans were 61% and 45% more likely, respectively.
"*" indicates required fields