Recalled Gerber Good Start Infant Formula Shipped to Consumers, Despite Cronobacter Contamination Risks
May 15, 2023
By: Russell Maas
Federal health officials are warning that recalled Gerber Good Start formula was still distributed to retail locations, even after the product was pulled from store shelves due to the potential presence of Cronobacter sakazakii bacteria, which may pose a serious health risks for infants.
The U.S. Food and Drug Administration (FDA) issued a Gerber Good Start Formula warning on May 14, indicating that a Tennessee distributor shipped recalled formula containers to retailers in at least eight states after the products were recalled for Cronobacter sakazakii contamination risks.
Cronobacter sakazakii is a rare type of bacteria, often found in dry foods, such as infant formula, skimmed milk powder, tea and starches. The bacteria exists in the environment and can survive in very dry conditions, making transmission of the infection possible by touching contaminated surfaces.
The infections can be particularly deadly for infants and the elderly, or those with weakened immune systems. The bacteria may cause serious life-threatening infections or meningitis (an inflammation of the membranes that protect the brain and spine).
Gerber Good Start Formula Contamination Recall
The U.S. Food and Drug Administration (FDA) announced the Gerber Good Start recall on March 17, due to concerns that certain lots of the infant formula manufactured at a Wisconsin plant may be contaminated with Cronobacter sakazakii.
While the initial recall announcement did not disclose how the contamination risks were identified, at least 13 lots of the powdered formula have been identified as potentially contaminated, including Gerber Good Start SootheProTM sold in 12.4 oz., 19.4 oz, and 30.6 oz containers.
The recalled included Gerber infant formula that was manufactured by Perrigo Company plc at its Eau Claire, Wisconsin manufacturing facility between January 2 and January 18, 2023.
Recalled Lots of Gerber Good Start Distributed After Being Recalled
In the latest update, officials now indicate that an independent wholesale distributing company, Associated Wholesale Grocers, Inc. (AWG), shipped certain recalled Good Start formula products from its Nashville, Tennessee warehouse after the recall was announced on March 17.
The FDA's investigation revealed that AWG shipped recalled containers of Gerber® Good Start® SootheProTM 12.4 ounce to more than 50 different retailers and grocery stores in Alabama, Georgia, Indiana, Kentucky, Ohio, Tennessee, Virginia and West Virginia. To see the full list of stores that recalled Gerber Good Start formula was sold at after the recall, click here.
Consumers who purchased the recalled formula products in these states are being asked to look for the following Lot Codes and "use by" dates on Gerber® Good Start® SootheProTM 12.4 oz packages;
300357651Z – USE BY 04JUL2024
300457651Z – USE BY 05JUL2024
300557651Z – USE BY 06JUL2024
300557652Z – USE BY 06JUL2024
300757651Z – USE BY 08JUL2024
300857651Z – USE BY 09JUL2024
301057651Z – USE BY 11JUL2024
301057652Z – USE BY 11JUL2024
301157651Z – USE BY 12JUL2024
Consumers with affected products should stop using them immediately and contact Gerber Parent Resource Center at 1-800-777-7690 to request a refund.
Cronobacter Infant Formula Recalls
This is the latest in a series of infant formula cronobacter contamination recalls in recent months, as the FDA and manufacturers continue to take a closer look at the risk of contaminated infant formula being distributed. The increased scrutiny came after a massive Similac recall in February 2022, which resulted in a nationwide infant formula shortage.
Widespread distribution of contaminated Similac, Alimentum and Elecare formula has been blamed for causing hundreds of infant illnesses nationwide last year, including at least two infant deaths, and subsequent investigations have revealed Abbott ignored industry safety standards and best practices at its facility for years, endangering children for the sake of profits.
Since the discovery, a series of Similac formula recall lawsuits have been filed by consumers, alleging that Abbott Laboratories knew it was selling potentially contaminated infant formula but chose profits over babies' safety.
Due to the rising number of lawsuits being filed by parents nationwide each raising similar allegations, a multidistrict litigation (MDL) was established before U.S. District Judge Matthew F. Kennelly in the Northern District of Illinois for all Similac, Alimentum and EleCare recall lawsuits.
Similac and Enfamil NEC Lawsuits
In addition to the series of contaminated baby food recalls issued in recent years, a growing body of medical research has established that cow's milk-based infant formula like Enfamil and Similac may cause vulnerable infants to develop NEC (necrotizing enterocolitis), which results in portions of the intestines suddenly becoming inflamed or dying.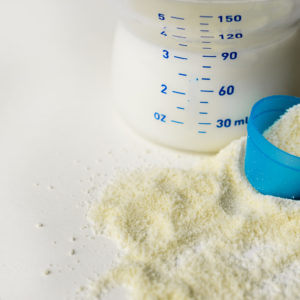 This condition often requires the need for emergency surgery while the preterm newborn is still in the NICU, and can lead to death or long-term complications for the remainder of the child's life.
Since NEC risks associated with cow's milk-base formula were raised, a series of Similac lawsuits and Enfamil lawsuits have been filed throughout the federal court system against Abbott and Mead Johnson by families claiming the manufacturers concealed NEC risks to infants for decades.
Similar to the Similac recall lawsuits, the U.S. Judicial Panel on Multidistrict Litigation established a NEC baby formula litigation, which consolidated and centralized each of the claims before U.S. District Judge Rebecca R. Pallmeyer in the Northern District of Illinois.
In November 2022, a group of 12 cases were selected for a NEC lawsuit bellwether pool, which will go through case specific discovery and prepared for a series of early trial dates expected to begin in 2024.
Although the outcome of these early bellwether trials will not have any binding impact on other claims, they are expected to have a substantial impact on any baby formula NEC injury settlements the manufacturers may offer to avoid the need for each individual case to be remanded back to U.S. District Courts nationwide for separate trial dates in the future.
"*" indicates required fields