Monsanto Seeks To Exclude Certain Evidence from Roundup Trial in MDL
January 04, 2019
By: Irvin Jackson
Parties involved in the Roundup cancer lawsuits are scheduled to meet today with the U.S. District Judge presiding over the litigation, to discuss motions that will be filed ahead of the first federal trial set to begin late next month. 
There are currently about 10,000 product liability lawsuits pending nationwide against Monsanto, over its alleged failure to warn about the cancer risks associated with exposure to Roundup, with about 600 of the claims centralized before U.S. District Judge Vince Chhabria in the Northern District of California, as part of a multidistrict litigation (MDL).
While a number of state court cases are also proceeding to trial, Judge Chhabria has previously established a "bellwether" program in the federal court system, where the first trial is scheduled to begin on February 25, 2019. While the outcome of the case will not be binding on other plaintiffs, it is being closely watched as a "bellwether" to help gauge how juries may respond to certain evidence and testimony that is likely to be repeated throughout the litigation.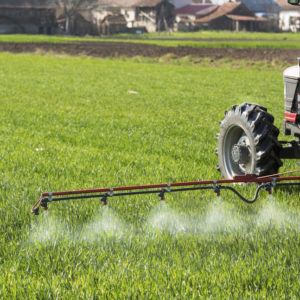 Last week, the parties filed a joint case management statement (PDF) ahead of a status conference today. In addition to reviewing final trial preparations, Monsanto indicates that will file a number of motions in limine to exclude mention of certain topics at trial, and Daubert challenges to the admissibility of expert witness testimony.
While Judge Chhabria has previously indicated that each side can only file five motions in limine, Monsanto is asking for permission to file many more, outlining more than dozen topics it intends to argue should be excluded from the upcoming trial. The manufacturer argues that evidence ranging from the World Health Organization's classification of glyphosate contained in Roundup as a carcinogen, to information about Monsanto's ghostwriting of studies and lobbying efforts to influence federal regulators should not be presented to the jury.
In the statement, Plaintiffs also point out that Monsanto is attempting to file multiple Daubert challenges to expert witness testimony, and generally break previously agreed-upon rules regarding the preparations for trial.
"In total, Monsanto intends to file 105 pages of briefing, for which Plaintiffs are expected to file complete responses within 7 days," plaintiffs wrote. "Not only is this unfair and prejudicial to the Plaintiffs, but is a complete disregard of the parties' agreement from only two months ago."
The upcoming trial has particularly high-stakes, after a state court jury in California indicated that Monsanto should be forced to pay $289 million to a former school groundskeeper diagnosed with non-Hodgkins lymphoma following exposure to Roundup during a trial over the summer.
While the state court judge presiding over that case subsequently reduced the verdict to about $78 million, another large damage award could greatly influence any attempts that may be made by the manufacturer to pay Roundup settlements, rather than facing thousands of individual trials in the coming years.
In addition to the February 2019 trial date before Judge Chhabria in the federal court system, other Roundup cases are set to go to trial in California and Missouri state courts over the next year, including a case involving a husband and wife both dying from non-Hodgkins lymphoma after exposure to Roundup, which is set to go before a California state court jury in March 2019. After a series of state court cases in Missouri, a consolidated trial involving more than a dozen different individuals diagnosed with cancer is expected begin in October 2019.
"*" indicates required fields