Safety Warnings for Roundup Are Inadequate To Prevent Cancer From Exposure, Lawsuit Claims
October 02, 2018
By: Irvin Jackson
Monsanto has failed to provide adequate warnings and safety instructions for their popular weedkiller Roundup, according to allegations raised in a product liability lawsuit filed by a Kansas woman, who indicates that she may have avoided a diagnosis of non-Hodgkins lymphoma if the manufacturer had not properly disclosed the potential cancer risks from Roundup exposure. 
Vickie L. Awad and her husband, Samir, filed a complaint (PDF) in the U.S. District Court for the Easter District of Missouri on September 25, indicating that she began using Roundup in about 1990 and continued to use it until 2017, following all of the safety and precautionary warnings provided by Monsanto. However, as a direct result of exposure to glyphosate contained in the weedkiller, Awad alleges she was diagnosed with non-Hodgkin's lymphoma in 2016
For decades, Awad claims that Monsanto disregarded public safety in order to save the reputation of it's blockbuster product, withholding and concealing information that the active ingredient gylphosate may lead to the development of cancer from exposure to Roundup.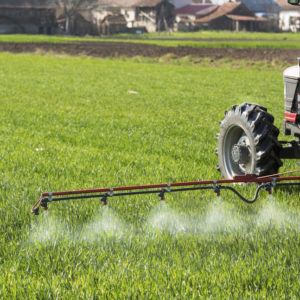 "Glyphosate, and Defendant Roundup products in particular, have long been associated with serious side effects and many regulatory agencies around the globe have banned or are currently banning the use of glyphosate herbicide products," the lawsuit notes. "Defendant failed to seek modification of the labeling of Roundup to include relevant information regarding the risks and dangers associated with Roundup exposure. The failure of Defendant to appropriately warn and inform the EPA has resulted in inadequate warnings in safety information presented directly to users and consumers."
If Monsanto had properly disclosed and disseminated the risks associated with Roundup, as well as listed adequate warnings and instructions about ways to reduce exposure, Awad claims that she would have avided the risk of cancer.
The case joins more than 8,000 similar Roundup lawsuits that have been filed against Monsanto nationwide in recent years, each involving similar claims and allegations.
In late August, a California state jury heard evidence about Monsanto's efforts to hide the Roundup cancer risk, in an early trial date granted to DeWayne Johnson, who is dying from non-Hodgkin's lymphoma following years of exposure to Roundup as a school groundskeeper. After finding that the manufacturer should be held accountable for failing to provide adequate safety warnings for Roundup to Johnson and other consumers, the jury indicated that Monsanto should be required to pay $289 million in compensatory and punitive damages in the case.
Over the next year, a number of additional "bellwether" cases are expected to go to trial in state and federal courts nationwide, to help gauge how other juries are likely to respond to similar evidence and testimony.
In the federal court system, Awad's complaint will be consolidated as part of a coordinated multidistrict litigation (MDL), which has been centralized before U.S. District Judge Vince Chhabria in the Northern District of California. However, following the completion of pretrial discovery and any federal bellwether trials, if Monsanto fails to reach Roundup settlements or another resolution for the litigation, Awad's case and hundreds of other lawsuits would ultimately be remanded back to U.S. District Courts nationwide for individual trial dates in the future.
James

April 8, 2019 at 3:01 am

I got non Hopkins Lymphoma and used Round Up in the past.
"*" indicates required fields