Roundup Residue Found In More Popular Breakfast Foods: Report
October 29, 2018
By: Irvin Jackson
Another round of testing has found residue from the weedkiller Roundup in popular oat-based breakfast foods and cereals, such as Cheerios and Quaker Oats, indicating that all but one out of 19 products tested had high levels of glyphosate, the active ingredient in the controversial herbicide.
The findings of the new study were published on October 24 by the Environmental Working Group (EWG), which had Anresco Laboratories in San Francisco test 28 samples from 19 products for Roundup residue. All but two of the samples exceeded EWG's health benchmark of 160 parts per billion (ppb), impacting 18 different products.
The EWG acknowledges that the U.S. Environmental Protection Agency (EPA) has set a limit of glyphosate in food at 30 parts per million, which is significantly higher than the groups benchmark of 160 ppb. However, the group points out that the EPA limits are outdated and not protective of children, particularly in light of recent evidence indicating glyphosate exposure could be linked to an increased risk of cancer.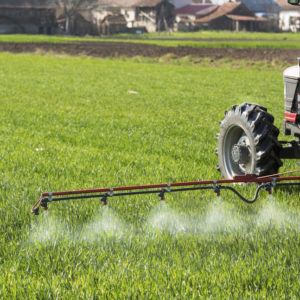 The results of this latest study are the second wave of testing for oat-based breakfast products by EWG. The first results were reported in August, indicating that a number of popular breakfast foods and snack bars contained high levels of Roundup residue. Glyphosate was detected in 43 of the 45 samples in that first round, with 31 exceeding 160 ppb.
This latest round looked at more Quaker Oats and General Mills' Cheerios products. The only product that sampled below 160 ppb was Quaker Instant Oatmeal Cinnamon and Spice. Two samples for the instant oats product tested at 128 parts per billion and 45 parts per billion.
At the other end of the spectrum was Quaker Oatmeal Honey Nut Squares. Investigators found 2,837 ppb in a sample from that cereal. Similarly, a sample from Quaker Oatmeal Squares Brown Sugar cereal contained 2,746 ppb of glyphosate.
The EWG points out that oat, wheat and barley crops are often not actually genetically modified to be "Roundup Ready" like soybeans and corn crops. Instead, they are sprayed with the herbicide to intentionally kill them.
There has been growing concern over the amount of glyphosate in food products since 2015, when the World Health Organization's International Agency for Research on Cancer (IARC) determined that glyphosate was a probable carcinogen, which has been linked to an increased risk of non-Hodgkin's lymphoma.
In February 2016, the FDA indicated it would begin looking for glyphosate in U.S. food products, but stopped just months later without issuing any findings. However, internal documents revealed that the agency has found glyphosate in honey and other products.
The FDA findings were first leaked by the food watchdog group U.S. Right to Know in September 2016. The group obtained records from the FDA, the U.S. Environmental Protection Agency (EPA), and the U.S. Department of Agriculture. Many were heavily redacted, blocking out large portions of text. However, the records show that FDA researchers had trouble finding honey that does not contain glyphosate residue.
Other studies have also detected glyphosate in cereal and other products, and a growing number of manufacturers are facing lawsuits over claims that they failed to warn consumers that glyphosate was in their food products, or, in some cases, claimed the products were "all natural" despite the presence of the chemical.
The EWG sent a letter to Pepsico (PDF), which is the parent company of Quaker Oats, asking the company to publicly disclose findings of its own testing. The EWG notes it contacted Pepsico two months ago after the first round of testing and got no response.
"Growing oats does not require the use of glyphosate as a pre-harvest drying agent, and there are conventional and organic oat growers who do not use it or other weed killers for this purpose," the letter states. "So, as we did two months ago, we are calling on Pepsico to take a simple step to protect children: On behalf of parents and other concerned consumers, source your oats from growers that do not treat their crops with glyphosate."
According to statements by Quaker Oats, the EWG has created an artificially low safe level for glyphosate to cause controversy.
The study comes as Monsanto faces thousands of Roundup lawsuits brought on behalf of agricultural workers, farmers and even home gardening enthusiasts diagnosed with non-Hodgkin's lymphoma following exposure to glyphosate contained in the weedkiller. The first case to go before a jury this summer resulted in a $289 million verdict for a former California school groundskeeper, finding that Monsanto has withheld warnings from the public about the health risks associated with Roundup.
While the verdict was later reduced to $78 million by the trial judge, Monsanto faces a series of additional trials in state and federal courts over the next year over the health risks associated with their glyphosate-based weedkiller.
"*" indicates required fields