Appeals Court Urged to Uphold Roundup Jury Verdict, Including $75 Million in Punitive Damages
March 18, 2020
By: Irvin Jackson
The plaintiff who won the federal bellwether trial over the non-Hodgkins lymphoma from Roundup is asking an appeals court to not only reject Bayer and Monsanto's efforts to overturn that victory, but is also urging the Court to reinstate the full $75 million in punitive damages awarded by the jury to punish the manufacturer for failing to warn about the risk.
Bayer and it's Monsanto subsidiary currently face nearly 75,000 product Roundup lawsuits brought by individuals nationwide who claim that information about the cancer risk from Roundup has been withheld from consumers for decades.
Given common questions of fact and law raised in claims filed in U.S. District Courts nationwide, the federal Roundup litigation has been centralized in the Northern District of California, where U.S. District Judge Vince Chhabria is presiding over coordinated discovery and a series of early bellwether trials designed to help the parties gauge how juries may respond to certain evidence and testimony that will be repeated throughout the cases.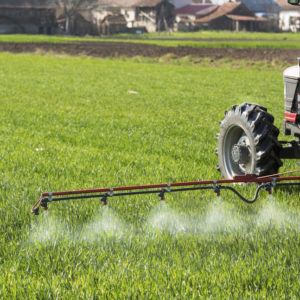 In March 2019, the first federal jury to hear evidence in a Roundup case determined Monsanto should be required to pay $80 million in damages to Edwin Hardeman, who was diagnosed with non-Hodgkins lymphoma following regular use of the weedkiller around his home.
Of that award, $5 million was compensatory damages, and another $75 million was added for punitive damages. However, following post-trial motions, Judge Chhabria later reduced the punitive damages portion of the award to $20 million, cutting the overall verdict to $25 million.
Monsanto and Bayer have appealed even the reduced verdict, asking the U.S. Court of Appeals for the Ninth Circuit to overturn the entire award. However, plaintiffs not only urge the court to reject this effort, but argue that the original amount of punitive damages should be reinstated.
In a 133 page brief (PDF) filed on March 16, Hardeman argued that the full amount of the jury award was supported by the substantial evidence presented in the case, including Monsanto's decades of undermining the science, failing to test its own product, and recklessly endangering consumers.
The brief argues that "the district court erred as a matter of law in holding that the jury's punitive damages award of $75 million – an amount less than 0.1% of Monsanto's net worth – was constitutionally excessive, and reducing that award to $20 million, in light of the extreme reprehensibility of Monsanto's decades of misconduct and the fact that its intentional deception continues to threaten the health of millions of consumers worldwide."
Following massive losses in the first three cases to go before juries last year, including Hardeman's, Bayer has faced substantial pressure to negotiate Roundup settlements or another resolution that avoids additional trial dates set to begin throughout this year.
More than half a dozen state court cases have already been postponed amid continuing discussions between the parties and the prominent mediator Ken Feinberg, who has overseen many of the largest mass tort settlements in recent years, including the establishment of funds to resolve claims stemming from the BP oil spill, Volkswagen emissions scandal, General Motors ignition switch recall and others.
On March 13, the Wall Street Journal reported that Bayer had reached a tentative settlement agreement with several law firms that could resolve thousands of cases. However, no official settlement announcement has been made.
Analysts have predicted that any Roundup settlement would not only require billions in compensation for individuals already diagnosed with non-Hodgkins lymphoma, but the company will likely face continuing claims as other consumer continue to be diagnosed following prior exposure.
"*" indicates required fields