Similac, Enfamil NEC Lawsuit Filed Against Hospital and Infant Formula Manufacturers
April 04, 2022
By: Irvin Jackson
A New Jersey mother indicates her baby was left with long-term intestinal injuries from Similac and Enfamil formula fed in the NICU following a premature delivery, which caused the development of a condition known as necrotizing enterocolitis (NEC).
In a complaint (PDF) filed on March 24 in the Philadelphia Court of Common Pleas, Holli Carter claims that Mead Johnson, Abbott Laboratories, Pennsylvania Hospital, and the Trustees of the University of Pennsylvania are responsible for the long-term injuries suffered by the premature infant, identified only as J.C..
The Similac and Enfamil lawsuit indicates J.C. was born prematurely at Pennsylvania Hospital in October 2014, and was fed versions of the cow's milk-based infant formula products. According to Carter, ingesting Similac and Enfamil caused J.C. to develop NEC, leaving the baby with permanent and life-altering intestinal disabilities.
NEC is a devastating disease which mostly impacts premature infants, where the wall of the intestine is invaded by bacteria, leading to destruction of the bowel and often requiring emergency surgery while the baby is still in the neonatal intensive care unit (NICU). This disorder occurs when the walls of the intestines are invaded by bacteria, leading destruction of the bowel and often requiring emergency surgery while a premature baby is still in the NICU.
A growing body of research published in recent years has found that the risk is substantially greater after use of Similac or Enfamil, compared to babies who receive breast milk alone, leading to a number of families nationwide to pursue a similar NEC lawsuit against Abbott and Mead Johnson, alleging that they withheld warnings from parents for decades.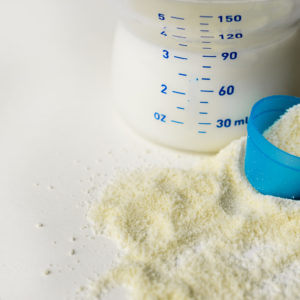 "A diet based exclusively on breast milk and breast milk fortifiers provides all the nutrition necessary to support premature and low-birth-weight infants without the elevated risk of NEC associated with cow's milk-based products," Carter's lawsuit notes. "The Defendant Manufacturers' products not only pose a threat to infants' health, but also displace the breast milk they could otherwise receive. This displacement only increases infants' vulnerability to NEC, as studies show that breast milk protects against the disease."
In addition to claims against the formula manufacturers, Carter included NEC malpractice claims against the hospital, indicating that the medical providers were aware of the risks associated with feeding premature infants Similac and Enfamil, instead of breast milk or donor milk. In fact, the complaint notes that Penn Medicine has participated in studies designed to increase the use of donor milk, publishing prior findings that concluded human milk alternatives decreased the incidence and severity of NEC.
"Penn Medicine's failure to warn about the risks posed by [Similac and Enfamil] is entrenched (and compounded) by the financial benefits it accrues from its relationship with Defendant Manufacturers," according to the lawsuit. "On information and belief, it has received [Similac and Enfamil] products for free or at a significant discount, and has granted their sales representatives access to its healthcare professionals and medical staff. These sales representatives have provided deceptive information that Penn Medicine reasonably knew or should have known would ultimately reach parents through those staff."
Prior research findings, as well as internal newsletters published by Penn Medicine, have touted the benefits of a mother's breast milk or donor milk, which could have allowed premature infants to avoid the long-term intestinal damage caused by NEC.
In the federal court system, a panel of judges met last week to consider oral arguments over a motion to centralize and consolidate all Similac NEC lawsuits and Enfamil NEC lawsuits before one U.S. District Judge for coordinated discovery and pretrial proceedings.
If a NEC multidistrict litigation (MDL) is established in the federal courts, the judge and parties will also likely coordinate with proceedings in state court system, such as the lawsuit filed by Carter in Philadelphia.
Brian

December 27, 2022 at 2:21 pm

My son was born April 6 2020
"*" indicates required fields