Similac Recall Consent Decree Reached Between Abbott, DOJ and FDA to Reopen Facility and Combat Formula Shortage
May 18, 2022
By: Irvin Jackson
Abbott Laboratories will be able to resume operations at a Sturgis, Michigan facility, where recent manufacturing problems lead to a widespread baby formula recall due to contamination problems, under a consent decree between the company and the Justice Department, which was approved by a federal judge this week.
On Monday, the U.S. Department of Justice issued a press release announcing a complaint (PDF) against Abbott Laboratories, along with a consent decree (PDF), which would resolve the allegations under terms Abbott has already agreed to.
The consent decree will allow the company to begin production again at a facility linked to cronobacter and salmonella contamination which led to a Similac, Alimentum and Elecare recall earlier this year.
A federal judge signed off on the Similac recall consent decree shortly after it was proposed. Had it not been approved, the Justice Department complaint would have sought a permanent injunction against the Abbott facility.
Abbott Laboratories first announced the Similac recall on February 17, following nationwide reports of illnesses and at least two deaths among infants fed versions of powdered formula manufactured at the same plant in Michigan, which were contaminated with Cronobacter sakazakiiis or Salmonella Newport bacteria.
SIMILAC RECALL LAWSUIT
Was your baby sickened after being fed Simlac, Alimentum or EleCare formula?
CONTACT A LAWYER
Within days of the recall, reports began to surface that suggested the company knew about the Similac contamination problems at its facility since at least September 2021, when the Minnesota Department of Health began investigating a case involving an infant infected with Cronobacter.
FDA inspectors found both mechanical problems at the Sturgis facility, which led to the spread of bacterial and microbial contamination to baby formula products, and quality control problems, such as Abbott not following up on complaints of illnesses and other concerns, even knowing they proposed a potential health risk to infants.
The consent decree details what Abbott should do at the facility to restart production, including cleaning and sanitizing the facility and all of its equipment, as well as the hiring of an independent third party to review the company's sanitizing and manufacturing processes. Abbott must also make changes to programs including environmental monitoring, product testing and employee training, according to the consent decree.
The FDA will review the company's actions and, if the agency signs off on them, the plant would begin production again two weeks after FDA approval.
"Federal laws regarding the safe manufacture of food, particularly food for infants, must be rigorously enforced," Principal Deputy Assistant Attorney General Brian Boynton, head of the Justice Department's Civil Division, said in the press release. "The proposed consent decree underscores the Department's commitment to protecting our most vulnerable citizens while also ensuring access to an essential product."
The consent decree comes at a time of a nationwide infant formula shortage caused by supply chain problems linked to the pandemic, and exacerbated by the Similac recall.
Nationwide supplies of baby formula have become extremely strained following the recalls, with stores reportedly indicating 40% of the most popular brands are sold out, and some large cities have seen more than half of their baby formula supply depleted. That number is up from 11% in November, according to an analysis by Datasembly.
The Infant Nutrition Council of America is advising parents on what to do if they cannot find baby formula. The group advises parents check other stores, such as baby supply stores and drug stores if their regular local store is sold out. It also reminds them they can order baby formula online and advises them to buy the largest size possible, but to not horde supplies by buying more containers than they need.
Similac & Enfamil Baby Formula Health Risks
In addition to concerns about the shortages and recent problems with contamination, Abbott is also facing a growing number of Similac lawsuits that are now being pursued by families of premature babies who developed necrotizing enterocolitis (NEC) after being fed the cow's milk products while still in the NICU.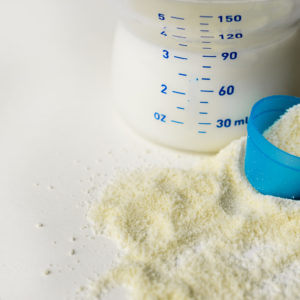 NEC is a serious health condition that primarily impacts preterm infants, causing intestinal tissues to become inflamed and die. If left untreated, it can cause dangerous perforations in the intestines, which allow bacteria to leak into the abdomen or infiltrate the bloodstream. This can lead to life-threatening infections, narrowing of the intestines, short bowel syndrome, developmental delays and a failure to thrive.
A number of studies published over the past three decades have highlighted the link between NEC and cow's milk formula like Similac and Enfamil, yet manufacturers have continued to market and promote versions of their products specifically for use by premature infants.
According to allegations raised in the baby formula NEC lawsuits, many of those infants may have avoided the condition if the manufacturers hadn't provided false and misleading information to parents and the medical community, which diminished the importance of breast feeding or using human donor milk.
"*" indicates required fields