FDA's Problems Handling Contaminated Similac Recall Highlighted in Internal Review Report
September 21, 2022
By: Irvin Jackson
Problems with a lack of staffing, training, technology and authority all contributed to the FDA's slow and inadequate response to a recent Similac recall, which sparked a nationwide shortage after several versions of the powdered infant formula were found to be contaminated, according to an internal review.
The U.S. Food and Drug Administration (FDA) issued a press release yesterday, indicating that the regulatory agency has concluded an internal review of their failure to properly respond to a massive infant formula recall issued by Abbott Laboratories earlier this year.
The 10-page report highlights a number of deficiencies, which reviewers indicate contributed to a slow response both to the baby formula contamination itself, as well as the resulting shortage.
Contaminated Similac, Alimentum and EleCare Recall
In February 2022, Abbott Laboratories announced an infant formula recall involving Similac, Alimentum and EleCare products, after FDA inspections confirmed the presence of bacteria throughout the Michigan facility, and identified widespread manufacturing problems.
By the time the problems were disclosed to families, contaminated formula had already caused hundreds infant illnesses and hospitalizations nationwide, including several deaths.
Shortly after the recall, it became apparent that Abbott and the FDA knew about the Similac contamination problems since at least September 2021, when the Minnesota Department of Health began investigating a case involving an infected infant. However, the formula continued to be distributed, remained on store shelves and families nationwide continued to feed the contaminated products to infants for another several months.
In February 2022, Abbott was forced to close the Sturgis, Michigan plant where the formula was contaminated, due to widespread safety problems, which shut down production at one of the major sources of infant formula in the United States. This contributed to a nationwide shortage of infant formula earlier this year.
Abbott now faces dozens of contaminated Similac lawsuits brought by families of infants nationwide who were diagnosed with Salmonella, Cronobacter or other infections linked to bacteria at the manufacturing facility, and serious questions are being raised about why the problems were not addressed much earlier.
Similac Contamination Lawsuit
Was your child hospitalized after being fed contaminated Similac, Alimentum or EleCare formula?
CONTACT A LAWYER
In addition to serious questions and criticism being directed at Abbott, many have also suggested that the FDA should have done more to prevent the contaminated infant formula from being distributed, and the agency now acknowledges that it agrees.
FDA Internal Review of Infant Formula Recall
In May 2022, FDA Commissioner Robert Califf ordered an internal review of the agency's practices involving the recall and resulting shortage.
"One key finding from our interviews is that there is no single action to explain the events that occurred; rather the report identifies a confluence of systemic vulnerabilities that demonstrate the need to focus on continued modernization and investment in the expertise and tools needed to better anticipate and address future public health challenges in this area," Steven M. Solomon, director of the FDA's Center for Veterinary Medicine, who conducted the review, said in the press release. "The report also identifies several areas in which the FDA lacks specific authorities and resources. Simply put, if the FDA is expected to do more, it needs more."
The report identifies five key areas in need of improvement to prevent similar incidents in the future:
The need for modern information technology which would allow the agency to access and exchange data in real time in response to a recall or food poisoning outbreak.
Increases in staffing, training and equipment, as well as regulatory authority to respond to such incidents.
An increased understanding of Cronobacter and how to appropriately control and understand how it works.
An assessment of the infant formula industry, how it prevents problems, its food safety culture and how prepared the industry is to respond to events.
An update of emergency response systems so they can handle multiple public health emergencies simultaneously.
The findings came following interviews with more than 60 FDA employees over the last several months.
Agency officials say they will strive to implement changes to address these problems, including seeking more resources through the congressional appropriations process.
Abbott Lawsuits Over NEC Caused by Similac Formula
In addition to growing lawsuits over the Similac recall, Abbott also faces similar allegations of placing profits before the safety of babies in several hundred NEC lawsuits currently being pursued by families of premature infants who developed a devastating and often fatal gastrointestinal condition after being fed the company's cow's milk products in the hospital or NICU.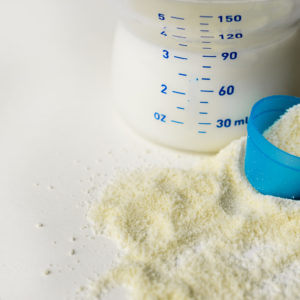 That litigation involves allegations that Abbott has failed to warn about the risk that premature infants may develop necrotizing enterocolitis (NEC), which causes a destruction of the intestines, often resulting in death or life-long disabilities after emergency surgery removes portions of the gut.
Families allege Abbott not only withheld important warnings and information from consumers and the medical communities about the NEC risk for premature infants, but indicates that the company specifically marketed versions of their formula for use by preemies, and made misleading marketing statements which led parents to believe cow milk-based infant formula is equally as safe as breast milk, which studies have shown is not the case.
In addition to Similac NEC lawsuits, similar allegations have also been raised in Enfamil NEC lawsuits filed against Mead Johnson.
"*" indicates required fields