Similac Special Care Lawsuit Alleges Infant Formula Caused Premature Baby to Die From Severe Intestinal Disease
August 22, 2023
By: Irvin Jackson
An Indiana mother has filed a lawsuit against Similac manufacturers, Abbott Laboratories, alleging that the popular infant formula caused a painful and deadly case of necrotizing enterocolitis (NEC), which triggered severe intestinal disease and the need for multiple surgeries, which ultimately caused the baby to die in "excruciating" pain.
The complaint (PDF) was brought late last month in the U.S. District Court for the Northern District of Illinois by Jayona Jones, who is pursuing damages on behalf of herself and her deceased minor child, identified with the initials K.J.
Necrotizing enterocolitis (NEC) primarily impacts premature babies, occurring when harmful bacteria breaches the walls of the intestines, causing portions of the tissue to become inflamed or die. The condition often results in the need for emergency surgery while the baby is still in the NICU, and many infants, like Jones' newborn, do not survive NEC.
Jones now joins other families of preterm infants nationwide who are pursuing a Similac NEC lawsuit against Abbott Laboratories. A number of similar claims are also being pursued against Mead Johnson over problems linked to their competing cow's milk product, Enfamil, alleging that the companies have withheld information about the risks premature babies may face from the infant formula.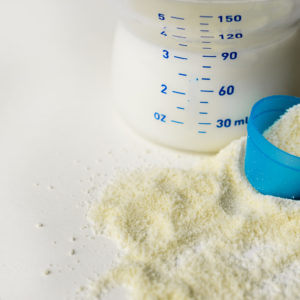 Jones indicates in the lawsuit that she gave birth to Baby K.J. in July 2013. The child was born very prematurely, at just 31 weeks and six days of gestation, and weighed just over three pounds.
While Jones provided pumped breastmilk to be fed to K.J., hospital staff also fed him Similac Special Care 24; which is a cow's milk-based infant formula product. Just days after being fed Similac infant formula, K.S. began passing bloody stools, developed a feeding intolerance and abdominal distention as well as other problems.
"Baby K.J. underwent intubation and blood transfusions due to respiratory failure and anemia of prematurity before being started on triple antibiotics. Additional scans and imaging were conducted and showed pneumatosis intestinalis with free air, leading doctors to perform the first of two exploratory laparotomies on August 4, 2013," Jones' lawsuit states. "During this first surgery, doctors found perforation and necrosis of Baby K.J.'s intestines, which prompted the removal of a total of 8 cm of necrotic bowel and the creation of an ileostomy."
K.J. underwent a second laparotomy the next day, at which time he was diagnosed with NEC totalis, indicating the entire bowel was nonviable. Doctors determined the newborn would not survive, and his mother had to decide to electively extubate her newborn child, who died later that day. The lawsuit indicates the child's last hours were spent in "excruciating" pain.
The lawsuit blames the infant death on the use of cow's milk-based infant formula, and Abbott Laboratories' failure to warn parents and the medical community of the risks of NEC from Similac Special Care.
"Based on Defendant's marketing of its formulas and fortifiers, including Defendant's marketing of the Product as specifically intended to address premature infants' needs, Baby K.J.'s parent believed the Product were not only safe for Baby K.J. to consume but necessary for his growth and nutrition as a premature infant," the lawsuit notes. "Although Defendant aggressively markets its products, including the Product, to make parents believe Defendant's products are safe and necessary for growth of a premature infant, the products are in fact extremely dangerous for premature infants. Defendant's cow's-milk-based products, including the Product, substantially increase the chances of a premature infant getting NEC and dying."
August 2023 Similac NEC Lawsuit Update
Jones' case will be consolidated with other Similac NEC lawsuits and Enfamil NEC lawsuits brought throughout the federal court system, which are currently centralized as part of a baby formula MDL (multidistrict litigation) before U.S. District Judge Rebecca R. Pallmeyer in the Northern District of Illinois, since each of the claims brought against the makers of the cow's milk formula products raise similar questions of fact and law.
As part of the coordinated management of the litigation, Judge Pallmeyer has established a "bellwether" program, where a group of 12 NEC lawsuits brought against the two infant formula manufacturers are going through case-specific discovery, and will be prepared for a series of early trial dates, which are designed to help gauge how juries will respond to certain evidence and testimony that will be repeated throughout the litigation.
Although the outcome of these early bellwether trials will not have any binding impact on other claims, they are expected to have a substantial impact on any baby formula NEC injury settlements the manufacturers may offer to avoid the need for each individual case to be remanded back to U.S. District Courts nationwide for separate trial dates in the future.
A series of court-ordered infant formula NEC settlement talks will be held between October 15 and October 27, 2023, at which time the parties will participate in mediation on the Bellwether selections, which may also lay the ground work for negotiating an agreement that would settle all claims pending against the two manufacturers.
"*" indicates required fields