Surgical Stapler Problems Linked to More Than 9,000 Serious Injuries and 366 Deaths, FDA Warns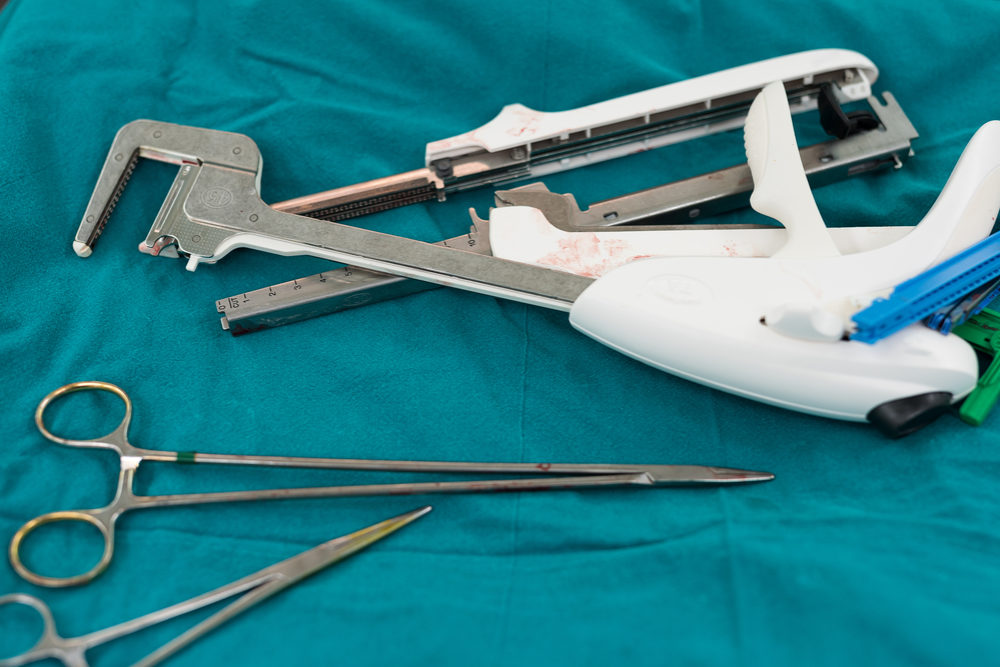 March 11, 2019
By: Irvin Jackson
An increasing number of problems have been reported with surgical staplers and staples, according to a warning issued last week by federal health care providers, which indicates more than 41,000 reports have been received involving complications.
The FDA issued a "Dear Healthcare Provider" letter to U.S. doctors on March 8, raising concerns about surgical staplers for internal use and indicating that the agency will issue draft guidance designed to reduce the risk of complications later this year.
Between January 1, 2011 and March 31, 2018, the FDA has received more than 41,000 adverse event reports. In addition to reports of device malfunctions, the agency indicates that more than 9,000 involved serious injuries and 366 resulted in patient deaths.
The most commonly reported problems linked to surgical staplers involve an opening of the staple line, malformation of staples, staplers misfiring, staplers being too difficult to fire, staplers failing to fire and staplers that were misapplied. The FDA warning indicates that stapler malfunctions or misuse can cause prolonged surgical procedures, the need for additional surgeries, and other complications; such as bleeding, sepsis, internal organ damage, and death.
"The agency's analysis of adverse events associated with surgical staplers and implantable staples is ongoing, but we know these devices provide important benefits for patients undergoing surgery, so it's important for us to continue to educate providers about the devices' safety and risk," Dr. William Maisel, chief medical officer of the FDA's Center for Devices and Radiological Health, said in a press release. "We are asking providers to be aware of the new information and implement the recommendations we're outlining today to help improve the safe use of these devices. Improving the safety of surgical staplers and implantable staples is a top priority for the FDA, and we believe our forthcoming draft guidance to industry and planned advisory committee meeting will advance those efforts."
The agency is providing the following recommendations to health care providers using surgical staplers:
Read and carefully follow the stapler manufacturer's instructions
Have a range of staple sizes available and select the appropriate cartridge for tissue type and thickness
Consider other options for patients with tissue that is swollen with fluid, readily tears, bleeds, or is necrotic.
Be familiar with organs around the intended staple site and ensure that unintended structures like the urinary bladder or objects like clips are not in the staple line.
Avoid using staples on large blood vessels, like the aorta
Avoid clamping delicate tissue, which can be damaged even if the stapler isn't fired
In cases where the stapler malfunctions, clamp or ligate any damaged blood vessel before releasing the stapler.
The FDA will issue a draft guidance on this issue in 2019, proposing recommendations to manufacturers about the design of surgical staplers and staples and what instructions should be included in product labeling.
The agency also announced it will hold an open public meting of its General and Plastic Surgery Devices advisory committee this year on whether surgical staplers should be reclassified as class II medical devices. Currently, they are class I medical devices, which is the same category as tongue depressors. A Class II classification would require premarket notification and approval by the agency before they hit the market.
The date of the meeting and the draft notice will be announced at a later date.
In the interim, the FDA is continuing to analyze data and review reports of surgical stapler incidents. The agency requests that any doctors or patients who have experienced problems or complications with surgical staplers submit a report through the MedWatch Adverse Event Reporting Program.
Tracy

May 17, 2023 at 1:28 pm

I had hemorrhoid and fistula surgery Nov 2022 and still in pain. Had second surgery couple months ago and a staple was still inside and was why I had such horrible pain lingering and problems with pain are still affecting my quality of life. I think I may have another one that is stuck. I am terrified and don't know what to do

AmyKat

August 25, 2021 at 9:22 pm

Metal hypersensitivity is waaaay more common than most doctors admit. They implant clips in the body without telling the patient then gaslight them when they come back complaining of pain or other symptoms. They don't track them, they don't acknowledge they can cause problems, including when they migrate or embed in vital organs and when our FDA is told, they do nothing!!! Where is the public outc[Show More]Metal hypersensitivity is waaaay more common than most doctors admit. They implant clips in the body without telling the patient then gaslight them when they come back complaining of pain or other symptoms. They don't track them, they don't acknowledge they can cause problems, including when they migrate or embed in vital organs and when our FDA is told, they do nothing!!! Where is the public outcry?? Where is the accountability? Do you realize how many people are walking around without a gallbladder but suffering symptoms caused from the clips they leave behind?? These are systemic issues! Autoimmune like symptoms with devastating consequences. Look up "Gallbladder clip problems" support group on facebook. Together we can change this.

Bertha

July 28, 2020 at 6:50 pm

1st surgery done May 2016,I Had a lap ban remove and ban A gastric bypass done. That night I got sick and threw up. The next day that morning the doctor came in and looked at my stomach drains, And said why is that drain is lookin milky way. He went out loans for about maybe 15 minutes came back in and said that I had to go backup to surgery. The 2nd surgery was done December 2018 I had a emer[Show More]1st surgery done May 2016,I Had a lap ban remove and ban A gastric bypass done. That night I got sick and threw up. The next day that morning the doctor came in and looked at my stomach drains, And said why is that drain is lookin milky way. He went out loans for about maybe 15 minutes came back in and said that I had to go backup to surgery. The 2nd surgery was done December 2018 I had a emergency bowel obstruction. I had a hole in my stomach where the intestines was trying to go through.

Patti

May 15, 2020 at 7:13 pm

I went on October 9th 2019 to have a hernia repair. I ended up having to have a surgery required Staples I got an infection .I was in the hospital for 42 days I have a very disfiguring scar that's an 8 by 10 on my side disfiguring lump on my back . Due to having to have it stapled. staple and another one on my stomach I have to have another surgery very unbearable to look at please help

Scott

March 8, 2020 at 5:06 am

I had a partial nephrectomy on my right side, I was 8years old ,I'm now 45.I have had a extensive amount of testing done on my entire gut and right side trying to figure out what's causing me a constant gnawing pain.i have have been told several times that the surgical clips could be the culprit.Any help would be greatly appreciated

Dawn

September 27, 2019 at 11:17 am

I am a cancer survivor who back in 2010 had a colon resection that ended up almost killing me.. I was septic and had a very bad leak of bowel in my body that was caused by what they told me was " stapler misfiring" and I had to have a colostomy for 6 months and had to be hospitalized for a month and was in severe pain . It happen in 2010 so I was told since it was before they discovered the reca[Show More]I am a cancer survivor who back in 2010 had a colon resection that ended up almost killing me.. I was septic and had a very bad leak of bowel in my body that was caused by what they told me was " stapler misfiring" and I had to have a colostomy for 6 months and had to be hospitalized for a month and was in severe pain . It happen in 2010 so I was told since it was before they discovered the recall by a few months that I have no case,,why?

Jeffery

September 14, 2019 at 11:04 pm

I had the val. in my stomach repaired in about 2012 the staples had closed my stomach this time it couldn't be opened or repaired i had to have a stomach bypass done which was a 5 hour fix. They had to cut a whole in the bottom of my stomach and cut an place my lower intestines to the bottom of my stomach. I have went from 225 pounds to 140 now and i am in pain daily. It's very hard on me

Salena

June 28, 2019 at 12:35 am

My 15 year old child had to have her gallbladder removed. A year later she starts complaining with major pains on the opposite side of her body. The pains got worse by the day so I carried her to the doctor where we were told that she had a metal piece lodged in her side. I took her to another doctor to find out what the piece was & it was confirmed to be a surgical staple from her gallbladder rem[Show More]My 15 year old child had to have her gallbladder removed. A year later she starts complaining with major pains on the opposite side of her body. The pains got worse by the day so I carried her to the doctor where we were told that she had a metal piece lodged in her side. I took her to another doctor to find out what the piece was & it was confirmed to be a surgical staple from her gallbladder removal. She had another surgery to retrieve the staple at LeBonheur Childrens hospital. What should have been a 45 min procedure ended up being a 4 to 5 hour procedure. The staple was rolling around as she would breath and was sticking into her spleen.

Wynona

June 21, 2019 at 7:55 pm

Is there anything that can be done about reactions to staples being left in.. yes, I'm aware that some are designed to be there, but what about adverse reactions to them?? HELP!!

obella

May 6, 2019 at 1:10 am

I have been plagued with the infection and opening since 1984 after having a hysteretomy,and they just now telling us its because of the staplers that staple your bikin cut back together.And when you go to the doctor they look at you like you a fool and they don't know what is wrong.

Angela

April 24, 2019 at 8:46 am

Failed staples. Horrible pain wound opening several monthes of infection w a wound vac now huge hernias And horribly deformed stomach
"*" indicates required fields