FDA Just Believed Industry When Told Talc Was Safe, Failed To Listen To Critics: Reuters
December 06, 2019
By: Irvin Jackson
While a federal judge presiding over thousands of talcum powder lawsuits is considering whether plaintiffs' expert witness testimony is reliable enough to go to trial against Johnson & Johnson, a new report suggests the manufacturer and federal regulators ignored information about the risks associated with Johnson's Baby Powder and other products for decades, trusting claims by the company that talc does not contain asbestos.
This week, Reuters published a report which outlines several instances where the U.S. Food and Drug Administration (FDA) appeared to blindly accept claims by industry representatives and lobbyists, refusing to hear evidence from others about the presence of cancer-causing asbestos fibers in the widely used talcum powder.
The news comes as Johnson & Johnson faces about 13,000 Baby Powder lawsuits and Shower-to-Shower lawsuits filed nationwide by women diagnosed with ovarian cancer, mesothelioma or other injuries allegedly caused by regular exposure to talcum powder, which was commonly applied to their bodies on a regular basis for decades.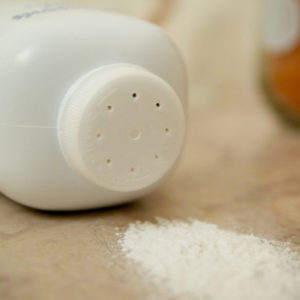 Although evidence uncovered during the litigation suggests the manufacturer has been aware for decades that asbestos may be present in the talc ingredients, increasing the risk of cancer, Johnson & Johnson has attempted to defend the safety of their popular baby powder, and refused to provide warnings to consumers about the potential cancer risk from talc-based powder.
Documents suggest the FDA did little to verify the company's claims, according to Reuters, even turning away scientists, doctors and others who would have refuted those claims, and preventing them from participating in hearings and conferences.
The FDA responded to Reuters, indicating it had limited resources to regulate the cosmetics industry and little power to do anything about the safety of those products before they were placed on store shelves.
The agency has faced sharp questions after reporting in October that sub-trace levels of chrysotile asbestos were detected in certain Johnson & Johnson talcum powder products, resulting in a Baby Powder recall that impacted tens of thousands of bottles.
Just 11 days later, Johnson & Johnson announced that its own independent testing found no traces of asbestos in the talcum powder, but then had to redo the testing following evidence that it was rushed and that the company tossed results showing the presence of asbestos, claiming that data was tainted. The company now says the new tests still show no signs of asbestos.
The company claims 155 tests were conducted by two third-party laboratories using four different testing methods, but the FDA appears to be standing by its findings, reversing prior reliance on the claims of the industry.
The Reuters article comes nearly a year after it revealed that internal documents show Johnson & Johnson knew about tests dating back to at least the 1970s which indicated the presence of asbestos in talcum powder mined for its products.
The FDA finding evidence of asbestos contamination in current bottles of Johnson Baby Powder distributed to stores throughout the U.S., is likely to have a major impact on the on-going litigation, and undercut the manufacturer's defense.
While a number of cases have already resulted in massive damage awards in state courts, after juries found that there was compelling evidence that Johnson & Johnson failed to warn consumers about the risks associated with their product, most of the claims are currently pending in the federal court system, where a U.S. District Judge is currently considering whether expert witness testimony proposed by plaintiffs is sufficiently reliable to permit the cases to proceed to trial.
If Johnson & Johnson is unable to disqualify plaintiffs expert witnesses in the federal court system, it is expected that a series of "bellwether" cases will be scheduled for trial, to gauge how juries respond to certain evidence and testimony that is presented in the federal litigation, and the company will face increasing pressure to consider negotiating talcum powder cancer settlements if they are unable to successfully defend the claims at trial.
"*" indicates required fields