Talcum Powder Lawsuit Filed Over Adenocarcinoma of the Ovary
October 10, 2017
By: Irvin Jackson
Following daily use of Johnson's Baby Powder and Shower-to-Shower body body over her entire life, a New York woman indicates that side effects of talc contained in the products caused her to develop adenocarcinoma of the ovary when she was 78 years old.
The complaint (PDF) was filed last month by Ann Peterson in the U.S. District Court for the Northern District of New York, indicating that the ovarian cancer developed as a direct and proximate result of her regular and prolonged exposure to talcum powder sold by Johnson & Johnson, indicating that the manufacturer failed to inform customers and end users about the potentially catastrophic health risks associated with their products.
Peterson states that as an infant, her mother applied Shower-to-Shower and Johnson & Johnson Baby Powder. As she grew up, and throughout her life, she continued to use the talcum powder products on a daily basis, indicating that there was never any indication on the packaging that this normal use could cause the development of ovarian cancer.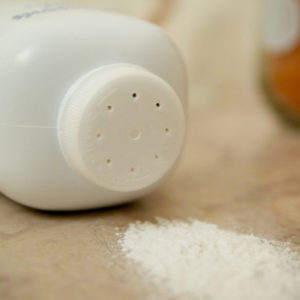 In September 2014, when Peterson was about 78 years old, the lawsuit indicates that she was diagnosed with adenocarcinoma of the ovary, consistent with Mullerian origin; which is commonly referred to as ovarian cancer. As a result, she indicates that she has required chemotherapy and been left with permanent injuries.
"At all pertinent times, Defendants in this action knew or should have known that the use of talcum powder based products in the perineal area significantly increases the risk of cancer, including, but not limited to, ovarian and uterine cancer, based upon scientific knowledge dating back for decades," according to the complaint. "Had Plaintiff received a warning that the use of the Products would significantly increase her risk of developing cancer, she would not have used them."
The complaint raises allegations similar to talcum powder lawsuits filed by several thousand women nationwide, which are consolidated in the federal court system as part of an MDL, or multidistrict litigation, before U.S. District Judge Freda Wolfson in the District of New Jersey.
Last week, Peterson's case was transferred to the talcum powder MDL, where it will be part of the coordinated pretrial discovery proceedings, together with other Johnson's Baby Powder lawsuits and Shower-to-Shower lawsuits filed on behalf of women diagnosed with ovarian cancer.
As part of the MDL proceedings, a small group of cases are expected to be set for early trial dates, known as "bellwether" claims, which will help gauge how juries may respond to certain evidence and testimony that is likely to be repeated throughout the litigation.
In state court litigation, Johnson & Johnson has already been hit with a number of multi-million dollar verdicts in similar cases, including a verdict of $417 million in August 2017, $70 million in November 2016, $55 million in May 2016 and $72 million in February 2016.
Following the federal bellwether program, if talcum powder settlements or another resolution for the cases is not reached, Peterson's lawsuit and others filed by women nationwide may be remanded back to the U.S. District Courts where they were originally filed for separate trial dates in the future.
"*" indicates required fields