Information on Talcum Powder Asbestos Criminal Marketing Probe Requested by Lawmakers
August 26, 2022
By: Irvin Jackson
A number of lawmakers are pushing the Department of Justice for information about the status of a criminal probe of Johnson & Johnson, and the company's marketing of Baby Powder and other talcum powder products that contained asbestos.
U.S. House representatives Rosa L. DeLauro and Steve Cohen recently wrote letters to the Justice Department and Attorney General Merrick Garland, seeking an update on the criminal probe launched in 2019, to investigate whether Johnson & Johnson knowingly marketed asbestos-tainted talcum powder products to the public.
The Justice Department launched the probe after internal documents arose that showed Johnson & Johnson found asbestos in its talc during at least three different laboratory tests from 1972 to 1975.
According to reports at the time, individuals with knowledge of the investigation indicated that a grand jury had been convened in Washington, D.C., to look at documents, which suggest Johnson & Johnson knew its talc supply contained asbestos or asbestos-like fibers for decades. However, no word of what that grand jury determined has been made public.
Johnson & Johnson Talcum Powder with Asbestos Linked to Cancer
Johnson & Johnson currently faces more than 38,000 Baby Powder lawsuits and Shower-to-Shower lawsuits filed by former users diagnosed with ovarian cancer, mesothelioma and other injuries. Many of those lawsuits claim the injuries were caused by asbestos in the products, and likely represent only a small fraction of actual cancer cases diagnosis since the talc-based powder was introduced.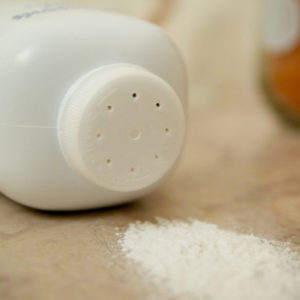 Following years of denying that its talcum powder contained asbestos, Johnson & Johnson issued a Baby Powder recall in October 2019, acknowledging that that some bottles of the popular products were found to contain levels of chrysotile asbestos, a toxic substance that is known to cause cancer.
Juries have also awarded billions in damages against Johnson & Johnson, after finding that the company withheld important safety information from consumers about the cancer risks from talcum powder.
Criminal Probe Into What J&J Knew About Asbestos In Talc Powder
News reports first confirmed the DOJ probe into the J&J talcum powder asbestos problems in July 2019, looking into evidence and documents uncovered during the litigatin, which suggests that Johnson & Johnson knew about asbestos in talc, but never reported the findings to federal regulators.
In a letter (PDF) sent by Congresswoman DeLauro, who is herself an ovarian cancer survivor, she notes that the Justice Department has received a number of inquiries from the media about the status of the investigation, but no status update has been provided. While the DOJ often does not answer media inquiries, DeLauro noted that it was of interest to Congress and to victims of talcum powder ovarian cancer.
"It is extremely important if this grand jury remains active that other governmental branches and agencies be apprised so they will know that J&J's reprehensible conduct is receiving the scrutiny it deserves," she wrote. "Several bills have been introduced in Congress to address the misuse of bankruptcy laws that will be affected by your response. Most importantly, there are tens of thousands of victims who deserve to know their pursuit of justice remains a possibility."
Cohen's letter (PDF) states that Johnson & Johnson's actions toward talcum powder are some of the most egregious he's ever seen by a corporation.
"I was particularly disturbed to recently learn that Johnson and Johnson was aware of the contamination of this iconic product and the potential health risks, then specifically targeted marketing toward women of color and 'overweight' women," Cohen wrote. "If true, this type of activity is not just dangerous and callous, but morally reprehensible and possibly criminal."
Cohen said racial justice and "simple fairness" requires the Justice Department make the status of the investigation, and whether it is still ongoing, known to the public.
The Justice Department has yet to reply to the status request issued by the law makers.
Talcum Powder Asbestos Litigation Status
In response to mounting liability it faces through talcum powder ovarian cancer lawsuits, Johnson & Johnson has been pursuing a controversial "Texas Two-Step" bankruptcy plan since February, as part of an attempt to break off the massive liability it faces for failing to warn consumers into a separate company, LTL Management, LLC, which critics have argued was created solely for the purpose of placing it into bankruptcy and delaying justice for plaintiffs seeking compensation through the U.S. Court system.
The Johnson & Johnson talc powder bankruptcy scheme has been widely criticized by plaintiffs lawyers, as well as bankruptcy experts, as an abuse of the legal process and effort to delay a series of trials that were expected to go before juries this year.
Talcum powder plaintiffs say Johnson & Johnson, which has billions in cash reserves, has no financial distress that would merit a bankruptcy filing. However, since the bankruptcy is being allowed to move forward, settlements for talcum powder cancer and asbestos lawsuits may be artificially capped.
Defending against the talc ovarian cancer claims has already cost Johnson & Johnson $1 billion, on top of Baby Powder settlements and verdicts that have amounted to another $3.5 billion, according to the bankruptcy filing.
"*" indicates required fields