New Study Shows How Talcum Powder Exposure Can Trigger Ovarian Cancer, Researchers Claim
June 27, 2019
By: Irvin Jackson
Wayne State University researchers say they may have found the mechanism of action that explains the link between talcum powder and ovarian cancer, which may provide evidence that further supports the growing number of lawsuits filed against Johnson & Johnson by women diagnosed with cancer following regular use of Baby Powder and Shower-to-Shower products.
Researchers from the University's Karmanos Cancer Center in Detroit presented findings at the 2019 Annual Meeting of the Society of Gynecologic Oncology earlier this month, which indicate that talcum powder can induce mutations in certain genes linked to ovarian cancer.
Johnson & Johnson currently faces nearly 12,000 Johnson's Baby Powder lawsuits and Shower-to-Shower lawsuits pending in courts nationwide, each raising similar claims that the manufacturer has known for decades that their products may contain asbestos and increase the risk of ovarian cancer, yet failed to warn consumers.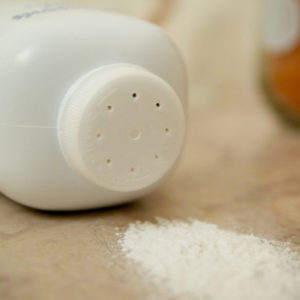 Although a number of juries have returned massive verdicts in early cases, after considering the currently available evidence, Johnson & Johnson has continued to maintain that talc exposure does not cause ovarian cancer.
According to the findings of this latest study, which have not yet been peer reviewed or published in a medical journal, researchers have found a direct link showing exactly how talcum powder exposure can cause ovarian cancer cell mutations. If these findings are confirmed, it provides strong causal evidence that some cases of ovarian cancer are specifically caused by talcum powder.
At the meeting, researchers showed how talc induced mutations in certain genes, including CAT, NOS and GPX1. They also found that it increased the oxidative state of ovarian cancer cell lines and in healthy Fallopian cells, which is where ovarian cancer is believed to originate.
These findings could have a significant effect on the ongoing litigation, if courts ultimately determine that the findings are sufficiently reliable to be presented as evidence to future jury.
While Johnson & Johnson has successfully defended some cases at trial, a number have resulted in multi-million dollar damage awards, often including punitive damages designed to punish the company for failing to warn about the risks associated with their talc-based products.
Last year, a Missouri jury returned a landmark $4.7 billion verdict for 22 women diagnosed with ovarian cancer, and analysts have suggested that a string of recent losses suggest that juries already do not find the defense of talcum powder safety credible.
Most of the talcum powder ovarian cancer lawsuits are pending in the federal court system, where the proceedings have been centralized before U.S. District Judge Freda L. Wolfson in the District of New Jersey.
As part of the coordinated pretrial proceedings, Judge Wolfson is expected to rule on challenges to the admisibility of expert witness testimony under federal law later this year. If the Court determines that plaintiffs have sufficiently reliable evidence to proceed to trial in the federal court system, it is expected that a small group of "bellwether" cases will be set for trial.
While the outcomes of these early trial dates will not be binding on other claims, they may help the parties gauge how juries will respond to certain evidence and testimony that will be repeated throughout the litigation, and help facilitate potential talcum powder settlements or otherwise resolve the litigation without the need for thousands of individual cases to be set for trial nationwide.
"*" indicates required fields