Teflon-Coated Pans Release PFAS, Nanoparticles as They Degrade: Study
November 09, 2022
By: Russell Maas
New research warns that degrading Teflon cookware may introduce toxic per- and polyfluoroalkyl substances (PFAS) into food, amid growing concerns the widely used toxic chemicals are causing a variety of health problems among consumers, including cancers, infertility, hormone disruptions and other side effects.
In a study published in the medical journal Science of The Total Environment, a team of researchers warned that scratched surfaces on non-stick cookware coated with Teflon can release over 2 million micro-plastics and nanoplastics into food, which can deliver PFAS chemicals directly into the bloodstream.
PFAS Exposure Side Effects
PFAS are often referred to as "forever chemicals," since they are known to persist and build up in the environment and human body. The chemicals have been used for decades, due to their ability to resist heat, grease, stains and water. As a result, they are found in a vast amount of consumer products, including food packaging materials, pizza boxes, popcorn bags, non-stick cooking pans and other items. They are also heavily used in aqueous film-forming foams used by civilian and military firefighters to combat chemical fires.
Exposure to the chemicals have been linked to the development of several different types of cancers, with recent studies finding that PFAS exposure can cause liver damage, thyroid disease, high cholesterol and other side effects. However, the full extent of their adverse effects on the human body are still relatively unknown.
Manufacturers of the chemicals currently face hundreds of firefighting foam lawsuits brought by individuals diagnosed with cancer after direct contact with the chemicals during their careers as a firefighter. In addition, a growing number of PFAS water contamination lawsuits are being pursued by individuals diagnosed with ulcerative colitis or cancer, after regularly drinking water known to contain the chemicals.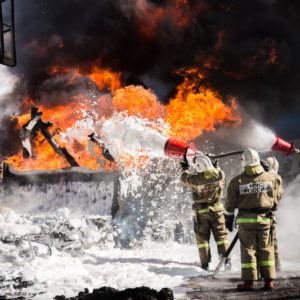 In this latest study, Australian researchers looked specifically at the popular cookware coating Teflon, which is typically made up of many hazardous PFAS substances.
Researchers used new methods of measuring exactly how many millions of plastic particles are potentially released from Teflon coated cookware during cooking, and how the number of particles released increases as the pans slowly lose their coating. The method included the use of a scanning electron microscope (SEM).
According to their measurements, researchers determined scratched and broken Teflon coating may release up to 2,300,000 microplastics and nanoplastics. Additionally, the study revealed a surface crack could leave behind approximately 9,100 plastic particles.
"Based on these developments and with the help of SEM, we estimate that thousands to millions of Teflon microplastics and nanoplastics might be released during a mimic cooking process", the researchers concluded.
PFAS Lawsuit Update
Given common questions of fact and law raised in lawsuits being filed against 3M Company, Dupont and other manufacturers of PFAS chemicals and fire safety equipment, consolidated pretrial proceedings have been established in the federal court system, where claims brought nationwide are all centralized before one judge in the U.S. District Court for the District of South Carolina, for coordinated discovery and a series of early trial dates to help gauge how juries are likely to respond to certain evidence and testimony that will be repeated throughout the litigation.
There are currently about 3,000 product liability lawsuits over toxic PFAS effects pending nationwide, each involving similar allegations that the companies failed to warn about the long-term health risks from exposure to the chemicals.
Earlier this year, the Court selected a PFAS water contamination lawsuits for the first bellwether trial, which will go before a jury in 2023. While the outcome of the first trials will not be binding on firefighters or other plaintiffs, they will be closely watched and may influence future settlement negotiations over the PFAS cancer risks.
"*" indicates required fields