Toxic Flame Retardant Chemicals Are Accumulating in Breast Milk: Study
July 26, 2023
By: Stephanie Yanovich
Toxic flame retardant chemicals found in many U.S. household products are accumulating in breast milk, according to new research, which highlights the risk of the largely unregulated substances impairing cognitive abilities among children.
A team of researchers from Seattle and China indicate they found flame retardants known as bromophenols in almost 90% of the breast milk samples tested. Their findings were published this week in Environmental Pollution.
Bromophenols are a subclass of over 75 toxic chemicals called brominated flame retardants (BFRs), which are used in many household items, including plastics, electronics, and appliances, to prevent them from burning. Inhaling or swallowing the chemicals is believed to increase the risk of health and developmental problems, including decreased IQ, infertility and hormone imbalances.
Health experts have long been concerned over the presence of flame retardant chemicals in breast milk, which has a tendency to absorb high levels of toxins due to its high fat content, potentially putting breastfeeding infants at risk.
Bromophenol Child Exposure Health Risks
Many BFR substances are linked to an increased risk of cognitive impairments in children. One 2020 study linked long-term childhood exposure to polybrominated biphenyl ethers (PBDEs), a common BFR flame retardant, with a 16 point IQ drop.
Most states either heavily regulated, or banned, certain flame retardant chemicals between the 1970s and the mid 2000s, due to growing public concern over the associated health risks. Federal regulators completely banned PBDE  in the U.S. in 2013.
However, many manufacturers then replaced the banned or regulated flame retardant substances with similar bromophenol chemicals. Those substances are currently unregulated in most states.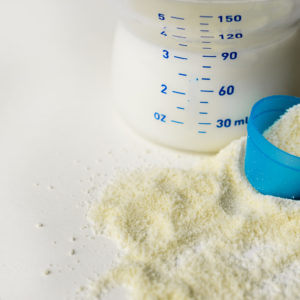 Toxic Flame Retardant Contamination in All Breast Milk Samples
In this latest study, researchers from Emory University, the University of Washington, Southern University of Science and Technology in China, and Seattle Children's Research Institute tested breast milk samples from 50 mothers across the U.S. They analyzed the samples for detectable levels of more than 60 different flame retardant chemicals, including older, banned substances such as PBDEs and newer, unregulated chemicals such as bromophenols.
The researchers detected PDBEs in 100% of the tested samples. However, the PBDE levels were 70% lower overall compared to similar studies more than 20 years ago, suggesting the national ban has helped decrease that chemical's accumulation in human tissue.
When researchers analyzed the breast milk for the newer, unregulated bromophenol chemicals, they found 88% of the samples contained detectable levels. They attributed the high bromophenol breast milk levels to the chemical's increasing popularity as a substitute for banned flame retardant substances, even though the two compounds are structurally similar.
Unregulated Toxic Flame Retardant Chemicals Pose Health Risks
The researchers warn that since bromophenols are chemically similar to other, banned flame retardants, they can still pose significant health risks to virtually all exposed Americans.
While breastfeeding infants are still at the highest risk of cognitive impairment from bromophenol exposure based on existing research, prior data indicates that other, comparable flame retardant chemicals pose elevated liver and developmental toxicity risks to adult manufacturing workers.
Additionally, high levels of flame retardant substances similar to bromophenol have been linked to decreased pregnancy rates in women undergoing in vitro fertilization, and elevated thyroid cancer risk in all exposed adults.
The researchers recommend continued regulation, along with manufacturer efforts, to eliminate some flame retardant chemicals and further reduce human exposure.
"*" indicates required fields