Tylenol and Alcohol Use May Double Risk of Kidney Problems: Study
November 05, 2013
By: Irvin Jackson
In recent years, health officials have focused a lot of attention on raising awareness about the risk of liver damage from side effects of Tylenol and its active ingredient, acetaminophen, but a new study now indicates that when alcohol is combined with the popular pain reliever, users may also face an increased risk of kidney injury.  
According to the findings of a study presented at the 141st annual meeting of the American Public Health Association in Boston, combining Tylenol and alcohol may double the risk of kidney problems.
The preliminary findings were conducted by researchers from Parker University in Dallas, Texas, but the study has not yet been peer reviewed or published.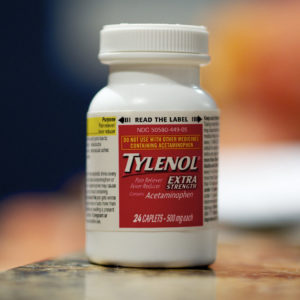 Researchers looked at data on more than 10,000 participants in the 2003-2004 U.S. National Health and Nutrition Examination Survey, which asked about health problems, the use of medication and the use of alcohol. The findings suggest that individuals who took Tylenol or other acetaminophen products in combination with a small to moderate amount of alcohol saw a 123% increase in the risk of kidney disease. However, neither acetaminophen or alcohol by themselves appeared to have any association with kidney problems.
The study's findings indicated only an association, but did not establish a cause-and-effect relationship. However, researchers said that alcohol is known to interfere with the gene that controls how your body processes acetaminophen, which could explain the increased kidney risk.
Tylenol and other acetaminophen-based drugs carry a label warning not to take them with alcohol.
Johnson & Johnson currently faces several hundred Tylenol lawsuits brought on behalf of individuals who suffered liver failure or other liver injury after using the pain medication. The complaints allege that the drug maker has known about the Tylenol liver risks for decades, yet withheld important information from consumers and the medical community.
In 2011, the recommended daily dose for Tylenol was reduced from 4,000 mg per day to 3,000mg, due to the risk of liver damage. However, the drug maker has faced substantial criticism for selling Extra Strength Tylenol, which contains 500mg in each tablet and poses a serious risk of liver failure if consumers take more than two tablets every six hours.
Due to the widespread use of Tylenol and other similar cold products, federal health officials have been focusing in recent years on raising awareness about the risk of overdosing on acetaminophen, including the risk of taking multiple medications that contain the pain killer.
"*" indicates required fields