Tylenol Lawsuit Filed Over Titanium Dioxide Coloring Side Effects
September 01, 2022
By: Russell Maas
Johnson & Johnson faces a class action lawsuit over Tylenol, which alleges that the drug maker fails to disclose that the pain reliever contains harmful food coloring additives, including titanium dioxide, which has been linked to toxic side effects and been banned in other countries.
The complaint (PDF) was filed by Valerie Morrison in the U.S. District Court Southern District of California on August 29, raising allegations that Johnson & Johnson fraudulently conceals that Tylenol pills contain titanium dioxide (TiO2), which can build up in the human body and cause DNA changes and organ damage.
Titanium dioxide is a natural metal element that's used in addition to other ingredients to give a natural whiteness and opacity to foods. Although the U.S. Food and Drug Administration (FDA) approves the use of the metal in food, the agency sets very low limits of no more than 1% titanium dioxide by weight. However, due to the coloring side effects, France banned the use of titanium dioxide as a food additive in 2019, and the European Food Safety Authority (EFSA) ruled that TiO2 is no longer considered safe as a food additive after a comprehensive review of thousands of medical studies could not rule out the concern for genotoxicity.
Tylenol Titanium Dioxide Coloring Agent Health Risks
In this new Tylenol lawsuit, Morrison indicates that studies have shown titanium dioxide causes pathological lesions of the liver, spleen, kidneys, and brain, as well as lung tumors, inflammation, cell necrosis, and dysfunction in the kidneys.
Despite knowledge about the potential toxic effects of titanium dioxide, Morrison claims Johnson & Johnson continues to sell Tylenol Extra Strength, Tylenol Extended Release, Tylenol Cold + Flu Multi-Action, Tylenol Cold + Flu Severe, Tylenol PM, Tylenol Rapid Release Gels, Tylenol Regular Strength Liquid Gels, without disclosing the health risks to consumers or even indicating that the products contain TiO2.
"J&J regularly and intentionally omitted, and continues to omit, material information regarding safety concerns associated with consuming the TiO2 in Tylenol," according to Morrison. "Nowhere on the label of Tylenol containing TiO2 does J&J disclose those safety concerns."
The lawsuit points to claims made by Johnson & Johnson that its products are "safe and effective when used as directed," and designed with a "tireless passion for product safety," all while knowing the side effects of titanium dioxide are not being disclosed.
Morrison's lawsuit seeks class action status for and all others similarly situated who have been deceived by Johnson & Johnson's fraudulent business practices. Morrison further presents allegations of violation of unjust enrichment and violation of false advertising laws, among others.
Autism and ADHD Lawsuits Over Tylenol's Active Ingredient
This class action lawsuit comes as many families of children diagnosed with autism spectrum disorder (ASD) or attention deficit hyperactivity disorder (ADHD) are now considering whether to pursue Tylenol lawsuits against Johnson & Johnson and other acetaminophen-based drug makers, after learning that information has been withheld about the risks associated with use of the drugs during pregnancy.
There are currently at least 19 autism and ADHD lawsuits filed in U.S. District Courts nationwide against manufacturers or retailers of pain medications containing acetaminophen, the active ingredient in Tylenol. Current complaints have been brought against CVS, Walgreens and other companies, each raising similar allegations that inadequate warnings have been provided for decades about the pregnancy side effects of acetaminophen.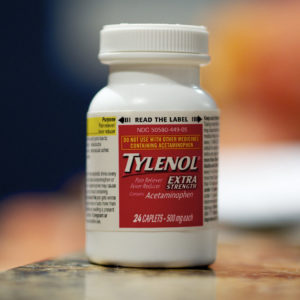 The litigation emerged after studies were published in recent years that suggest prenatal exposure to Tylenol increases the autism and ADHD risks for children.
In October 2019, a study published in the medical journal JAMA Psychiatry found that children with the highest levels of acetaminophen metabolites in their blood at birth had the highest risk of the developmental disorders.
According to additional research published in the European Journal of Epidemiology in June 2021, children exposed to Tylenol during pregnancy were 19% more likely to have autism spectrum disorders and 21% more likely to have ADHD symptoms compared to non-exposed children.
Given common questions of fact and law raised in the autism and ADHD lawsuits over Tylenol's active ingredient, the U.S. Judicial Panel on Multidistrict Litigation is currently considering a motion to centralize the claims before one federal judge for coordinated discovery and pretrial proceedings.
"*" indicates required fields