More than 100 Families of Children with ADHD, Autism from Tylenol Are Pursuing Lawsuits
March 10, 2023
By: Irvin Jackson
Johnson & Johnson, along with a number of major retailers nationwide, including Walmart, CVS and Walgreens, already face more than 100 lawsuits brought by families of children with ADHD or autism from Tylenol use during pregnancy, and the number of claims is expected to rise sharply over the coming months.
The litigation has emerged after a number of studies were published over the past several years, which warned of the highlighted the link between autism and Tylenol, as well as attention deficit hyperactivity disorder (ADHD) and other developmental problems that may result from exposure to the active ingredient acetaminophen before birth.
Each of the complaints raise similar allegations, indicating that makers of both name brand Tylenol, store-brands and generic acetaminophen products failed to adequately warn women about the risks associated with taking the medications during pregnancy, which has previously been promoted as a safe and effective pain medication option.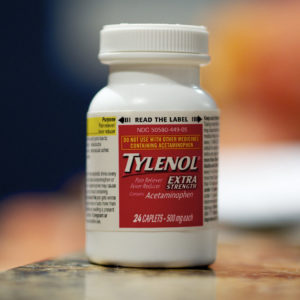 Given common questions of fact and law involved in the litigation, the U.S. Judicial Panel on Multidistrict Litigation (JPML) ordered all of the lawsuits against Tylenol manufacturers and acetaminophen retailers to be centralized and consolidated before U.S. District Judge Denise Cotes in the Southern District of New York in October 2022. At the time, the newly formed Tylenol multidistrict litigation (MDL) contained about 50 claims, but a steadily growing number of claims have been filed over the past several weeks.
According to a JPML docket report (PDF) published last month, that number had already doubled to 107 Tylenol autism and ADHD lawsuits by February 16. However, the size of the litigation is expected to continue to increase sharply following the MDL approval of a streamlined process for filing lawsuits over ADHD and autism from Tylenol, using a "Short Form Complaint" that allows families to easily adopt certain allegations from a "Master Complaint", which will be used by the Court during pretrial motions practice.
As Tylenol injury lawyers continue to review and investigate potential claims throughout the U.S., and as more families become aware of the growing scientific literature linking acetaminophen to developmental disorders, it is widely expected that thousands of complaints may be brought before the first claims go before a jury.
Tylenol Autism and ADHD Risks
One of the first of the recent studies to raise the alarm was published in JAMA Psychiatry in October 2019, when researchers found that children with the highest levels of acetaminophen metabolites in their blood at birth had the highest risk of ADHD and autism.
In 2020 researchers from Columbia University warned acetaminophen pregnancy use could lead to the fetus suffering impaired neurodevelopment. They called for doctors to re-evaluate the role of Tylenol in pregnant women.
More recently, in June 2021, research published in the European Journal of Epidemiology found that children exposed to Tylenol during pregnancy were 19% more likely to have autism, and 21% more likely to be diagnosed with ADHD than their peers.
March 2023 Tylenol Lawsuit Update
While litigation continues to grow, Judge Cote has indicated the court will prioritize discovery and pretrial proceedings that examine the strength of the evidence that Tylenol causes autism and ADHD, and has appointed a special master to oversee discovery issues that arise.
In January, Judge Cote issued a court order detailing how the federal court will coordinate Tylenol lawsuit discovery proceedings with various state courts nationwide, where some families have filed their claims outside of the MDL.
As part of the coordinated pretrial proceedings, it is also expected that the court will establish a "bellwether" process where a small group of representative cases will be selected for early trial dates, to help gauge how juries may respond to certain evidence and testimony that will be repeated throughout the litigation. However, if the parties fail to negotiate Tylenol autism settlements or another resolution for the litigation in the MDL, each family's lawsuit may eventually be remanded back to different U.S. District Courts nationwide for future trial dates.
Does Your Child Have Autism from Tylenol?
Lawsuits are still being reviewed and accepted by lawyers for families nationwide.
FIND OUT IF YOU QUALIFY FOR A TYLENOL SETTLEMENT
"*" indicates required fields