Walmart Seeks Immediate Appeal of Preemption Ruling Over Acetaminophen Pregnancy Warnings
December 05, 2022
By: Irvin Jackson
Walmart faces a growing number of lawsuits over the lack of pregnancy warnings on Equate brand versions of the painkiller acetaminophen
Exposure to acetaminophen during pregnancy has been linked to autism and ADHD
After federal judge rejected a motion to dismiss two lawsuits filed against Walmart, the retailer has requested an immediate appeal, which may place the entire litigation on hold
Over the coming weeks and months, thousands of Tylenol lawsuits are expected by families of children diagnosed with autism and ADHD
After a federal judge rejected an effort by Walmart to dismiss two ADHD and autism lawsuits filed over the lack of acetaminophen pregnancy warnings on its Equate version of the popular pain medication contained in Tylenol, the retailer has requested an immediate appeal of the decision, which may delay progress in hundreds of other lawsuits being pursued by families nationwide.
A federal multidistrict litigation (MDL) was established last month, centralizing all lawsuits over autism and ADHD caused by Tylenol, Equate and other versions of acetaminophen, which allege that manufacturers have withheld warnings and information about the risks associated with use of the pain medication during pregnancy.
Given similar questions of fact and law raised in complaints filed throughout the federal court system, the litigation has been centralized before Senior U.S. District Judge Denise Cote in the Southern District of New York, for coordinated discovery into common issues and to prepare a group of "bellwether" claims for early trial dates to gauge how juries are likely to react to certain evidence and testimony that will be repeated throughout the claims.
Most of the current complaints involve claims against retailers like Walmart, CVS, Walgreens, Costco and other companies, who sold their own brands of acetaminophen drugs over the past two decades without pregnancy warnings. However, it is also widely expected that the litigation will include several thousand Tylenol autism lawsuits that will eventually be brought against Johnson & Johnson for it's role in causing the widespread use of acetaminophen during pregnancy.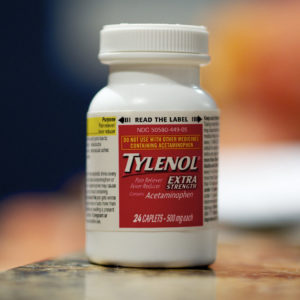 On June 7, plaintiffs Robin Hatfield and Lisa Roberts filed two separate ADHD and autism acetaminophen pregnancy warning lawsuits against Wal-Mart Stores, Inc. indicating their children were born with autism spectrum disorder (ASD) and attention-deficit/hyperactivity disorder (ADHD), because the mothers took the retailer's store-brand acetaminophen painkiller, sold under the Equate label, during pregnancy.
Walmart filed a motion to dismiss the lawsuits, arguing the claims are barred under the legal defense of federal preemption, which finds that federal drug labeling laws takes priority over any state law requirements imposed on drug makers.
On November 14, Judge Cote denied the motion and cleared the cases to proceed, saying there were no laws stopping Walmart from adding ADHD and autism warnings to its over-the-counter generic drug.
Walmart Appeals Acetaminophen Pregnancy Warning Lawsuit Ruling
On November 28, Walmart submitted a memorandum (PDF) in support of its motion to allow an immediate appeal of Judge Cote's ruling, known as an interlocutory appeal, which could delay discovery and proceedings in all cases against the company, while the Court of Appeals considers the issue that could also impact hundreds of other claims being pursued by families of children with ADHD and autism caused by acetaminophen drugs.
Walmart maintains that state law failure to warn claims raised in the lawsuits are preempted by federal law, since they would represent a new labeling requirement. The retailer also indicates that acetaminophen pregnancy warnings were already addressed by the FDA.
"The only point of disagreement is whether a state can require additional pregnancy warnings on top of the one that FDA determined was appropriate," the memorandum states. "The FDA directly addressed this question when it promulgated § 201.63 and explained that the answer is no."
The retailer is asking Judge Cote to immediately reconsider the Courts initial decision to deny Walmart's motion to dismiss, or in the alternative to immediately certify a request for an appeal to a higher court.
"Plaintiffs have acknowledged that a determination of preemption would be dispositive of this litigation," according to the retailer. "Indeed, even beyond these two actions, such a decision by the Second Circuit would resolve an important legal question that would have precedential val for (and likely result in the dismissal) of every action in the MDL."
Following the Walmart request, Judge Cote issued a court order (PDF) giving plaintiffs until December 12 to file any opposition motions.
December 2022 Acetaminophen Pregnancy Warning Lawsuit Update
During the first weeks after the federal courts centralized all acetaminophen pregnancy warning lawsuits before Judge Cote, dozens of complaints have been filed by families nationwide. Given the widespread use of Tylenol and acetaminophen during pregnancy, it is ultimately expected that tens of thousands of claims may be brought over the coming weeks and months.
Unless Walmart is granted an interlocutory appeal, it is expected that Judge Cote will establish a "bellwether" program in the federal MDL, where a series of early trials will be scheduled to help the parties gauge how juries may respond to certain evidence about the link between acetaminophen and autism, ADHD and other developmental delays.
As part of those efforts, Judge Cote has already called for the parties to conduct a census of all claims being pursued by lawyers, to determine how many filed or pending lawsuits Walmart and other retailers face. On November 30, attorneys for plaintiffs and defendants sent a letter (PDF) to Judge Cote updating her on their efforts to consent with the census order and will report back to the court on or before December 23 on their progress.
On the same day, the parties also proposed a list of potential Special Masters (PDF) both parties agree could be impartial mediators in potential settlement discussions.
Following the coordinated discovery and any bellwether trials in the Tylenol MDL, if parties fail to negotiate ADHD and autism settlements for families, Judge Cote may then start remanding each individual claim back to the U.S. District Court where it was originally filed for a future trial date.
DOES YOUR CHILD HAVE A TYLENOL AUTISM LAWSUIT?
Lawyers provide free consultations and claim evaluations to help families determine if ADHD or autism settlements may be available from drug makers, as a result of the failure to provide acetaminophen pregnancy warnings for decades.
CONTACT A LAWYER
"*" indicates required fields