CDC Researchers Call for More Autism Support as National Diagnosis Rates Rise
April 04, 2023
By: Irvin Jackson
A new government study suggests that the prevalence of autism spectrum disorder (ASD) has increased in the United States in recent years, requiring a more determined public health response.
Researchers with the U.S. Centers for Disease Control and Prevention (CDC) published a study late last month in its Morbidity and Mortality Weekly Report (MMWR), which highlights the rising rates of autism among American children, indicating that about one out of every 36 children in the U.S. were diagnosed with autism in 2020.
Autism Rates in the U.S.
CDC researchers used the Autism and Developmental Disabilities Monitoring (ADDM) Network, an active surveillance program that estimates autism rates among 8-year old U.S. children. The data came from ADDM network sites in Arizona, Arkansas, California, Georgia, Maryland, Minnesota, Missouri, New Jersey, Tennessee, Utah, and Wisconsin.
According to the findings, in 2020 the overall prevalence of ASD among 8-year-olds was 27.6 per 1,000 children, or about 1-in-36. This was an increase in rates seen from 2000 to 2018, the researchers indicated.
There were also significant differences in rates based on gender, race, and the state where the child lived, according to the data.
The researchers found boys were 3.8 times more likely to be diagnosed with autism, with about 4% of boys being diagnosed with ASD, compared to only 1% of girls diagnosed with autism. Rates were highest among non-Hispanic Asian or Pacific Islanders, and lowest among non-Hispanic white children.
In addition, the state with the lowest autism rates was Wisconsin, which had only 17.1 cases per 1,000 children, compared with California, which had the highest rates at 35.4 per 1,000 children. However, California had the earliest rates of diagnosis, at 36 months, which means those children get identified, and potentially helped, at a younger age. The state with the oldest median age of diagnosis was Minnesota, at 59 months.
"The continued increase among children identified with ASD, particularly among non-White children and girls, highlights the need for enhanced infrastructure to provide equitable diagnostic, treatment, and support services for all children with ASD," the researchers determined. "Similar to previous reporting periods, findings varied considerably across network sites, indicating the need for additional research to understand the nature of such differences and potentially apply successful identification strategies across states."
Tylenol Autism Lawsuits
The findings come as a growing number of families of autistic children file Tylenol lawsuits filed against Johnson & Johnson, CVS, Walmart and other major retailers, alleging that false and misleading information has been provided for decades about the risks associated with use of the pain medication by pregnant women.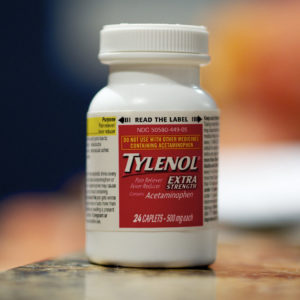 The litigation emerged after a number of studies were published over the past several years, which warned of the highlighted the link between autism and Tylenol, as well as attention deficit hyperactivity disorder (ADHD) and other developmental problems that may result from exposure to the active ingredient acetaminophen before birth.
Each of the complaints raise similar allegations, indicating that makers of both name brand Tylenol, store-brands and generic acetaminophen products failed to adequately warn women about the risks associated with taking the medications during pregnancy, which has previously been promoted as a safe and effective pain medication option.
Given common questions of fact and law involved in the litigation, the U.S. Judicial Panel on Multidistrict Litigation (JPML) ordered all of the lawsuits against Tylenol manufacturers and acetaminophen retailers to be centralized and consolidated before U.S. District Judge Denise Cotes in the Southern District of New York.
As part of the coordinated pretrial proceedings, it is expected that the court will establish a "bellwether" process where a small group of representative cases will be selected for early trial dates, to help gauge how juries may respond to certain evidence and testimony that will be repeated throughout the litigation. However, if the parties fail to negotiate Tylenol autism settlements or another resolution for the litigation in the MDL, each family's lawsuit may eventually be remanded back to different U.S. District Courts nationwide for future trial dates.
"*" indicates required fields