Discovery Over Link Between Tylenol and Autism, ADHD in Babies to Be Prioritized in MDL
January 19, 2023
By: Irvin Jackson
Hundreds of families are pursuing lawsuits against makers of Tylenol and acetaminophen products, alleging use during pregnancy caused ADHD or autism in babies
Litigation has been centralized before one judge for coordinated pretrial proceedings
Court has directed lawyers prioritize discovery into the link between prenatal use of Tylenol and Autism, ADHD and other developmental disabilities
Later it is expected that a small group of "bellwether" claims will be selected and scheduled for early trial dates to help parties gauge the average Tylenol lawsuit payout for children
The U.S. District Judge presiding over all federal Tylenol Autism and ADHD lawsuits has directed lawyers involved in the litigation to prioritize discovery related to issues of general causation, specifically whether pregnancy exposure to acetaminophen causes developmental disabilities in babies.
Hundreds of families nationwide are currently pursuing lawsuits against manufacturers of name-brand Tylenol and store-brand equivalents sold by Walmart, CVS, Walgreens and other companies, each alleging that babies developed ADHD or autism from acetaminophen taken by the mother during pregnancy.
Since each of the claims raises nearly identical allegations that inadequate pregnancy warnings have been provided for decades, a federal multidistrict litigation (MDL) was established late last year, centralizing all lawsuits over autism and ADHD caused by Tylenol, Equate and other versions of acetaminophen before U.S. District Judge Denis Cote in the Southern District of New York, for coordinated discovery and a series of early "bellwether" trials that will help gauge how juries are likely to respond to certain evidence and testimony that will be repeated throughout the claims.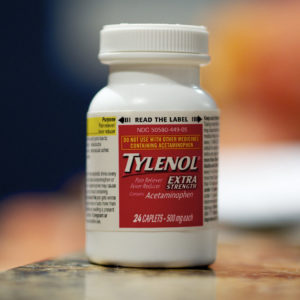 While the number of claims continues to increase rapidly, and is expected to join some of the largest mass tort litigations in the U.S. in the coming months, Judge Cote has set an aggressive pretrial schedule early in the proceedings, and indicates that the first phase of discovery will begin with the exchange of documents and information regarding the link between exposure to Tylenol and autism or ADHD, before the parties begin discovery into sales and marketing issues in the litigation.
Tylenol Autism and ADHD Discovery Process
Judge Cote issued a stipulated order (PDF) on January 12, outlining how the "Phase One" discovery will proceed, including the production of documents that meet agreed upon search terms and responses to a series of written questions about the link between prenatal exposure to acetaminophen and autism spectrum disorders (ASD) or attention deficit hyperactivity disorder (ADHD).
The order calls for Johnson & Johnson Consumer Inc. (JJCI), the makers of brand-name Tylenol, to identify five initial custodians of records this week, specifying each's relevancy to the issue of ASD/ADHD prenatal acetaminophen exposure medical causation. The parties will then meet and confer on a reasonably timeline for the rolling production of records in possession of those custodians.
In another order (PDF) issued on January 13, Judge Cote directed the parties to propose a Phase One discovery schedule by January 27, a proposed Deposition Protocol Order shall be filed by February 10, 2023, and plaintiffs' must submit a proposed label change for the products by April 7, 2023.
2023 Tylenol Lawsuit Update
As part of the coordinated discovery and pretrial proceedings in the Tylenol autism lawsuits, it is expected that Judge Cote will establish a "bellwether" process, where the parties later select a small group of ADHD and autism lawsuits that will go through case-specific discovery and a series of early trial dates.
To help manage the rapidly growing number of lawsuits, Judge Cote appointed a group of plaintiffs lawyers to serve in various leadership roles in November 2022, taking certain actions during the MDL proceedings that benefit all plaintiffs pursuing a claim. However, each family will still maintain their own Tylenol lawyer to establish that their child's diagnosis of ADHD or autism was caused by exposure to specific acetaminophen products used during pregnancy.
While the outcome of any early bellwether trials will not have any binding impact on other families pursuing lawsuits, they will be closely watched and the average Tylenol lawsuit payouts will have a large impact on the amount of autism or ADHD settlements the drug makers may pay to to avoid each cases being set for trial in the future.
FIND OUT IF YOUR CHILD IS ELIGIBLE FOR A TYLENOL SETTLEMENT
Lawyers provide free consultations and claim evaluations for children diagnosed with autism from Tylenol or other acetaminophen products.
CONTACT A LAWYER
"*" indicates required fields