Walmart Aromatherapy Spray Recall Issued Following Two Bacterial Contamination Deaths
October 27, 2021
By: Russell Maas
Federal health officials have announced a recall of Better Homes & Gardens aromatherapy sprays sold at Walmart which may be contaminated with deadly bacteria, following several illnesses and two deaths.
The U.S. Consumer Product Safety Commission (CPSC) announced the Walmart Better Homes & Gardens aromatherapy spray recall on October 22, following a three month investigation by multiple federal agencies to determine the source of four Burkholderia pseudomallei infection cases.
On August 9, the U.S. Centers for Disease Control and Prevention (CDC) issued a Burkholderia pseudomallei warning and launched an investigation into an outbreak involving the rare and dangerous bacteria Burkholderia pseudomallei which causes melioidosis, an infection that is difficult to diagnose and can be fatal.
The cases included adults and children, with two of the four patients having no known risk factors for melioidosis. Two patients died as a result of the infection. The first case in Kansas was confirmed in March 2021, the second and third in May 2021. The most recent case was confirmed in July.
In the latest update, officials from the CPSC and CDC announced the likely source of the bacterial infection is from Better Homes and Gardens Essential Oil Infused Aromatherapy Room Spray with Gemstones, after a bottle with the same type of bacteria was found in the home a consumer who died from melioidosis.
As a result of the CDC's findings, Better Home and Gardens has announced a recall of approximately 3,900 bottles of aromatherapy products including Gem Room Spray Lavender & Chamomile with product number 84140411420, Gem Room Spray Lemon and Mandarin with product number 84140411421, Gem Room Spray Lavender   with product number 84140411422, Gem Room Spray Peppermint with product number 84140411423, Gem Room Spray Lime & Eucalyptus with product number 84140411424 and Gem Room Spray Sandalwood and Vanilla with product number 84140411425.
The products were manufactured in India and were sold across 55 Walmart stores nationwide and online at Walmart.com from February 2021 through October 2021 for approximately $4.
Consumers are being instructed to immediately stop using the recalled room spray, double bag the bottle in clean, clear zip-top resealable bags, place it in a small cardboard box and return it to any Walmart store for a full refund. Customers will also be given a $20 Walmart Gift Card upon return.
For those who had recalled aromatherapy bottles in their possession, officials are instructing consumers to wash sheets or linens that the product may have been sprayed on and to wipe down counters and surfaces that might have been exposed to the spray with an undiluted disinfectant cleaner.
For additional questions or concerns regarding the recall, customers are being asked to contact Walmart at 800-925-6278 and reference the recall number 22-007.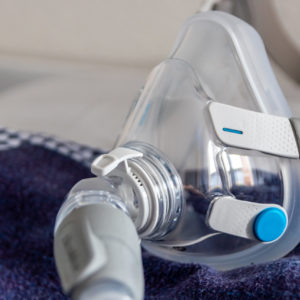 Did You Know?
Millions of Philips CPAP Machines Recalled
Philips DreamStation, CPAP and BiPAP machines sold in recent years may pose a risk of cancer, lung damage and other injuries.
Learn More
Burkholderia pseudomallei normally lives in moist soil or water, but in rare cases can contaminate moist products in the area. It is difficult to identify a single source of infections because the patients are spread out geographically and the time when the illnesses began differ. Each patient could have been exposed to hundreds of products before they became ill.
Unlike food-borne illness outbreaks, the bacteria that causes melioidosis can take two to three weeks to sicken someone. More so, most people are less likely to remember everything they were exposed to weeks before becoming ill.
Symptoms can vary and include cough, shortness of breath, chest pain, high fever, headache, fatigue, nausea, vomiting, rash on the abdomen and face, or unexplained weight loss. Other symptoms can include pneumonia, abscess formation, and blood infections.
Persons experiencing any of these symptoms should see their doctor immediately. Doctors should pay attention to acute bacterial infections that do not respond to antibiotics and be on the lookout for patients with these symptoms, whether the patient traveled outside the US or not.
"*" indicates required fields