Wegovy Gastroparesis Lawsuit Claims Using Weight Loss Drug Led to Stomach Paralysis
September 22, 2023
By: Irvin Jackson
A Pennsylvania woman has filed a gastroparesis lawsuit against the manufacturers of Wegovy, indicating that side effects of the weight loss drug caused her to suffer stomach paralysis, which has left her with painful and permanent injuries.
Kelly Miller filed the complaint (PDF) in the Philadelphia County Court of Common Pleas on September 19, pursuing damages from Novo Nordisk and its subsidiaries as defendants, for failing to warn about the link between Wegovy and gastroparesis side effects.
Wegovy (semaglutide) contains the same active ingredient that is found in the blockbuster diabetes drug Ozempic, but is approved specifically for weight loss use and contains a higher dose.
Both drugs are part of a class of medications known as glucagon-like peptide-1 (GLP-1) receptor agonists, which have been marketed as safe and effective. However, a growing number of Wegovy lawsuits and Ozempic lawsuits are now being filed, claiming that drug makers failed to adequately warn users and the medical community about the potential gastroparesis risks.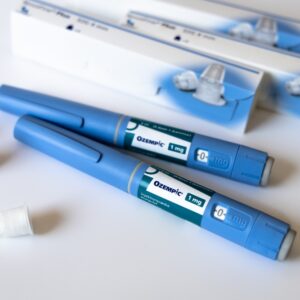 Find Out If You Have a Lawsuit
Miller was prescribed Wegovy in January 2023 for weight loss. However, by July, she began suffering stomach cramping, vomiting, nausea and fatigue. Eventually she was unable to tolerate eating or drinking, resulting in hospitalization.
After several days in the hospital from Wegovy, Miller was diagnosed with gastroparesis, which she indicates was a direct result of delayed gastric emptying caused by the drug, and continues to cause her problems to this day.
The complaint indicates that Novo Nordisk knew about the link between Wegovy and stomach paralysis, but failed to adequately disclose the information to users or the medical community.
"Defendants knew of the association between the use of GLP-1 receptor agonists and the risk of developing severe gastrointestinal issues, including gastroparesis and gastroenteritis," Miller's lawsuit states. "Defendants' knowledge derived from their clinical studies, case reports, and the medical literature, including the medical literature and case reports referenced above in this Complaint."
Ozempic and Wegovy Gastroparesis Side Effects
Also known as delayed gastric emptying or stomach paralysis, gastroparesis weakens the normal muscle movement in the stomach. These stomach contractions are necessary to push food through the digestive tract.
When gastroparesis occurs, the stomach is slow to empty, resulting in symptoms including nausea, vomiting undigested food, abdominal pain, abdominal bloating, severe dehydration, feeling full after only a few bites, undigested food hardening in the stomach, acid reflux, fluctuating blood sugar levels, lack of appetite, weight loss, malnutrition and decreased quality of life. However, some users are reporting these side effects persisted long after Wegovy or Ozempic are discontinued.
In July, a CNN investigation outlined an alarming number of reports linking Wegovy, Ozempic and stomach paralysis, indicating that similar problems have been associated with other drugs in the same class in recent years.
In 2017, researchers with the Mayo Clinic conducted a study involving a similar diabetes medication known as Victoza, which found that the drug caused significantly slower digestion in users, taking about 70 minutes for half the food they ate to leave their stomachs, compared to four minutes for people who did not take the drug. However, the study found that people's bodies tended to adjust over time.
The first known Ozempic stomach paralysis lawsuit was filed in early August, alleging Novo Nordisk knew about the risks, but failed to provide patients and healthcare providers with adequate warning. It was the first of what could be hundreds or thousands of such lawsuits filed in the coming months and years.
---
Find Out If You Qualify for Ozempic or Wegovy Compensation
"*" indicates required fields