Wegovy Cut Heart Attack, Stroke Risks by 20%, Study Finds
November 15, 2023
By: Irvin Jackson
A new study suggests Wegovy, Ozempic and similar drugs may reduce the risks of heart attacks, strokes and death, providing positive findings about additional benefits associated with the diabetes and weight loss drugs, as other concerns continue to grow about the risk of severe stomach problems some users experience.
In a report published in The New England Journal of Medicine on November 11, researchers evaluated the cardiovascular benefits associated with semaglutide-based drugs, which are sold by Novo Nordisk under the brand names Ozempic and Wegovy.
The drugs are part of a new class of medications, known as glucagon like peptide-1 receptor agonists (GLP-1), which have become extremely popular in recent years, but also raise concerns about the potential long-term risks.
Semaglutide was originally introduced under the brand name Ozempic, and approved by the FDA for treatment of people with Type 2 diabetes. However, amid aggressive marketing that highlighted the weight loss benefits, Ozempic has been increasingly prescribed as a diet drug, leading Novo Nordisk to introduce a higher dose version, known as Wegovy, which the FDA specifically approved for weight loss use.
This new study was conducted by Novo Nordisk, and found that use of Wegovy was associated with a 20% drop in the risk of heart attacks and strokes, which the drug maker is certain to highlight in pushing for wider use of the medications. However, the findings also come amid increasing evidence that a larger-then-expected number of Ozempic and Wegovy users experience gastroparesis, which involves severe and long-term stomach problems that result from delayed gastric emptying caused by the drug.
As a result of Novo Nordisk's failure to sufficiently disclose the risk of long-term stomach problems, a number of former users are now pursuing Ozempic lawsuits and Wegovy lawsuits, each raising similar allegations that they could have avoided painful injuries if false and misleading information had not been provided for users and the medical community.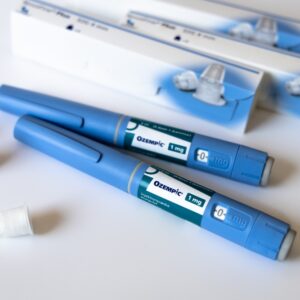 Find Out If You Have a Lawsuit
Wegovy and Ozempic Cardiovascular Benefits
In this new report, Novo Nordisk researchers indicate they conducted a multicenter, double-blind, randomized placebo-controlled trial involving 17,604 patients. Subjects were 45 years old or older, and had preexisting heart disease and were overweight, with no history of diabetes. Half the patients received Wegovy, which is given in a higher dose than Ozempic, and half were given a placebo.
Researchers looked for cardiovascular primary end points including death from heart problems, nonfatal heart attacks and non-fatal strokes.
According to the findings, one of these events occurred in 6.5% of patients given Wegovy, compared to 8% among those given a placebo; a difference of 20%.
"In patients with preexisting cardiovascular disease and overweight or obesity but without diabetes, weekly subcutaneous semaglutide at a dose of 2.4 mg was superior to placebo in reducing the incidents of death from cardiovascular causes, nonfatal myocardial infarction, or nontafal stroke at a mean follow-up of 39.8 months.
Expanded Ozempic, Wegovy Use Likely
The findings come as the drugs have significantly increased in popularity due to their weight loss effects. Now, observers say, if the findings hold true, that popularity is likely to increase significantly.
According to a recent Bloomberg News report, there are now more than 50 weight loss drugs in development by about 40 companies, with many involving new GLP-1 medications. The report indicates sales of weight loss drugs reached $6 billion this year, and could reach more than $100 billion by 2030.
Earlier this month, the U.S. Food and Drug Administration announced approval for a new Eli Lilly drug, Zepbound (tirzepatide), which is a weight loss version of its diabetes drug, Mounjaro (tirzepatide), which belongs to the same class as Ozempic and Wegovy.
Wegovy, Ozempic Stomach Problems Cause Concerns for Users
While many overweight individuals are flocking to the new diet drugs, some experts have raised concerns about the lack of specific warnings for users and the medical community about the increased risk of severe stomach problems from Ozempic and Wegovy, which appear to be a direct side effect of the drugs' primary mechanism of action, which delays gastric emptying. While this makes the user feel full longer and less hungry, the slow emptying can lead to stomach paralysis.
In July, the American Society of Anesthesiologists (ASA) issued a warning about using Ozempic and Wegovy before surgery, indicating that the lack of gastric emptying linked to the drugs could put patients at risk of vomiting and aspiration while under the effects of anesthesia. Similar side effects are linked to Mounjaro, which could also pose a problem during surgical anesthesia.
In 2017, researchers with the Mayo Clinic conducted a study involving a similar diabetes medication known as Victoza, which found that the drug caused significantly slower digestion in users, taking about 70 minutes for half the food they ate to leave their stomachs, compared to four minutes for people who did not take the drug. However, the study found that people's bodies tended to adjust over time.
In September, the U.S. Food and Drug Administration (FDA) issued new label warnings for Ozempic, indicating that it can increase the risk of intestinal blockages. The warning links Ozempic to a condition known as ileus, which can cause abdominal cramps, bloating, nausea, vomiting, constipation, difficulty passing gas and difficulty eating.
Tags:
Diabetes,
Diabetes Drugs,
Gastroparesis,
Heart Attack,
Heart Disease,
Mounjaro,
Novo Nordisk,
Ozempic,
Stomach Paralysis,
Stroke,
Wegovy,
Weight Loss,
Zepbound
---
Find Out If You Qualify for Ozempic or Wegovy Compensation
"*" indicates required fields