FDA Warns Doctors of Acetaminophen Liver Risks with Combo Drugs
January 16, 2014
By: Irvin Jackson
Due to the potential risk of liver damage from acetaminophen, the FDA is warning doctors that they should stop prescribing combination pain killers that contain high doses of acetaminophen, and the drug regulatory agency indicates that it will soon take action to recall such products from the market.
On January 14 the FDA issued recommendations that health care professionals discontinue prescribing and dispensing combination drugs that contain more than 325 milligrams (mg) of acetaminophen; which is the active ingredient in Tylenol.
The agency warns that these combination drugs, which can include prescription painkillers like Vicodin and Lorcet, can cause serious liver damage and it is unclear whether the excessively high levels of acetaminophen are providing any benefits for patients.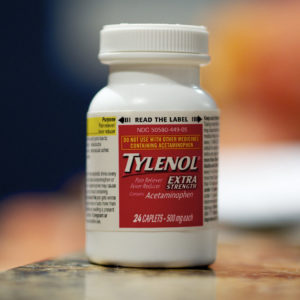 In recent years, increased effort has been focused on raising public awareness about the risk of acetaminophen overdose, which can increase the risk of liver injury, liver failure and result in the need for a liver transplant.
The FDA first began telling drug manufacturers to remove high-acetaminophen combination painkillers from the market in January 2011. Some combination drugs that contained more than 325 mg of acetaminophen, like Lorcet 10/650, which had 650 mg of acetaminophen, have already been discontinued. According to the FDA, more than half of manufacturers have already voluntarily removed high-acetaminophen combination drugs from the market, but some still remain available.
This latest warning is for health care professionals, indicating that those drugs still available should not be prescribed to patients. The FDA indicates that it will soon take action against those products with more than 325 mg of acetaminophen that are still available.
"In the near future we intend to institute proceedings to withdraw approval of prescription combination products containing more than 325 mg of acetaminophen per dosage unit that remain on the market," the agency warns. "Inadvertent overdose from prescription combination drugs containing acetaminophen accounts for nearly half of all cases of acetaminophen-related liver failure in the United States, some of which result in liver transplant or death."
Tylenol and Acetaminophen Liver Damage
The FDA has previously identified acetaminophen as the leading cause of liver injury in the United States. It has been suggested that more than 50,000 emergency room visits each year are caused by acetaminophen, including 25,000 hospitalizations and 450 deaths.
Johnson & Johnson lowered the maximum recommended dosage on Tylenol and other acetaminophen-based products from 4,000 mg per day to 3,000 mg per day in 2011, after the FDA announced the new limits on acetaminophen levels in prescription painkillers like Vicodin and Percocet. However, the drug maker continues to market Extra Strength Tylenol, which contains 500 mg of acetaminophen in each tablet, indicating that it is a safe and effective over-the-counter medication.
A growing number of Tylenol lawsuits have been filed in state and federal courts throughout the country on behalf of former users who suffered liver damage, liver failure or death. The complaints allege that Johnson & Johnson has built the global impression that Tylenol is safe by withholding information about the potential risks associated with acetaminophen for decades. Many of the complaints suggest that the FDA would never approve Tylenol as an over-the-counter medication if it were first introduced today.
"*" indicates required fields