Does Tylenol Cause Autism? A Review of the Science Linking Tylenol and Autism Spectrum Disorder
August 23, 2023
By: Russell Maas
Tylenol and other acetaminophen based pain medications have been widely used by pregnant women for decades, based on the belief it was safe
Lawsuits now allege that Tylenol caused autism for children exposed before birth
Judge presiding over the litigation has rejected early attempts to dismiss the claims, allowing lawsuits over the link between Tylenol and autism to move forward
This featured post outlines the allegations and studies supporting the claims
Over the past year, families of children diagnosed with autism spectrum disorder have filed Tylenol lawsuits against Johnson & Johnson and manufacturers of generic acetaminophen pain killers, each raising similar allegations that pregnant women were not adequately warned that Tylenol may cause autism for their child.
Lawsuits point to more than two dozen different studies, published in peer-reviewed medical journals, which suggest acetaminophen in Tylenol increases the risk of an unborn child developing autism spectrum disorder (ASD), attention deficit hyperactivity disorder (ADHD) or other developmental complications.
Given similar claims raised in complaints filed throughout the federal court system, the U.S. Judicial Panel on Multidistrict Litigation decided to centralize and consolidate the litigation before U.S. District Judge Denise Cote in October 2022, to avoid duplicate discovery and conflicting rulings from different courts.
Early in the pretrial proceedings Judge Cote rejected attempts by the drug makers to dismiss the litigation, and this month the Court denied a request that would have allowed Johnson & Johnson to pursue an immediate appeal of the rulings. Therefore, discovery into the link between Tylenol and autism is set to move forward over the coming months, and it is expected that the size and scope of the litigation will increase dramatically, as more families realize that there may be a connection between Tylenol and autism spectrum disorder diagnosed in their child.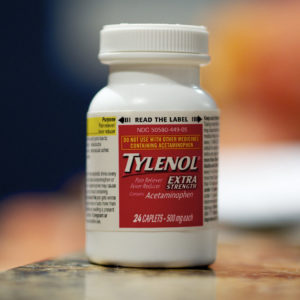 In this featured post, AboutLawsuits.com will explore the current evidence linking a child's risk of autism spectrum disorder to acetaminophen exposure during pregnancy, and outline scientific studies and reports being used to support allegations in Tylenol autism claims now moving forward in the federal court system.
---
Is Tylenol Safe To Take During Pregnancy?
Moderate use of Tylenol during pregnancy has been considered safe for decades, and most doctors continue to indicate pregnant women can take the pain medication on occasion. However, lawsuits point to a number of studies that have warned the risk of unborn children developing autism spectrum disorder may vary greatly, depending on the amount of acetaminophen used, and what trimester of the pregnancy the pain medication is taken.
How much Tylenol is safe to take while pregnant?
Johnson & Johnson and other drug makers have not provided adequate information about the amount of Tylenol that is safe for pregnant women to take, according to lawsuits.
As a result, most pregnant women follow the standard warnings not to exceed the maximum recommended dose of 4,000 milligrams of acetaminophen daily, since there are no specific warnings about the potential autism risk when Tylenol is regularly and routinely taken while pregnant.
Many of the mothers of children diagnosed with autism after use of Tylenol during pregnancy report that they routinely used the pain medication 3 to 6 times per week, often throughout the entire course of their pregnancy, according to complaints filed.
Families pursuing lawsuits now indicate that they never would have taken the pain medication as frequently if they had been aware of information available to the drug makers about the potential autism risk, and indicate that the Tylenol warning label should have made it clear that pregnant women should use the lowest effective dose for the shortest possible frequency to treat pain or fever.
---
How Can Tylenol Cause Autism?
Independent research and scientific studies have identified several mechanisms of action that may explain how use Tylenol may cause autism when used during pregnancy.
While many families initially believe that autism was caused by genetic factors, there is evidence that acetaminophen may have an impact on the brain of a developing fetus, resulting in a number of side effects that may cause autism, including:
Hormonal Disruption: Acetaminophen has been shown to influence hormone levels, such as reducing testosterone production, which may play a role in brain development and the risk of neurodevelopmental disorders like autism.
Oxidative Stress: Acetaminophen is metabolized in the liver, leading to the production of reactive oxygen species (ROS) and oxidative stress. Excessive oxidative stress during critical periods of fetal brain development could potentially disrupt normal neural development and cause children to develop autism and other developmental disorders.
Glutathione Depletion: Acetaminophen has been shown to deplete levels of glutathione, a key antioxidant in the body. Glutathione plays a crucial role in protecting cells, including neurons, from oxidative damage. Reduced glutathione levels may lead to increased vulnerability to oxidative stress and potential neurodevelopmental disorders, such as autism or ADHD.
Immune System Modulation: Acetaminophen may influence immune responses, including inflammation and immune system regulation. Alterations in immune function during pregnancy could potentially impact child development and put unborn children at higher risk of developing neurodevelopmental disorders.
---
Studies: Acetaminophen Exposure Linked to Autism Spectrum Disorder
Researchers have examined the association between Tylenol use during pregnancy and the risk of autism through observational studies and epidemiological research, since it would be unethical and illegal to conduct studies in which pregnant women are given acetaminophen to investigate whether it causes autism.
Many of the findings published in recent years have identified strong links between acetaminophen use during pregnancy and increased risks of autism or ADHD diagnosis in children, providing strong evidence of a potential association. Here are some key findings from the studies:
Scientists Call For Tylenol Pregnancy Autism Risk Warning Labels
Serious concerns surrounding acetaminophen use during pregnancy were raised by 91 scientists and public health professionals in a Consensus Statement published in Nature Reviews Endocrinology in September 2021.
The group of scientists formed their Consensus Statement after reviewing 29 studies on acetaminophen exposure and adverse neurodevelopmental outcomes, which involved more than 220,000 mother-child pairs across the globe.
Of the studies, 26 indicated that prenatal exposure to acetaminophen, as well as perinatal use or exposure, negatively impacts fetal brain development, increasing a child's risk of autism or ADHD diagnosis.
Scientists specifically stated the most detrimental effects of long-term use and exposure to acetaminophen for children were found at the beginning of the third trimester and around the time of birth.
Given the mounting human scientific evidence supporting Tylenol's link to autism, the authors urged the FDA and EMA, as well as obstetric and gynecological societies, to review all available data and provide an evidence-based evaluation of risk to inform pregnant women and their healthcare professionals.
The statement further recommended warning labels should be included on acetaminophen packaging while additional research and risk-evaluations are performed.
Children Exposed to Acetaminophen During Pregnancy Linked To Higher Rates of Autism Spectrum Disorder
In a study published in the European Journal of Epidemiology in May 2021, researchers analyzed data from 73,881 children and found a clear link between prenatal acetaminophen exposure and an increased risk for autism and ADHD diagnoses.
Results showed that children prenatally exposed to acetaminophen are 19% more likely to have Autism symptoms when compared to children who were not exposed to acetaminophen during pregnancy.
To further reinforce the risk of infant exposure to acetaminophen during pregnancy, the study did not find any association between postnatal exposure to acetaminophen and autism.
Pregnant Women With Acetaminophen In Cord Blood Samples Birthed Children With Higher Autism
In a study published in JAMA Psychiatry in October 2019, researchers looked 996 mother-infant pairs to determine whether the amount of acetaminophen found in umbilical cord blood samples increased the rate of both autism spectrum disorder and attention deficit hyperactivity disorder.
Researchers found the chances of an autism spectrum disorder diagnosis increased significantly when higher levels of acetaminophen were found in umbilical cord blood samples.
Specifically, the children with the highest level of acetaminophen in umbilical cord blood samples were at a 262% increased risk of Autism spectrum disorder diagnosis when compared to the lowest level.
Single Use of Acetaminophen During Pregnancy Increased Autism Risks By 41%
According to a study published in the International Journal of Epidemiology in 2016, authors highlighted the risk factors of taking acetaminophen during pregnancy. Researchers found that among 2,644 mother-child pairs recruited during pregnancy, even a single use of Tylenol during pregnancy increased the risk of autism by 41%.
Researchers further found that frequent use of acetaminophen pain relief drugs more than doubled the risk of hyperactivity and impulse disorders. Additionally, researchers indicated the frequent use of acetaminophen negatively impacted fetal development and increased the overall chances of a child developing a complex developmental disorder, stating;
"Prenatal acetaminophen exposure was associated with a greater number of autism spectrum symptoms in males and showed adverse effects on attention-related outcomes for both genders. These associations seem to be dependent on the frequency of exposure."
Acetaminophen Use During Early Pregnancy Increases Child's Risk Of Autism Spectrum Disorder Symptoms
A study was published in the International Society of for Autism Research in 2015, finding that prenatal use of acetaminophen was associated with an increased risk of autism spectrum disorder, accompanied by hyperactivity symptoms
Researchers collected data from the Danish National Birth Cohort study, which followed 64,322 children and mothers for an average of 12.7 years. According to the findings, researchers identified prenatal use of acetaminophen increased the risk of autism spectrum disorder with hyperactivity symptoms by 51%. The risk was higher with prolonged use of 20 or more weeks.
The findings of this study suggest that acetaminophen exposure early in fetal life may specifically impact hyperactive behavioral phenotypes. The authors concluded that in-utero exposure to acetaminophen could lead to neurodevelopmental injuries, including ASD, and urged pregnant women to consider alternatives for managing pain and fever.
Fetal Exposure To Acetaminophen Impacts Brain Development In Mice
Since human trials are illegal, researchers have explored the use of acetaminophen in mice to determine whether the pain relievers exposure to mice in utero caused newborn mice to develop autism.
In a study published in the journal Frontiers in Toxicology, researchers evaluated the impact of neonatal exposure to relevant doses of Tylenol on mice behavior. The behaviors of the exposed mice were evaluated in the days following birth.
The results found that mice neonatally exposed to acetaminophen showed altered and spontaneous behavior, reduced memory, and both learning and cognitive challenges compared to mice born without exposure to acetaminophen.
In the study on mice, researchers further sought to understand how acetaminophen altered the developing brain. The study indicated that after neonatal mice were exposed to acetaminophen, an increase in markers for oxidative stress were identified in the part of the brain that are responsible for emotion, memory, and the autonomic nervous system.
The authors stated that even at low doses, such persistent and negative effects on a developing brain could induce the risk for brain damage.
---
Tylenol Autism Lawsuits Cleared To Move Forward With Discovery
As of August 2023, there are currently 266 ADHD and autism lawsuits pending in the Tylenol multidistrict litigation, which is centralized before Senior U.S. District Judge Denise Cote in the Southern District of New York for coordinated discovery into common issues in the claims.
Johnson & Johnson and other defendants filed motions to dismiss the claims shortly after the MDL was established, arguing that they should be shielded from failure to warn lawsuits under a legal defense known as federal preemption. The drug makers argued that federal rules promulgated by the FDA, which regulate how over-the-counter medications are manufactured and marketed in the U.S., should preempt the state-law based failure to warn claims.
In April 2023, Judge Cote issued an order and opinion, rejecting Johnson and Johnson's argument, finding that the Tylenol autism lawsuits are not preempted.
Johnson & Johnson filed a request seeking to certify the Tylenol lawsuit preemption order for an interlocutory review, which would allow an immediate appeal of the decision before discovery in the individual cases would be allowed to proceed. However, Judge Cote rejected that request on August 3, 2023.
As a result, the litigation is moving forward and Judge Cote has directed the parties to prioritize discovery over the link between Tylenol and autism, ADHD and other developmental disabilities.
Plaintiffs Propose Acetaminophen Autism Warning Label Update
During the pretrial proceedings, plaintiffs lawyers have submitted an example of a proposed acetaminophen pregnancy warning that could have been added to Tylenol, which was modeled off of label information that has been provided on the drugs when sold in Europe for years. Plaintiffs indicate that the drug makers could have provided the following Tylenol pregnancy warnings about the risk of autism and ADHD:
Autism/ADHD: Some studies show that frequent use of this product during pregnancy may increase your child's risk of autism and attention deficit hyperactivity disorder. If you use this product during pregnancy to treat your pain and/or fever, use the lowest effective dose for the shortest possible time and at the lowest possible frequency.
Lawyers indicate that this language is not the only way the defendants could have warned pregnant women about the Tylenol risks, arguing that different words also could have satisfied the drug makers' duty to warn.
---
Will there be a Tylenol Autism Lawsuit Settlement?
As part of the Acetaminophen MDL's coordinated pretrial proceedings, it is expected that Judge Cote will establish a "bellwether" process where a small group of representative cases involving Autism and/or ADHD diagnosis will be selected for early trial dates to help gauge how juries may respond to certain evidence and testimony that will be repeated throughout the litigation.
While the outcome of these early trial dates will not result in a binding outcome for lawsuits filed by other families, it may encourage manufacturers to begin Tylenol autism lawsuit settlement negotiations.
However, if the parties fail to negotiate Tylenol autism settlements or another resolution for the litigation in the MDL, each family's lawsuit may eventually be remanded back to different U.S. District Courts nationwide for future trial dates.
---
Have a Tylenol Lawyer Review Your Child's Autism Case
It is important to obtain experienced legal representation to pursue a Tylenol autism lawsuit or Tylenol ADHD lawsuit, and make sure your family receives the financial compensation they deserve.
A Tylenol lawyer will help protect your legal interests, and they provide free consultations to help determine if you or a loved one may be eligible for a settlement. There are no fees or expenses unless a recovery is obtained in your case.
Free Case Evaluation
Find Out If Your Child is Eligible for a Tylenol Autism or ADHD Settlement
Contact A Lawyer
"*" indicates required fields