Limiting Acetaminophen in Opioids Led to Less Liver Failure and Toxicity Injuries, Researchers Find
March 13, 2023
By: Russell Maas
The findings of a new study suggest using lower doses of acetaminophen in prescription opioid medications has significantly reduced hospitalization rates for liver failure and toxicity injuries associated with the active ingredient in Tylenol.
In a study published in the Journal of American Medical Association (JAMA) on March 7, researchers determined that a 2014 federal mandate preventing opioid medications from containing more than 325mg of acetaminophen has likely led to fewer liver injuries, which is a known risk associated with side effects of Tylenol and other over-the-counter pain medications.
In 2014, the U.S. Food and Drug Administration enacted a rule that places a limit on the amount of acetaminophen used in prescription drugs that combined both opioids and acetaminophen, such as Percocet. The mandate was prompted by research which identified that nearly half of all hospitalizations for acute liver failure involved individuals using prescription drugs combining opioids and high doses of acetaminophen.
In this new study, researchers from the University of Alabama and Weill Cornell Medicine reviewed data from the National Inpatient Sample (NIS) and the Acute Liver Failure Study Group (ALFSG), which collectively involved over 473 million hospitalization records from 1998 to 2019, focusing on those reporting acute liver failure.
Researchers found that between 1998 and 2019, more than 41,000 individuals using opioid-acetaminophen combination prescriptions were hospitalized for acetaminophen and opioid toxicity resulting in liver failure or liver toxicity leading to potentially severe health consequences.
The authors used a calculation to compare liver failure rates among prescription users before and after the FDA capped acetaminophen in opioid drugs at 325mg. The researchers found an average of 12.2 hospitalizations for acetaminophen liver failure prior to the 2014 mandate. After it went into effect, the average dropped to 4.4 cases per 100,000 hospitalizations.
Not only did the overall rates of liver toxicity hospitalizations drop, but the number of incidents per year also decreased. Researchers found the odds of hospitalizations with acetaminophen and opioid toxicity increased 11% per year prior to the announcement, whereas they decreased 11% per year after the announcement.
"The FDA mandate to limit acetaminophen to 325 mg/tablet in prescription combination acetaminophen and opioid medications was associated with a decline in hospitalizations involving acetaminophen and opioid toxicity," the researchers concluded.
Acetaminophen Side Effects and Risks
Although Tylenol and over-the-counter pain medications containing acetaminophen are generally considered safe, there has been increasing evidence about a number of potential side effects that users may face, many of which have not been disclosed to users or the medical community in prior decades.
In addition to questions about liver toxicity injuries that emerged about a decade ago, there has been increasing concerns in recent years about the pregnancy risks with Tylenol, following the publication of studies that have found pregnant women using acetaminophen for pain may face a greater risk of giving birth to a child diagnosed with autism or ADHD. As a result of the drug makers' failure to warn about these pregnancy-related risks, Johnson & Johnson and other drug makers now face over one hundred Tylenol autism and ADHD lawsuits brought by families nationwide.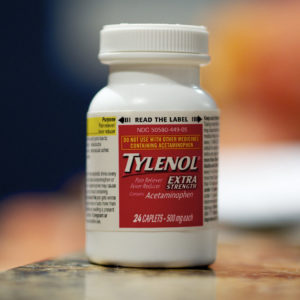 In addition to the risk of autism, ADHD and other developmental problems from Tylenol, a recent study published in the Journal of Clinical Medicine last month found that children born to pregnant women who used acetaminophen were over 30% more likely to later develop asthma or wheezing. According to their findings, maternal exposure to acetaminophen was linked with a 34% increased risk of asthma occurring in their offspring, and a 31% increased risk of wheezing.
In September 2021, researchers warned that doctors should reconsider the safety of Tylenol in pregnancy, after reviewing a series of studies which linked acetaminophen to problems for the developing baby.
"*" indicates required fields