Antibiotics Use Linked to Spread of Treatment-Resistant Nursing Home Infections: Study
November 15, 2023
By: Martha Garcia
Nursing home residents who receive antibiotics and don't wash their hands face a higher risk of infections from antibiotic-resistant bacteria, according to the findings of a new study.
University of Michigan researchers report that that nearly 75% of all nursing home resident room surfaces sampled had traces of a serious antibiotic-resistant bacteria known as vancomycin-resistant enterococci (VRE).
In a report published in the November 2023 issue of The Lancet, researchers determined residents who took antibiotics in the past 30 days and didn't regularly wash their hands had a higher likelihood of contracting the highly infectious and difficult to treat bacteria.
VRE Infection Risks
VRE stems from enterococci, a common bacterium that lives in the human intestinal tract and is found in the environment. It does not typically make humans sick, but can be treated easily with antibiotics when it does. But the bacteria can develop into VRE, which is resistant to treatment with antibiotics.
Roughly 20,000 people in the U.S. become infected with VRE every year. About 10% will die from the infection, but people who stay in hospitals or nursing homes, or who are treated with vancomycin antibiotics, face the greatest risk.
Researchers from the University of Michigan Medical School investigated the link between surface contamination with VRE in nursing homes and other contributing factors to infection. They looked at demographic, clinical data on other health conditions, physical independence status, catheter use in the last 30 days, and antibiotic use in the last 30 days.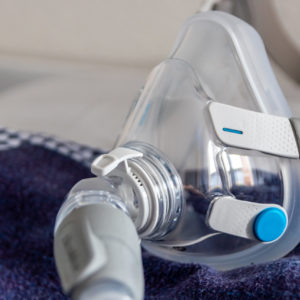 Did You Know?
Millions of Philips CPAP Machines Recalled
Philips DreamStation, CPAP and BiPAP machines sold in recent years may pose a risk of cancer, lung damage and other injuries.
Learn More
The researchers took surveillance cultures from patient body sites, including the groin, hands, throat, and rectum. They also took samples from room surfaces such as doorknobs, wheelchairs, and toilet seats. Samples were taken from 245 residents in six U.S. nursing homes, from 2016 to 2018, at enrollment and during weekly follow-up visits within the first month, then monthly thereafter, for up to six months.
In all, the researchers analyzed 2,800 participant samples and 5,600 environmental samples and used RNA gene sequencing to link patient gut microbiota and the culture of participants and their rooms.
Antibiotic Use, Poor Hand Washing Linked to VRE Infections
According to their findings, the VRE superbug was present in 20% of participants. Additionally, 73% of nursing home residents stayed in rooms with surfaces contaminated with VRE.
Researchers found a clear link between positive VRE contamination and antibiotic use within the past 30 days. However, they  did not find a link between patients who were positive for VRE and surfaces contaminated with VRE, despite past research indicating hospital surfaces are a common mode of transmission among patients.
Participants who tested positive for VRE commonly also tested positive for VRE contamination on their hands. This indicates those participants were less likely to follow hand-washing protocols.
Research published in 2019 also found hospital patients, much like nursing home residents, were commonly admitted to the hospital with colonies of VRE on their hands. The hands are a common area of transmission for antibiotic-resistant bacteria.
Patients who took antibiotics and patients who were male were both more likely to become infected with VRE, the researchers concluded.
Previous studies have warned that overuse of antibiotics can lead to the proliferation of hard to treat superbug infections,like Clostridium difficile.
Patients who lacked physical independence and needed staff help to conduct daily activities and get around had the lowest environmental risk of becoming infected with VRE, according to the data.
Researchers said the findings highlight a need for improved hand-washing education among nursing home residents. They also called for improved efforts to reduce the use of unnecessary antibiotics in nursing homes to help prevent the proliferation of antibiotic-resistant bacteria, which causes  more than 35,000 deaths every year in the U.S. alone.
"*" indicates required fields