Artificial Tears Eye Drops Infection Outbreak First Detected in Connecticut Nursing Home: AP
March 01, 2023
By: Russell Maas
As officials continue to track a growing eye drops infection outbreak, which has already resulted in a recall for certain EzriCare and Delsam Pharma Artificial Tears products, a new report details how initial cases of the infection quickly spread throughout several nursing homes.
While concerns about bacterial contamination in Artificial Tears products have only been publicly known for about a month, health officials say they have been tracking infection case reports since May 2022, involving individuals hospitalized with antibiotic resistant strains of Pseudomonas Aeruginosa in California.
According to a news report by the Associated Press, the first eye drops bacterial infection case was reported at an ophthalmologist office in Los Angeles County, when a patient was seen for symptoms of a severe eye infection. The office quickly identified the cause of the infection to be a rare form of Pseudomonas Aeruginosa containing genes that protected it from common antibiotics.
After the ophthalmologist's office performed advanced genetic testing, they quickly identified the severity of the bacterial infection at hand, and reported the case to the U.S. Centers for Disease Control and Prevention (CDC). The same eye doctor's office would go on to treat two additional cases of the infection in the coming months.
Unbeknownst the eye doctor's office, they had reported the first case of what would become a nationwide Artificial Tears eye drops infection outbreak. But the extent of the problems would not be discovered until a cluster of eye infections at Connecticut nursing homes were identified weeks later.
Eye Drops Infection Outbreak Surfaced June 2022
In June 2022, several outbreaks of Pseudomonas Aeruginosa infection were reported to the Connecticut health department after five nursing homes experienced antibiotic resistant outbreaks, sickening a total of 25 patients. It was then that health experts began to recognize there was a problem, which has since expanded to result in a nationwide eye drops recall and a number of Artificial Tears eye infection lawsuits now being pursued against manufacturers of certain contaminated products.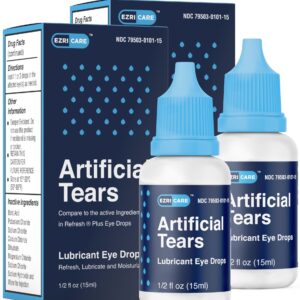 Only a few months after the Connecticut infections were identified, officials from Davis County, Utah also reported six cases of the antibiotic resistant infections to the CDC in August 2022.
By early November, CDC officials had ruled out the possibility the bacterial contamination was caused by any local piece of equipment at the individual facilities and began to narrow down the root cause of the outbreak to a product. On November 9, CDC investigators made a breakthrough when they determined each of the facilities reporting outbreaks in Florida, Connecticut and Utah reported administering EzriCare Artificial Tears to patients prior to infection onset.
The first public warnings about the Artificial Tears eye drops infection outbreak were released in late January 2023, when the CDC was able to confirm through genetic sequencing that the infections reported after using EzriCare products in Florida, Utah and Connecticut were in fact caused by the same strain of Pseudomonas Aeruginosa.
EzriCare Artificial Tears Recall
Following the CDC's discoveries, the U.S. Food and Drug Administration (FDA) issued the Artificial Tears eye drops recall on February 2, warning customers to stop using the products immediately as the CDC continues the investigate a growing outbreak of Pseudomonas Aeruginosa infections among users of certain EzriCare and Delsam Pharma Artificial Tears products.
The recall now includes Artificial Tears products sold through Amazon.com and Walmart under the brand names EzriCare, as well as Delsam, with the following UPC and NDC codes;
Ezricare (blue box): NDC 79503-0101-15 with UPC 3 79503 10115 7, and
Delsam Pharma (white box): NDC 72570-121-15 with UPC -72570-0121-15
As a of February 21, 2023, the CDC's investigation into Artificial Tears Pseudomonas aeruginosa eye infections has identified 58 illnesses across 13 states. The CDC is currently aware of 35 patient illnesses occurring in healthcare facility outbreaks, which has resulted in one death and at least five individuals suffering vision loss.
Eye Drop Infection Lawsuits
As new information continues to be released about the history of the eye drops infection outbreak, it is expected that the number of Pseudomonas aeruginosa infection lawsuits over the recalled eye drops will increase in the coming weeks and months.
Lawyers are actively investigating potential eye drop infection lawsuits against the manufacturers and distributors of EzriCare and Delsam Pharma's eye drops for multiple injuries and side effects caused by the contamination, including;
Eye Infection
Partial Blindness
Permanent Blindness
Bloodstream Infection
Other injuries caused by the eye drops
EzriCare Artificial Tears Infection Outbreak Lawsuits
Were you or a loved one impacted by the Delsam Pharma and EzriCare Artificial Tears recall? Eye drops infection lawsuits are being reviewed for individuals who have experienced problems.
FIND OUT IF YOU QUALIFY
"*" indicates required fields