Artificial Tears Vision Loss Lawsuit Filed Against Makers of Recalled Eye Drops
February 21, 2023
By: Russell Maas
A New York man has filed a product liability lawsuit alleging that he suffered vision loss from Artificial Tears recalled earlier this month, amid a growing number of reports that confirm several popular brands of eye drops were contaminated with Pseudomonas Aeruginosa bacteria.
The complaint was brought by Marc Sherman in the Supreme Court of the State of New York County of Bronx, naming Ezricare LLC, Ezrirx LLC, Delsam Pharma LLC, Global Pharma Healthcare Private Ltd, Aru Pharma Inc. and Amazon.com, Inc. as defendants, for their roles in the manufacturing, distribution and sale of EzriCare and Delsam Pharma Artificial Tears products.
While the case is the first known vision loss lawsuit filed over the recalled eye drops, Sherman joins a growing number of consumers now pursuing Artificial Tears recall lawsuits and class action claims, seeking compensation for individual injuries, as well as medical monitoring and other damages caused by antibiotic-resistant bacteria in the popular lubricating eye drops.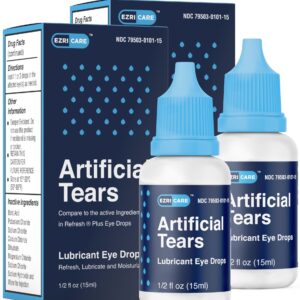 Sherman indicates his use of the contaminated eye drops caused a Pseudomonas Aeruginosa infection in the eye. Due to the aggressive nature of the bacteria and its difficulty to treat, Sherman states the infection caused him to develop vision loss, which required him to undergo surgery.
The Artificial Tears vision loss lawsuit alleges that the injuries were a direct and proximate result of the manufacturer's failure to follow good manufacturing practices, including a total lack of appropriate microbial testing that should have detected the bacteria and formulation problems, indicating that the eye drops are distributed in multiuse bottles without adequate preservatives to prevent bacterial contamination.
Artificial Tears Eye Drops Recall
The U.S. Food and Drug Administration (FDA) first issued the Artificial Tears eye drops recall on February 2, after a U.S. Centers for Disease Control and Prevention (CDC) investigation identified a multistate outbreak of Pseudomonas Aeruginosa infections among users of certain EzriCare and Delsam Pharma Artificial Tears products.
The recall includes Artificial Tears products sold through Amazon.com and Walmart under the brand names EzriCare, as well as Delsam, with the following UPC and NDC codes;
Ezricare (blue box): NDC 79503-0101-15 with UPC 3 79503 10115 7, and
Delsam Pharma (white box): NDC 72570-121-15 with UPC -72570-0121-15
As a of late February 2023, the CDC's investigation into Artificial Tears Pseudomonas aeruginosa eye infections  has identified 56 hospitalizations. While cases have been identified in more than a dozen states, most cases occurred in five states, with a CDC spokesperson confirming that at least 42 of the eye drops Pseudomonas Aeruginosa infections were reported have been from California, Connecticut, Florida, New York and Utah.
Officials report that patients with Pseudomonas Aeruginosa infections have experienced several injuries ranging from eye infections to potentially life-threatening sepsis conditions.
Over the coming months, as consumers continue to make the connection between recent problems with vision loss and the eye drops, it is expected that the number of Artificial Tears eye drop lawsuits will continue to grow.
Did You Suffer Vision Loss From Artificial Tears Eye Drops?
Lawyers provide free consultations and claim evaluations for users of contaminated eye drops who have developed infections or other problems that resulted in vision loss symptoms.
FIND OUT IF YOU ARE ELIGIBLE FOR A SETTLEMENT
"*" indicates required fields