Johnson & Johnson Talc Baby Powder Removed From Market Amid Thousands of Cancer Claims
May 20, 2020
By: Irvin Jackson
As thousands of talcum powder lawsuits move closer to trial in the U.S., each involving claims that Johnsons' Baby Powder caused women to develop ovarian cancer or other injuries, Johnson & Johnson has announced it is removing all talc-based Baby Powder products from the market in North America.
In a press release issued on May 19, the manufacturer indicated it will no longer sell Johnson's Baby Powder products made with talc in the United States or Canada. However, it will continue to sell Baby Powder products made using cornstarch, which have not been implicated in lawsuits over a cancer risk.
Johnson's Baby Powder first hit the market in 1894 and was a symbol of the company for more than 100 years. However, current sales have dropped to only 0.5% of Johnson & Johnson's U.S. Consumer Health department's business, and the company has faces nearly 20,000 Baby Powder lawsuits brought by women who indicate they developed ovarian cancer, mesothelioma or other injuries after regularly applying the talc-based powder for feminine hygiene.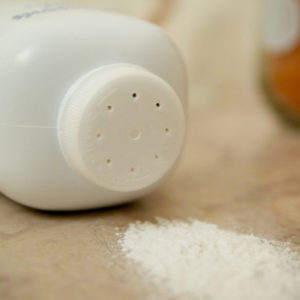 Plaintiffs allege Johnson & Johnson knew for decades about the potential link between talcum powder and cancer, yet withheld information and warnings from consumers and continued to promote the products for use by adult women.
While the company suggests it will continue to fight the litigation after removing talc Baby Powder from the market, the move raises speculation that Johnson & Johnson may soon consider negotiating settlements, following a series of legal setbacks.
Johnson & Johnson has already been hit with several multi-million dollar verdicts in state court trials, and has rested most of its legal defense strategy on excluding plaintiffs' expert witness testimony under the federal Daubert standard. However, last month the U.S. District Judge presiding over the litigation rejected this argument and cleared the way for the talc lawsuits to proceed in the federal court system.
Earlier this week, Imerys Talc, which has been a co-defendant in the litigation for its role in supplying the raw talc used in Johnson & Johnson products, announced it has agreed to auction off subsidiaries and talc mines in the U.S. and Canada to fund a settlement with talc plaintiffs, which will resolve its liability and allow the company to emerge from bankruptcy.
In the statement issued late Tuesday, Johnson & Johnson continued to maintain that it is "steadfastly confident in the safety of talc-based Johnson's Baby Powder", and indicates that it plans to continue "vigorously defending the product" in the courtroom.
Following the recent failure to exclude plaintiffs' expert witnesses from testifying at trial, it is widely expected that the judge presiding over the litigation will fast-track a small group of "bellwether" cases for trial, to help the parties gauge how juries may respond to certain evidence and testimony that may be repeated throughout the litigation.
After any bellwether trials, if Johnson & Johnson is unable to reach talcum powder settlements or another resolution for the claims, each individual lawsuits may ultimately be remanded back to U.S. District Courts nationwide for thousands of separate trials nationwide in the coming years.
"*" indicates required fields