Baby Powder and Shower To Shower Increased Risk of Ovarian Cancer, Wrongful Death Lawsuit Alleges
January 20, 2017
By: Irvin Jackson
Johnson & Johnson faces yet another wrongful death lawsuit indicating that a woman contracted a fatal case of ovarian cancer from talcum powder, following a lifetime of using Johnson's Baby Powder and Shower to Shower for feminine hygiene purposes. 
The complaint (PDF) was filed by Sebastian Ferman on January 12, on behalf of himself and his late wife, Carol, alleging that the manufacturer failed to warn women about the increased risk of ovarian cancer associated with use of the talcum powder around a woman's genitals.
Carol Ferman was diagnosed with ovarian cancer in December 2000, and ultimately died from the disease on February 19, 2001. The wrongful death lawsuit alleges that Johnson & Johnson, Imerys Talc America, Inc. and other defendants withheld important safety information and warnings from women for years, while actively marketing and encouraging use of their talcum powder products among women for "personal freshness."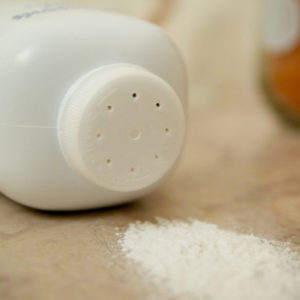 The case joins thousands of other Baby Powder lawsuits and Shower-to-Shower lawsuits filed in recent months by women battling ovarian cancer, and the family of women who have died, pointing to evidence and studies that have existed for decades suggesting that talcum powder increases the risk of ovarian cancer dramatically for women.
"[S]ince approximately 1982, there have been approximately twenty-two (22) additional epidemiologic studies providing data regarding the association of talc and ovarian cancer," the lawsuit states. "Nearly all of these studies have reported an elevated risk for ovarian cancer associated with genital talc use in women."
No information has been provided about the talcum powder ovarian cancer risk for women or consumers, with the only warnings indicating that users should avoid direct contact with their eyes or broken skin.
Over the past year, a number of different juries have returned massive verdicts against Johnson & Johnson over their actions concerning the sale of talcum powder to adult women, including a verdict of $70 million in November 2016, $55 million in May 2016 and $72 million in February 2016. Each of those cases included punitive damaged designed to punish the manufacturer for their reckless disregard for the safety and health of women.
Ferman's lawsuit will be transferred to a recently established talcum powder multidistrict litigation (MDL), where all other complaints filed throughout the federal court system have been centralized for pretrial proceedings before U.S. District Judge Freda Wolfson in the District of New Jersey to reduce duplicative discovery into common issues, avoid conflicting pretrial rulings and serve the convenience of witnesses, parties and the judicial system.
As part of the talcum powder MDL proceedings, it is expected that a series of additional bellwether cases will be prepared for trials, which are designed to help gauge how juries may respond to certain evidence and testimony that will be repeated throughout the cases. Following the bellwether process, if the parties fail to reach talcum powder ovarian cancer settlements or otherwise resolve the litigation, hundreds of individual trials may be set for trial in separate courts nationwide.
"*" indicates required fields