Banana Boat Hair & Scalp Sunscreen Recall Issued Over Cancer Risk
August 01, 2022
By: Russell Maas
A recall has been issued for several batches of Banana Boat sunscreen, after the spray was found to contain dangerous levels of benzene, which is a chemical classified as a human carcinogen that has been discovered in a number of aerosol sunscreen products in recent years.
The U.S. Food and Drug Administration (FDA) announced the Banana Boat Hair & Scalp sunscreen recall on July 29, after routine sample testing confirmed the presence of potentially unsafe levels of the benzene in several brands of aerosol spray cans.
Benzene is an industrial chemical that has been associated with the development of several fatal forms of cancer, leukemia and other conditions, such as AML, Chronic Myelogenous Leukemia (CML), Acute Lymphocytic Leukemia (ALL), Chronic Lymphocytic Leukemia (CLL), Hairy Cell Leukemia (HCL), Non-Hodgkin's Lymphoma, Multiple Myeloma, Myelodysplastic Syndrome (MDL), Myelofibrosis and Myeloid Metaplasia, Aplastic Anemia and Thrombocytopenic Purpura.
According to the U.S. Department of Health and Human Services (DHHS), side effects of benzene exposure may increase the risk of cancer, and the chemical has long declared it is linked to fatal forms of leukemia and other cancers. The FDA considers it a solvent that should not be used in drug products, if avoidable. However, if benzene is not avoidable, it should be restricted to 2 ppm, FDA regulations state.
The Banana Boat recall comes after a number of similar aerosol sunscreen spray products have been found to contain high levels of benzene, including Neutrogena, Aveeno, Coppertone and others. As a result, a dozens of sunscreen cancer lawsuits have been filed by individuals diagnosed with lymphoma following regular use of the spray over large portions of their body.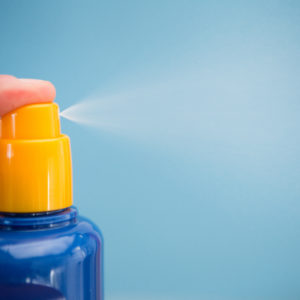 The manufacturers of the recalled Banana Boat sunscreen, Edgewell Personal Care Company, told the FDA that benzene is not an intended ingredient in the products, but an internal review of samples identified the presence of trace amounts of the chemical, which was formed from the propellant that sprays the sunscreen out of the cans.
The recall includes three batches of Banana Boat Hair & Scalp Sunscreen Spray SPF 30 that are marked with UPC code 0-79656-04041-8 and lot codes 20016AF, 20084BF or 21139AF. The recalled sunscreen products are packaged in 6 ounce aerosol cans and were distributed nationwide through various retail channels.
Edgewell has notified its retailers of the potential benzene contamination and has instructed stores to stop selling the products and to remove them from stores shelves.
Consumers are being instructed to stop using the recalled Banana boat sunscreen spray products immediately and to properly discard them. Customers who purchased the recalled sunscreen products will be offered a reimbursement.
The FDA is encouraging customers to report any adverse reactions or quality problems with the recalled Banana Boat sunscreen to the agency's MedWatch Adverse Event Reporting program either online, by regular mail or by fax.
Spray Sunscreen Benzene Problems
Concerns about high levels of benzene in sunscreen spray first emerged in May 2021, when the on-line pharmacy Valisure issued a warning that benzene was detected in 78 sunscreen and after-sun care products tested from their inventory.
Following the report, Johnson & Johnson issued an Aveeno and Nuetrogene sunscreen recall and just a few months later a Coppertone sunscreen recall was issued for similar benzene contamination problems.
Another Banana Boat sunscreen recall was later issued in December 2021, after internal testing discovered the benzene contamination in Banana Boat Ultra Very High Protection Clear Sunscreen Spray SPF, Banana Boat Simply Protect Kids Very High Protection Sunscreen Lotion Spray SPF 50+ and Banana Boat Dry Balance Very High Protection Clear Sunscreen Spray SPF 50+.
At the forefront of the sunscreen litigation, at least eight class action lawsuits filed against Johnson & Johnson were centralized for coordinated management as part of a federal MDL, or multidistrict litigation, in the U.S. District Court for the Southern District of Florida.
In October 2021, a Johnson & Johnson sunscreen settlement was reached to resolve the centralized class action lawsuits, which all raised similar allegations that consumers developed various forms of blood cancers following regular use of recalled Neutrogena or Aveeno products.
"*" indicates required fields