Settlement for Recalled Neutrogena, Aveeno Sunscreen Granted Preliminary Approval
March 30, 2022
By: Irvin Jackson
A federal judge has granted preliminary approval for a Neutrogena and Aveeno sunscreen settlement, which would resolve a class action lawsuit filed over the presence of cancer-causing chemicals found in several aerosol spray versions of the products.
Johnson & Johnson issued a massive sunscreen recall last year, after a report released by the on-line testing pharmacy Valisure found that samples of Neutrogena and Aveeno sunscreen contained dangerous levels of benzene, a chemical classified as a human carcinogen.
In the wake of the recall, a number of sunscreen class action lawsuits were filed throughout the federal court system, seeking damages for consumers who purchased the products.
In October, the parties reached a settlement intended to resolve at least eight lawsuits, each raising similar allegations and claims. The lawsuits over benzene contamination have been centralized for coordinated management as part of a federal MDL, or multidistrict litigation, in the U.S. District Court for the Southern District of Florida.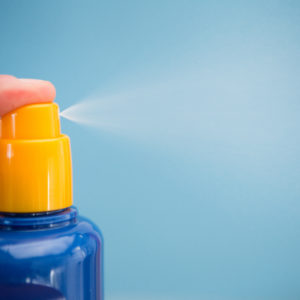 In a court order (PDF) issued on March 28, U.S. District Judge Raag Singhal granted preliminary approval of the class action settlement, and scheduled a final approval hearing for August 12.
While the details have not been publicly released, a report by Bloomberg Law indicates the settlement includes an agreement by Johnson & Johnson to provide full cash refunds for those with recalled Neutrogena and Aveeno aersol sunscreen products. It would also provide up to $1.75 million in vouchers for consumers who bought non-aerosol Neutrogena and Aveeno products which were not recalled.
In addition, Johnson & Johnson will order external manufacturers to stop using isobutane, a propellant in its aerosol sunscreen products, and will require new testing protocols for its products before they are placed on the market.
Benzene is an industrial chemical that has long been linked to fatal forms of leukemia and other cancers. The FDA considers it a solvent which should not be used in drug products, if avoidable. However, if benzene is not avoidable, it should be restricted to 2 parts per million (ppm), FDA regulations state.
Long-term side effects of benzene exposure have been proven to cause anemia, which is a condition that develops when your blood lacks enough healthy red blood cells or hemoglobin. Essentially, the chemical causes bone marrow not to produce enough red blood cells, which can damage an individual's immune system. Federal regulators have determined long-term exposure to benzene can significantly impact blood cells, to the extent it causes cancer such as leukemia, a cancer of the blood-forming organs.
In addition to the class action claims seeking refunds, Johnson & Johnson is expected to face a number of sunscreen cancer lawsuits brought on behalf of consumers who developed various forms of blood cancers following regular use of recalled Neutrogena or Aveeno products, including Acute Myeloid Leukema (AML), Chronic Myelogenous Leukemia (CML), Acute Lymphocytic Leukemia (ALL), Chronic Lymphocytic Leukemia (CLL), Hairy Cell Leukemia (HCL), Non-Hodgkin's Lymphoma, Multiple Myeloma, Myelodysplastic Syndrome (MDL), Myelofibrosis and Myeloid Metaplasia, Aplastic Anemia and Thrombocytopenic Purpura.
"*" indicates required fields