Bayer Will No Longer Discuss Settling Roundup Lawsuits, As Supreme Court Asks Solicitor General To Weigh In on Petition
December 15, 2021
By: Irvin Jackson
While waiting for the Supreme Court to decide whether it will consider an appeal that may limit the ability of plaintiffs to bring future Roundup lawsuits, Bayer indicates that it will no longer be making offers to settle additional claims.
After agreeing to pay billions to settle Roundup claims brought by former users of the controversial weedkiller diagnosed with non-Hodgkins lymphoma, thousands of additional claims remain unresolved and Bayer is resting much of its defense strategy on a petition for a writ of certiorari with the U.S. Supreme Court that challenges a major plaintiffs victory in one of the early bellwether trials, which could impact the ability of other plaintiffs to successfully pursue their claims.
While the highest appeals court in the U.S. only agrees to hear a small number of cases each year, this week the Supreme Court asked the U.S. Solicitor General for its opinion about whether it should consider the Bayer Roundup appeal, which argues that the company should not be liable for failing to warn about health risks associated with the glyphosate-based weedkiller, since federal environmental regulators approved the product.
The request for input from the Biden Administration does not signal an agreement by the Supreme Court to hear the case, but it appears to have caused Bayer to change its willingness to discuss settling Roundup lawsuits that are still pending in courts nationwide.
According to a report by Bloomberg Law (subscription required), Bayer issued a statement on Monday saying it will no longer entertain settlement negotiations with plaintiff's lawyers representing substantial numbers of Roundup claims.
At the peak of the litigation, Bayer and its Monsanto subsidiary faced more than 120,000 Roundup lawsuits brought by individuals nationwide, each raising similar allegations that users were not adequately warned about the cancer risk posed by glyphosate-based herbicides.
Following a series of massive verdicts in 2018 and 2019, Bayer started to negotiate large inventory Roundup settlements, to resolve groups of cases being handled by individual law firms, with reports suggesting that it has already agreed to pay about $16 billion to resolve roughly 75% of the cases filed. However, as former users of Roundup continue to be diagnosed with non-Hodgkin's lymphoma, additional lawsuits are expected to still be filed for years to come.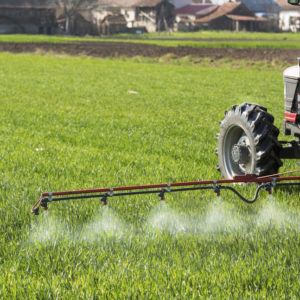 Bayer's writ of certiorari asks the Supreme Court to overturn a decision by the Ninth Circuit Court of Appeals, which upheld a $25 million verdict in a case brought by Edwin Hardeman, who developed cancer after spraying Roundup around his home for decades. The company hopes a favorable decision by the U.S. Supreme Court will not only negate that verdict, but will prevent other claims from moving forward.
Hardeman's case was the first Roundup trial to go before a jury in the federal court system, ending with an $80 million verdict in March 2019. The jury awarded $5 million in compensatory damages for medical bills, lost wages, pain and suffering, with another $75 million added for punitive damages, which were intended to punish Bayer's Monsanto subsidiary.
Following post-trial motions, the punitive damages portion of the award was reduced to $20 million, resulting in a final judgment of $25 million. However, Bayer and Monsanto appealed the verdict to the U.S. Court of Appeals for the Ninth Circuit, presenting arguments that it hoped would not only overturn the verdict in this case, but prevent other plaintiffs from obtaining massive verdicts in other cases.
In May, the Ninth Circuit Court of Appeals rejected Bayer's efforts to have the verdict overturned and upheld the full amount of the $25 million damage award.
Bayer is now seeking one final avenue for appeal, asking the U.S. Supreme Court to review the case and address whether failure to warn Roundup claims should be pre-empted by federal law, arguing that the EPA has repeatedly concluded that no cancer warnings are warranted for glyphosate.
While the decision to halt further Roundup settlement negotiations suggests that Bayer is optimistic about the prospects for the appeal, if the Supreme Court ultimately decides not to even hear the appeal, or upholds the lower court ruling after considering oral arguments, it is likely that cost of settling future Roundup claims will skyrocket.
Roundup Lawsuit Settlement Progress
Bayer started to resolve cases last year, following a string of massive losses in early bellwether cases that went before juries in 2018 and 2019. However, many plaintiffs have rejected their individual offers and absent a favorable Supreme Court decision, there does not appear to be any end in sight for the litigation.
In it's third quarter 2021 earnings report in November, Bayer indicated if the court overturns the Hardeman verdict, the company believes that would "effectively end future litigation." However, if the Supreme Court rules in favor of plaintiffs or refuses to hear the appeal, Bayer indicated at that time that it will move forward with a claims administration program to address future lawsuits.
To limit its future liability, Bayer also recently announced plans to remove the active ingredient glyphosate from Roundup weed killers sold to U.S. residential customers by 2023. The products would still be sold under the Roundup label, but would use a different active ingredient, which has not been linked to a risk of non-Hodgkin's lymphoma. However, glyphosate would still be used in products sold to agricultural businesses and farmers, and in product sold in other parts of the world, Bayer officials said.
Bayer has noted the vast majority of Roundup cancer claims have come from U.S. residential users. However, the company is still expected to face years, if not decades, of future litigation and trials, as prior users develop non-Hodgkin's lymphoma after exposure to the product during the decades it has been on the market without any cancer warnings.
"*" indicates required fields