Blue-Light Blocking Glasses Do Not Provide Benefits Reducing Eyestrain or Improving Sleep: Study
August 28, 2023
By: Martha Garcia
Using blue-light blocking glasses to prevent eye strain and improve sleep may not offer any significant benefits, even though consumers often pay a premium for the option, according to the findings of a new study.
The findings, published on August 18 in the journal Cochrane Database of Systematic Reviews, come despite blue light blockers being touted for years as the secret to sleeping better and reducing eye strain after hours on the computer.
Blue light-blocking glasses filter ultraviolet radiation and varying portions of short-wavelength visible light from reaching the eye. Blue light has a shorter visible wavelength than other light, such as red or green. The shorter the wavelength, the more energy the light is considered to have.
In the mid-2000s, blue-light blockers became increasingly popular, but interest surged after the onset of the pandemic, as people around the world reported major disruptions to sleep patterns.
Manufacturers and proponents claim the glasses improve sleep quality by blocking the harmful blue light in the late evening before bed as well as providing protection to the retina from digital screens.
This latest study was conducted by a team of British researchers who reviewed 17 randomized control trials, including a range of group sizes from five participants to 156 people, who were followed from one to five weeks.
Few Sleep Benefits from Blue Blocking Lenses
Six of those studies focused on sleep and the use of blue-blocking lenses. Three of those studies showed some improvement to sleep for those who used blue blockers, while the others showed no benefit.
Nearly all studies on blue-light blocking glasses and sleep were conducted among specific populations already struggling with sleep, including pregnant women and people with certain mental conditions.
The three studies that showed some benefits of sleep indicated participants reported significant improvement in sleep scores when using blue light glasses.
However, because the studies were conducted among a limited population, there is no evidence the benefits apply more broadly, since studies on blue-light glasses have yet to be conducted among the general population.
Blue Blockers Do Very Little for Eye Strain
Three studies showed blue blockers made only a slight difference in eyestrain. However, all the studies were conducted over a short period of time and didn't provide significant evidence that the glasses had a great effect on improving or relieving eyestrain from screens.
Data indicates blue-light glasses only block about 10-25% of blue light from digital screens.
However, researchers say there isn't much blue light coming from phones, TVs, and computers anyway. Those devices emit roughly 0.4% to 4% of the amount of blue light considered safe by the International Commission of Non-Ionizing Radiation Protection Group, which sets international limits on blue light.
Science Behind Blue Light Blocking Glasses is Weak
The ideas about blue-light glasses largely stem from research on the body's response to the sun's light and the body's circadian rhythm. The sunset signals the brain to prepare for sleep.
The theory is blue light from digital screens disrupts that signal and interferes with sleep. However, most studies on blue light and the circadian rhythm were done on animals, not humans.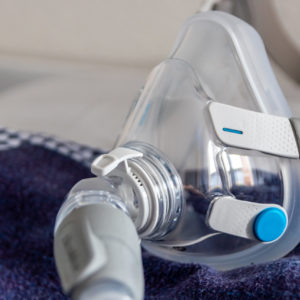 Did You Know?
Millions of Philips CPAP Machines Recalled
Philips DreamStation, CPAP and BiPAP machines sold in recent years may pose a risk of cancer, lung damage and other injuries.
Learn More
Blue-light blocking lenses are sold for roughly $25 to $100 for designer versions. They are often marketed as "must-have" items for healthy eyes, preventing eye strain, avoiding disruption to natural sleep patterns, and preventing harmful UV light from screens.
Researchers speculate the reason many people suffer from eyestrain when using digital devices is how they use them. People tend to hold devices 12 inches away from the face. Instead, people should try to hold screens 18 inches away and take frequent breaks to prevent strain.
Study authors also recommend people who suffer from disrupted sleep should adopt better sleep habits. They should avoid scrolling on cell phones 1-2 hours before bed, go to sleep around the same time every night and avoid caffeine 10 hours before bedtime.
While the study findings didn't find using blue-light-blocking glasses provided a benefit to users, there is little harm in using them, researchers concluded.
"*" indicates required fields