Boston Bans All Artificial Turf in City Parks Due to PFAS Toxic Effects
October 05, 2022
By: Irvin Jackson
The city of Boston's mayor indicates that no new artificial turf will be installed in city parks, due to the risks of per- and polyfluoroalkyl substances (PFAS), which are toxic chemicals found in nearly all artificial turn, which have been linked to long-term health risks and widespread water contamination.
Boston Mayor Michelle Wu announced the artificial turf ban in an update (PDF) regarding the construction of Malcolm X Park (PDF), but does not mention whether city parks that already have artificial turf will be impacted by the decision.
"Mayor Wu has directed that no new artificial turf fields will be installed in the City of Boston," the field update states. "This includes Malcolm X Park."
The field update notes that using natural turf fields will require some changes in how parks are designed, including the need for additional retaining walls and the footprint of soccer, football and softball fields. Boston is believed to be the largest municipality to ban artificial turf in the U.S.
Long Term PFAS Toxic Effects
PFAS compounds are used during the manufacturing processs for artificial turf, and some are also made using old tires, which can include heavy metals, benzene, volatile organic compounds and other cancer-causing chemicals.
The chemicals have been used for decades, due to their ability to resist heat, grease, stains and water. As a result, they are found in a vast amount of consumer products, including AstroTurf, food packaging materials, pizza boxes, popcorn bags, non-stick cooking pans and other items. Large volumes of the chemicals have also been released into the environment from the use of PFAS in firefighting foam, especially near military bases, airports and other training locations.
Concerns about the long-term PFAS toxic effects have emerged as more information has been learned about the so-called "forever chemicals", which are now known to accumulate in the human body and the environment, increasing the risk of a variety of health risks, including cancer, liver damage, thyroid disease, high cholesterol and other side effect.
Direct exposure to the chemicals has been linked to the development of testicular cancer, kidney cancer, liver cancer, pancreatic cancer, bladder cancer and other injuries among fire fighters, who often are covered in the chemicals while using aqueous film-forming foam (AFFF), which has been widely used during training and response exercises to combat fuel based fires. As a result of the chemical manufacturers failure to warn about the exposure risks, hundreds of firefighting foam cancer lawsuits are now being pursued throughout the federal court system.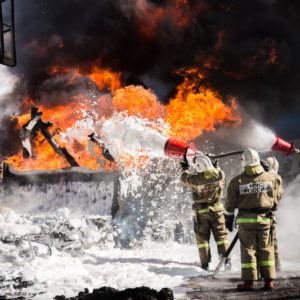 Concerns about the toxic PFAS effects have also been linked to more widespread problems in a number of communities nationwide, which have identified water contamination problems with high levels of the compound in tap water, especially near military bases, airports and other fire training facilities. Chemicals have also contaminated the drinking water from a number of manufacturing plans nationwide, leading to some PFAS water contamination lawsuits that are now being filed by area residents diagnosed with ulcerative colitis, pancreatic cancer, liver cancer, bladder cancer, testicular cancer and kidney cancer.
October 2022 PFAS Lawsuit Update
Given common questions of fact and law raised in lawsuits being filed against 3M Company, Dupont and other manufacturers of PFAS chemicals and fire safety equipment, consolidated pretrial proceedings have been established in the federal court system, where claims brought nationwide are all centralized before one judge in the U.S. District Court for the District of South Carolina, for coordinated discovery and a series of early trial dates to help gauge how juries are likely to respond to certain evidence and testimony that will be repeated throughout the litigation.
There are currently about 3,000 product liability lawsuits over toxic PFAS effects pending nationwide, each involving similar allegations that the companies failed to warn about the long-term health risks from exposure to the chemicals.
Earlier this year, the Court selected a firefighting foam water contamination lawsuits for the first bellwether trial, which will go before a jury in 2023. While the outcome of the first trials will not be binding on firefighters or other plaintiffs, they will be closely watched and may influence future settlement negotiations over the PFAS cancer risks.
"*" indicates required fields