Breast Implant Squamous Cell Carcinoma Rate Appears to Be Very Low: Study
April 26, 2023
By: Irvin Jackson
Amid increasing concerns about a potential link between breast implants and squamous cell cancer, the findings of a new study suggest the rate of such cancers among women with breast implants still appear to be very low.
Columbia University researchers indicating the number of breast implant squamous cell carcinoma (SCC) cases is currently too low to determine whether the condition is actually linked to the implants or not. Their findings were posted on April 19 in JAMA Surgery.
Concerns about the risk of cancer from certain types of breast implants first emerged several years ago, when the FDA issued an Allergan Biocell implants recall in 2019, after determining that the textured implant surface design was linked to nearly all known cases of breast implant-associated anaplastic large-cell lymphoma (BIA-ALCL), which is a rare form of non-Hodgins lymphoma that has been diagnosed in the tissue surrounding some breast implants.
Since that recall, more than 1,000 Allergan breast implant cancer lawsuits have been filed each raising similar allegations that Allergan sold unreasonably dangerous and defective textured implants, without warning women about the potential risk of ALCL.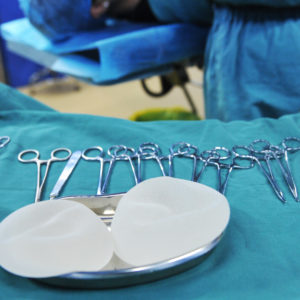 Breast Implant SCC Warnings
More recently, concerns were further increased when the U.S. Food and Drug Administration (FDA) issued a breast implant squamous cell carcinoma warning in September 2022, announcing it was investigating a potential link between cases of skin cancer and breast implants detailed in post-marketing reports.
Last month, the agency updated that warning, announcing the creation of a registry to track reports of SCC among breast implant recipients.
However this latest research, a cohort study which looked at women who underwent cancer-directed mastectomy with breast implant reconstruction between 2000 and 2018 was unable to determine if there was an association between the implants and SCC.
Few Cases of Breast Implant SCC Reported
After looking at data on nearly 57,000 women, Columbia University researchers were only able to identify one case of breast SCC, which occurred 52 months after the reconstruction surgery.
"The incidence rate of SCC after implant-based reconstruction in this analysis was extremely low," the researchers concluded. "Breast implant-associated SCC has been identified in case reports, with long latency periods from initial implant. Fewer than 20 cases have been reported, and, to our knowledge, no epidemiologic studies have explored the association with implants."
The researchers recommended patients with breast cancer who are eligible for mastectomy and reconstructive surgery be counseled on the risks and benefits of receiving breast implants, but the researchers said they did not believe women should be dissuaded from undergoing the procedure due to risks of breast implant SCC.
Squamous cell carcinoma is the second most common form of skin cancer, which causes abnormal squamous cell growth. It often appears as red, scaly patches, sores, and thickened wart-like skin which can bleed, itch, crack and crust over. It can often be effectively treated if caught early, but can be disfiguring and deadly if diagnosis and treatment are delayed.
An estimated 1.8 million SCC cases are diagnosed each year, and the incidence rate has doubled over the last 30 years, health experts warn.
"*" indicates required fields