Johnson's Baby Powder Lawsuit Filed Over Ovarian Cancer Diagnosis
October 21, 2014
By: Irvin Jackson
Johnson & Johnson faces a new product liability lawsuit brought by an Alabama couple, which alleges that side effects of Johnson's Baby Powder led to the development of ovarian cancer for the wife. 
The complaint (PDF) was filed by Karen and Norris Broussard in U.S. District Court for the District of New Jersey on October 16, indicating that the manufacturer failed to adequately warn about the link between ovarian cancer and talcum powder use for feminine hygiene purposes.
Karen Broussard indicates that she regularly used Johnson's Baby Powder on her genitals between 1980 and May 2014, when she was diagnosed with ovarian cancer.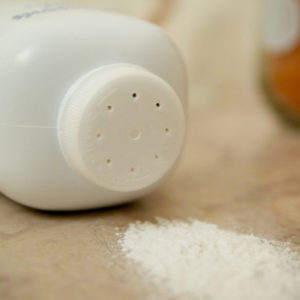 The case joins a growing number of talcum powder ovarian cancer lawsuits being pursued against Johnson & Johnson on behalf of women who claim that inadequate warnings were provided for users of their baby powder and after-shower body powder products.
Broussard alleges that the manufacturer knew about the risk of the talcum powder entering the ovaries and potentially leading to the development of cancer since at least the 1980s. She indicates that if she had been provided warnings about the cancer risk associated with use of baby powder for feminine hygiene she never would have used the product on her genital area.
Ovarian Cancer Risks with Talcum Powder
While talcum powder is most commonly used as a baby product, to prevent diaper rash or sooth skin, a number of women regularly use the products as body powders after a shower. As a result of the popularity of this use for Johnson's Baby Powder, Johnson & Johnson introduced other similar products containing talc-based powders, including Johnson's Shower-to-Shower Powder.
Although the first studies linking baby powder and ovarian cancer were published decades ago, the only warnings for consumers indicate to avoid contact with the eyes.
Researchers have indicated that the powder may migrate through the vagina to the uterus, fallopian tubes and ovaries, with evidence of talc found within some ovarian tumors.
In June 2013, a study published in the medical journal Cancer Prevention Research indicated that women who used genital powder containing talc may face a 20% to 30% higher risk of ovarian cancer than those who do not. While the overall risk remains small, women have expressed concerns about why further research has not been done by the manufacturers and why warnings have not been provided about the possible health risks.
The International Agency for Research on Cancer, which is part of the World Health Organization, has classified genital use of talc powder as a "possible carcinogen," and the American Cancer Society has indicated women concerned about the talcum powder cancer risk may want to avoid or limit use by considering cornstarch-based products.
Last year, a South Dakota jury found that sufficient evidence was presented during a trial to establish a link between Johnson Shower-to-Shower body powder and ovarian cancer developed by a 56 year old woman who had used the product for several decades.
During the trial, Harvard University's Daniel Cramer testified that he has been looking into the links between talc and ovarian cancer for 30 years, and suggested that talcum powder may cause 10,000 cases of ovarian cancer every year.
Broussard's lawsuit accuses the companies of failure to warn, negligence, breach of warranty, civil conspiracy and concert of action and seeks both compensatory and punitive damages.
"*" indicates required fields