U.S. Cities Say PFAS Water Contamination Settlement Inadequate
November 14, 2023
By: Irvin Jackson
A number of municipalities nationwide are objecting to a proposed per- and polyfluoroalkyl substances (PFAS) water contamination settlement, saying it lets polluting companies, like 3M and DuPont, off too easily for the damage they did to the environment and public health.
Earlier this year, 3M Company and DuPont proposed separate settlement agreements with states and municipalities to resolve claims that they contaminated public drinking water sources with PFAS chemicals, used in manufacturing and in certain firefighting foams. 3M Company agreed to pay up to $12.5 billion, and DuPont agreed to pay just over $1 billion.
PFAS chemicals are included in aqueous film-forming foam (AFFF) products used by the U.S. military and local fire departments to combat fuel based fires, and have been linked to the development of various types of cancer and other injuries. However, runoff from the fire fighting foam has also caused widespread water contamination in many communities, leaving local cities and water suppliers to deal with the clean up costs.
3M Company, DuPont, Chemguard, Inc., Tyco Fire Products and other manufacturers of PFAS chemicals and fire safety products have faced a thousands of water contamination lawsuits brought by local water providers in recent years, seeking billions in damages. However, the settlement does not resolve firefighter cancer lawsuits, brought by individuals who indicate they developed testicular cancer, kidney cancer, pancreatic cancer, prostate cancer and other forms of cancer from exposure during their firefighting careers.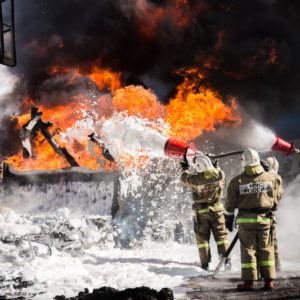 According to the firefighting foam settlement agreement filed with the Securities Exchange Commission (SEC) on June 22, 3M will pay between $10.5 billion and $12.5 billion in the coming years, depending on how many drinking water systems test positive for PFAS contamination. The deal seeks to resolve both present and future claims brought by drinking water systems nationwide.
However, there are growing concerns the deal may fall through, following a number of different objections filed over the weekend by various U.S. cities and towns nationwide.
One of the several objections filed by the Widefield Water and Sanitation District in Colorado (PDF), which claims its aquifer has been contaminated by PFAS from AFFF since 2016.
"Widefield objects to the Settlement as neither fair, reasonable, nor adequate," the objection states. "Although the Settlement itself aims to address PFAS-related harm to drinking water and the financial burdens associated with monitoring, treating, and remediating such water, the Settlement will not adequately address such harm."
There are a number of reasons given in the numerous objections filed between November 11 and November 13, including concerns that the agreements only include a couple of PFAS compounds out of nearly 4,000, does not include some townships and smaller municipalities which have also suffered PFAS water contamination, and that it does not do enough to ensure companies are liable for contamination that has not yet been detected.
The objections come after 22 states and territories withdrew similar objections, but have said they still believe the settlement amount should be higher.
Given common questions of fact and law presented in the litigation, all AFFF lawsuits are currently centralized before U.S. District Judge Richard M. Gergel in the District of South Carolina, for coordinated discovery, pretrial proceedings and a series of early bellwether trials. Judge Gergel granted preliminary approval for the two settlements in August. Fairness hearings for the DuPont settlement will be held next month, and similar hearings are scheduled for the 3M PFAS water contamination settlement agreement in February.
Individual Firefighter Foam Injury Lawsuits
The settlements, if approved, will not resolve the thousands of firefighter foam injury lawsuits filed nationwide.
Last year, the U.S. Department of Defense conducted an assessment of PFAS contamination on U.S. military bases, indicating 24 installations, with a total population of 175,000, exposed residents to PFAS in drinking water. However, some environmental groups have contested that number, saying at least 116 military instillations are contaminated, exposing more than 640,000 residents to toxic AFFF and PFAS.
Earlier this year, Judge Gergel directed the parties to select a group of 28 representative personal injury claims for an AFFF injury bellwether pool, involving plaintiffs who say they were exposed to chemicals that contaminated drinking water.
While the outcome of these claims will not have any binding impact on the other individual lawsuits, the average AFFF lawsuit payout may influence how much manufacturers may pay to settle lawsuits filed by Mitchell and other plaintiffs in the future.
"*" indicates required fields