Wegovy Class Action Lawsuit Filed Against Health Insurers for Not Covering Obesity Treatment
October 12, 2023
By: Irvin Jackson
A class action lawsuit accuses a Washington state health insurer of discrimination, for failing to cover weight loss treatments like Wegovy, since obesity is considered a disability in that state.
The complaint (PDF) was filed by Jeannette Simonton last month in the Superior Court of Washington for Thurston County, naming the Washington State Health Care Authority and Sue Birch, the authority's director and chair of the public Employees Benefits Board, as the defendants.
According to the lawsuit, the health benefits plan provided by the state for public and school employees discriminates against people with obesity by failing to provide coverage for treatments and medications, like Wegovy and Ozempic, which are increasingly used to achieve rapid weight loss.
Simonton works in a public district hospital, and is covered by the plan. Her lawsuit indicates she was prescribed Wegovy to treat her obesity, but the request to approve coverage of the prescription was denied by the Washington State Health Care Authority.
"Defendants' exclusion is irrational, arbitrary, and more expensive for the State of Washington than covering the disputed prescription medications. Indeed, the longer Defendants refuse to cover medically necessary prescription medications to treat obesity, the more they put the health of Plaintiff and other class members at risk for the many symptoms and co-occurring conditions associated with obesity," Simonton's lawsuit states. "Moreover, the cost of the prescription medications sought here is a fraction of the cost of the only other effective treatment for obesity, bariatric surgery."
The Wegovy class action lawsuit indicates the authority excludes coverage of any medication used to treat obesity, despite the fact that it is legally considered a disability under Washington State law. The complaint calls the continued exclusions "a vestige of its historic exclusion of coverage for disabilities."
Simonton's complaint is at least the second such lawsuit filed in that state in recent months. In June, a similar complaint, also seeking class action status, was filed by Luci Solorio in Washington State Superior Court in King County, against Regence BlueShield. Like the more recent claim, Solorio alleges that she was the target of disability discrimination by the health insurer's failure to cover medically necessary surgical treatment to treat her obesity.
Ozempic and Wegovy Stomach Paralysis Concerns
The class actions come as Ozempic and Wegovy have increased in popularity, as their weight loss effects have become more widely known. However, a number of former users are now pursuing Wegovy lawsuits and Ozempic lawsuits against the drug manufacturer, alleging that false and misleading information has been provided for consumers about the risk of stomach paralysis.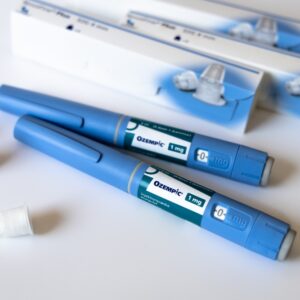 Find Out If You Have a Lawsuit
Ozempic (semaglutide) was originally approved for the treatment of people with Type 2 diabetes. However, Ozempic has been increasingly prescribed for weight loss, which is considered an "off-label" prescription. As a result of the popularity, the drug maker introduced a higher dose version, known as Wegovy, which is approved for weight loss use.
Although the drugs have been marketed as safe and effective, concerns have emerged in recent months about painful and debilitating gastrointestinal problems from Ozempic and Wegovy, primarily involving a medical condition known as gastroparesis, which results from delayed emptying of the stomach.
As a result of the drug maker's failure to sufficiently disclose the risk, a number of former users are now pursuing Ozempic lawsuits and Wegovy lawsuits, each raising similar allegations that they developed painful and debilitating stomach problems, which could have been avoided if false and misleading information had not been provided for users and the medical community. It is also likely that the manufacturers will eventually face an Ozempic class action lawsuit by patients who have taken the drugs, and now may have to undergo medical monitoring to ensure gastroparesis injuries do not arise, or do not lead to other health complications.
---
Find Out If You Qualify for Ozempic or Wegovy Compensation
"*" indicates required fields