Contamination Problems at Eye Drops Manufacturing Plant Outlined in FDA Inspection Report
April 04, 2023
By: Irvin Jackson
Federal safety inspectors have identified a number of problems at the manufacturing plant where contaminated Artificial Tears drops were produced, indicating the manufacturer failed to take the proper steps to confirm its products were sterile, which may have contributed to an ongoing bacterial infection outbreak that has resulted in cases of vision loss, eye removals and deaths.
An EzriCare and Delsam Pharma Artificial Tears recall was issued in early February, after the eye drops were linked reports of drug-resistant Pseudomonas aeruginosa infections, which sickened dozens of individuals nationwide.
Information about the Artificial Tears eye drops contamination problems first surfaced in late January, when the U.S. Centers for Disease Control and Prevention (CDC) identified a cluster of individuals experiencing bacterial infections after using EzriCare eye drops. This immediately led to calls for a recall, and a number of Artificial Tears eye drops infection lawsuits are now being filed against the manufacturers.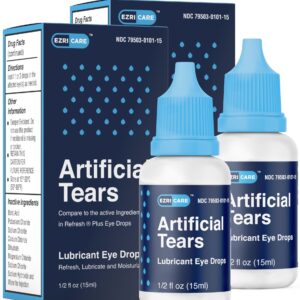 All of the recalled eye drops were produced at the same Global Pharma Healthcare plant in India, which was inspected by U.S. Food and Drug investigators in late February and early March 2023. This week, the agency released an inspection report, which highlights a number of problems at the eye drops manufacturing plant.
The investigators noted that procedures "designed to prevent microbial contamination of drug products purporting to be sterile do not include validation of the sterilization process." They found that the filtration process they put products through were not established as effective across different manufacturing conditions, and that the factory did not have enough data to confirm that its filtering process, used for sterilization, was reliable.
Inspectors also warned that the plant's aseptic cleanroom processing areas were deficient in a number of ways, due to airflow problems, the use of surfaces that are not easily cleanable, cracked sealant, protruding nails and the use of unqualified cleanroom operators.
In addition, the inspection revealed that the company's test methods have not been properly verified for accuracy, sensitivity, specificity, or reproducibility. They also found equipment used in manufacturing, processing, packing, or holding of drug products were not of appropriate design.
They inspectors criticized the company's lack of written procedures for cleaning and maintenance of equipment, as well as many of the manufacturing plant's quality control measures, which they found to be insufficient.
Artificial Tears Infections May Spread Person-to-Person
The latest update issued by the CDC about the Artificial Tears contamination problems indicates that at least 68 individuals from 16 different states have confirmed infections after using recalled eye drops, including at least three deaths, eight reports of vision loss and four reports of consumers needing to have an eye surgically removed.
However, now the CDC is warning that the eye drops infections may spread through person-to-person contact, meaning there may be some individuals who suffered infections who never used the recalled eye drops, but were in contact with someone who did. Several of these cases have been identified, according to the CDC, and were discovered through screenings at hospitals where clusters of infections were detected.
Health officials indicate that all consumers should be aware of the potential eye infection symptoms, which may include;
Yellow, green, or clear discharge from the eye
Eye pain or discomfort
Redness of the eye or eyelid
Feeling of something in your eye (foreign body sensation)
Increased sensitivity to light
Blurry vision
"*" indicates required fields