CPAP Use Increases Retinal Microhemorrhages in Patients with Diabetes-Related Eye Problems: Study
October 16, 2023
By: Irvin Jackson
A new study finds that while the use of CPAP devices may help with some eye problems suffered by diabetics, they can also cause small bleeding events in the eyes.
According to a report published this month in the Annals of the American Thoracic Society, the use of CPAP breathing devices does slow the progression of diabetic retinopathy, which can lead to blindness. However, Spanish researchers warn that the machines also increased the risk of what are known as microhemorrhages, which can cause vision to be streaked, red tinted or result in other vision problems.
Diabetic retinopathy is a complication linked to diabetes, which affects blood vessels in the retina. It can cause blurred vision, dark spots and "floaters", difficulty perceiving colors and can eventually result in vision loss and complete blindness if someone's diabetes is not properly controlled.
In this latest study, researchers looked at the impact of continuous positive airway pressure (CPAP) on patients with obstructive sleep apnea and mild to moderate non-proliferative diabetic retinopathy (NPDR). They conducted a controlled trial at a university hospital in Spain, involving 83 patients between October 2016 and February 2020. The researchers gave CPAP care to 43 patients, and used 40 patients not prescribed CPAP devices as a control group.
The researchers found that CPAP use reduced the number of patients' eyes which had hard exudates by nearly 50%. Exudates are cells and fluid which seep out of blood vessels, usually due to inflammation, and are a marker of diabetic retinopathy.
However, the study also indicated that diabetic patients who used CPAP devices were six times as likely to experience retinal microhemorrhages, which researchers determined was directly linked to the prescribed pressure levels of the CPAP device. While frequently causing no symptoms, these small bleeds can also cause vision problems, such as streaks, floaters or a red tint to vision.
"In patients with OSA and NPDR, long-term CPAP treatment in addition to usual care may result in slower progression of retinal disease, although it could also induce an increase in retinal microhaemorrhages," the researchers concluded.
Philips CPAP Recall Lawsuits
The findings come at a time when trust in the safety of CPAP devices is being sorely tested.
A massive Philips CPAP recall was announced in 2021, affecting millions of units sold worldwide for years which contained a toxic sound abatement foam that was found to degrade and release cancer-causing particles directly into the machine's air pathways, resulting in shortages of sleep apnea machines.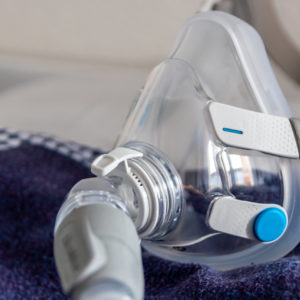 Philips CPAP Recall Lawsuit
Due to the serious health issues from the Philips CPAP foam, consumers were told to immediately stop using their recalled machines over two years ago, unless needed for life supporting treatment. However, the Philips CPAP repair and replacement program has been slow to provide new devices to users.
Earlier this month, the FDA issued an update calling for additional Philips CPAP testing, to determine the specific health risks posed by particles and volatile organic compounds (VOCs) emitted as the foam degrades.
Tens of thousands former users are now pursuing Philips CPAP lawsuits against the manufacturer, each involving allegations that regular use of the machines resulted in various cancers, respiratory illnesses, lung disease and other complications. Many users are also alleging worsening of underlying conditions caused by inability to continue their CPAP therapy due to the recall and product shortages.
In September, Philips announced it will pay a minimum of $445 million in a CPAP recall class action settlement to individuals who bought, rented or leased one of the impacted devices, and another $34 million to health insurance companies and others who paid to reimburse users to replace the machines. However, the settlement does not address any of the liability the company faces for injuries and deaths linked to the CPAP machines.
"*" indicates required fields