Des Moines Area Drinking Water Suppliers File PFAS Contamination Lawsuits
August 01, 2022
By: Irvin Jackson
Two water districts in Iowa have joined a growing number of communities nationwide who are pursuing lawsuits against manufacturers of per- and polyfluoroalkyl substances (PFAS), indicating the so-called "forever chemicals" have contaminated local drinking water supplies.
Des Moines Water Works and West Des Moines Water Works have joined a class action lawsuit filed by more than 70 other municipalities against 3M, DuPont and other chemical producers. It is one of hundreds of PFAS water contamination lawsuits filed nationwide by communities who want the manufacturers to pay for cleaning up the contamination and to compensate them for the costs of damages to the environment and public health.
Problems with PFAS in drinking water supplies have been discovered in many states and communities nationwide in recent years, leading to concerns about the increased risk of various health complications, including ulcerative colitis, pancreatic cancer, bladder cancer, liver cancer, testicular cancer, kidney cancer and other injuries.
For decades, the chemicals have been used in a number of consumer and industrial products to resist grease, oil, and water. However, much of the widespread problems with PFAS contaminating drinking water have come from the use in firefighting foam, where large amounts of the chemicals entered water supply after use during fire fighting training exercises at military bases, airports and other locations to combat fuel-based fires.
As a result of the harmful effects of the PFAS chemicals, the manufacturers already face hundreds of firefighting foam lawsuits brought by individuals diagnosed with cancer after direct contact with the chemicals during their careers as a firefighter, and a growing number of water contamination lawsuits are now being filed by individuals diagnosed with injuries after years of drinking tap water with PFAS levels detected.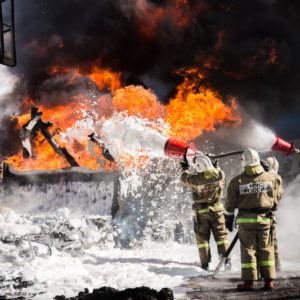 Tests conducted by the West Des Moines Water Works last year found its drinking water contained concentrations of some PFAS as high as 5.3 parts per billion, even after the water had gone through the full treatment process.
At that time, the federal advisory level was 70 parts per trillion. However, last month the U.S. Environmental Protection Agency reduced the PFAS advisory level to as low as .004 parts per trillion for some of the PFAS chemicals detected, which is often lower than can be scientifically detected.
PFAS Drinking Water Supply Risks
PFAS were first introduced into the manufacturing industry in the 1940's and are now found in a variety of consumer products and packaging material, as well as aqueous film-forming foams (AFFF) commonly used by the military and firefighting organizations throughout the country.
Exposure to PFAS in drinking water has been linked to a myriad of health side effects, since the chemicals build up and accumulate in water, soil and the human body. In addition to a risk of PFAS causing cancers and ulcerative colitis, the chemicals have also been linked to hypertension, liver damage, thyroid disease, decreased fertility, high cholesterol, obesity and other health problems.
Last month, the National Academies of Science, Engineering and Medicine released a new report calling for more PFAS medical testing, especially among high-risk individuals, including firefighters, children, pregnant women, elderly individuals and those living in areas known to contain the chemicals in soil and water.
In response to the growing concerns, the EPA indicates it will propose national PFAS drinking water regulations in the Fall.
"*" indicates required fields