Eye Infection from EzriCare Artificial Tears Resulted in ICU Treatment, Sepsis: Lawsuit
May 31, 2023
By: Irvin Jackson
A Kentucky woman indicates in a recently filed lawsuit that she developed sepsis and spent time in an intensive care unit (ICU), after experiencing a treatment-resistant eye infection from EzriCare Artificial Tears, which were recalled earlier this year due to bacterial contamination.
The complaint (PDF) was filed by Judith Gregory in the U.S. District Court for the Eastern District of Kentucky on May 20, pursuing claims against Ezricare, LLC, Ezrirx LLC, Global Pharma Healthcare Private Ltd, and Aru Pharma Inc as defendants, indicating that she was falsely led to believe the eye drop were safe.
Gregory joins a growing number of consumers now pursuing EzriCare Artificial Tears lawsuits, after developing Pseudomonas aeruginosa infections from the eye drops, which have resulted in a wide range of health problems, including vision problems, bloodstream infections and death. A number of eyedrops class action lawsuits have also been filed against the manufacturers, seeking damages on behalf of all consumers who purchased the Artificial Tears products that were recalled in February 2023.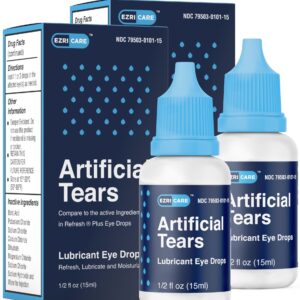 The lawsuit indicates Gregory began suffering from pain in her left eye, decreased vision and photophobia after she started using the eye drops. She reported she was using the eye drops to her ophthalmologist in late May 2022.
Gregory indicated she was suffering eye pain, discharge, redness and blurry vision, at which time she was diagnosed with necrotizing scleritis, likely due to an infection. She was admitted to an intensive care unit (ICU) in early June 2022 and was diagnosed with sepsis and hospitalized for eight days.
As a result of the eye infection from EzriCare Artificial Tears, Gregory continued to receive outpatient treatment, but her eye problems worsened, and she was later diagnosed with Pseudomonas aeruginosa. As a result, she has undergone multiple surgeries, hospitalizations and prolonged antibiotic use, her lawsuit indicates.
"Judith Gregory purchased EzriCare Artificial Tears over the counter. She was not aware the Product may be contaminated with a dangerous, and potentially life-threatening, bacteria, Pseudomonas Aeruginosa," the lawsuit states. "Ms. Gregory made the purchase assuming the contents of the Product's labelling were accurate and that the Product was untainted, safe, effective, and not contaminated by bacteria."
Gregory's complaint presents claims of manufacturing defect, failure to warn, negligence, breach of warranty, and negligent representation/omission. Her husband has filed a claim of loss of consortium. The lawsuit seeks both punitive and compensatory damages.
Artificial Tears Eye Drops Recall
The EzriCare Artificial Tears recall was announced by the U.S. Food and Drug Administration (FDA) on February 2, when the agency warned that at least 55 individuals had suffered eye infections after exposure to bacteria in eye drops, with several resulting in permanent blindness and at least one death from a severe bloodstream infection.
The recall impacted multiple versions of the lubricant eye drops sold in ½ fluid ounce (15 ml) bottles, including Artificial Tears packaged under the brand names EzriCare, as well as Delsam, with the following UPC and NDC codes;
Ezricare (blue box): NDC 79503-0101-15 with UPC 3 79503 10115 7, and
Delsam Pharma (white box): NDC 72570-121-15 with UPC -72570-0121-15
According to a recent report by the U.S. Centers for Disease Control and Prevention (CDC), the recalled Artificial Tears eye drops have been linked to 81 cases of bacterial contamination, including multiple reports of vision loss, four reports of consumers requiring removal of an eyeball, and four reports of deaths.
Lawyers Reviewing EzriCare and Delsam Pharma Eye Drop Lawsuits
As the news about the recalled EzriCare and Delsam Pharma eye drops continues to spread, it is expected that the number of Pseudomonas aeruginosa infection lawsuits over the recalled eye drops will be filed in the coming months.
Lawyers are actively investigating potential eye drop infection lawsuits against the manufacturers and distributors of EzriCare and Delsam Pharma's eye drops for multiple injuries and side effects caused by the contamination, including;
Eye Infection
Partial Blindness
Permanent Blindness
Bloodstream Infection
Other injuries caused by the eye drops
"*" indicates required fields